Animal Protection Society Volunteer Of The Month
Posted February 7, 2021 at 4:30 am by Hayley Day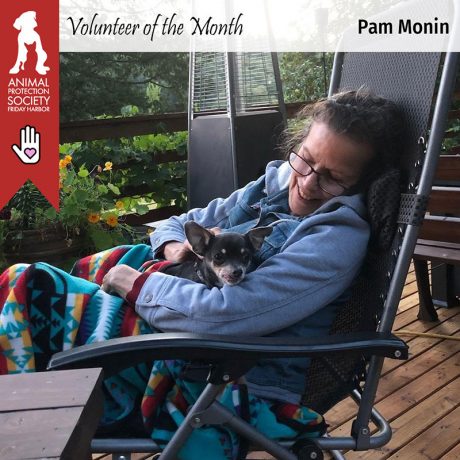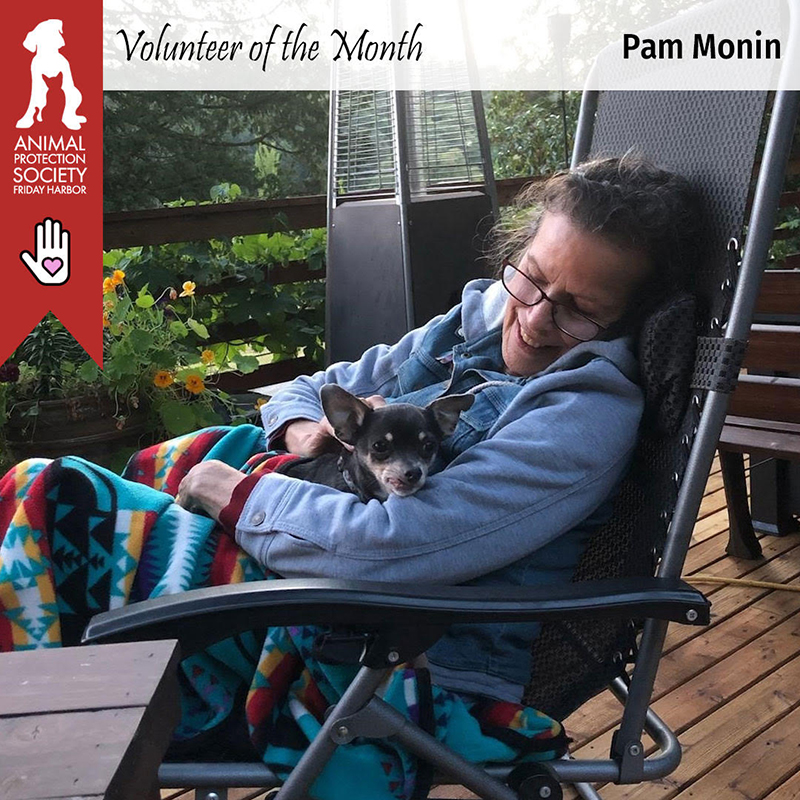 From Ani­mal Pro­tec­tion Soci­ety of Fri­day Harbor
Ani­mal Pro­tec­tion Soci­ety of Fri­day Har­bor's vol­un­teer for the month of Feb­ru­ary is Pam Monin.
Pam has been vol­un­teer­ing at the APS-FH Trea­sure Hounds store since July 2017. She has worked as a retail sales clerk for the store as well as being our visu­al mer­chan­dis­ing and dis­play guru.
Pam comes to the store once a week for about four hours to reor­ga­nize the store's prod­ucts and incor­po­rate new­ly donat­ed items into beau­ti­ful dis­plays and spe­cial pre­sen­ta­tions designed to attract and entice our cus­tomers. Pam also devel­oped a com­pre­hen­sive edu­ca­tion­al guide for oth­er Trea­sure Hounds vol­un­teers to learn how to effec­tive­ly set up dis­plays in the store.
"Trea­sure Hounds has been a ground for my cre­ative bent toward design­ing 'vignettes' that would be pleas­ing to the eye," she said. "We want our cus­tomers to delight in the mer­chan­dise, and the way it is dis­played, for a relax­ing and enjoy­able trip through our won­der­ful store."
Pam states that she is "grate­ful beyond words to be includ­ed in the Ani­mal Pro­tec­tion Soci­ety — Fri­day Harbor's mis­sion to lov­ing­ly care for home­less pets, and their pro­vi­sion of a great store for Islanders and guests to shop. Trea­sure Hounds is a great place to volunteer!"
Effec­tive mer­chan­dis­ing has a sig­nif­i­cant impact on our Trea­sure Hounds retail busi­ness, so we are equal­ly as grate­ful to Pam Monin for her long-term involve­ment and ded­i­ca­tion mak­ing her an APS-FH treasure!
You can support the San Juan Update by doing business with our loyal advertisers, and by making a one-time contribution or a recurring donation.