San Juan Land Bank's Tale Of Two Eagles
Posted February 5, 2021 at 5:30 am by Hayley Day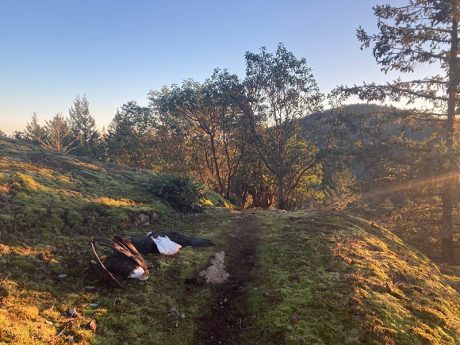 From San Juan Coun­ty Lank Bank
On Jan. 22, Tom Marschn­er and his faith­ful walk­ing com­pan­ion, Ellie the Gold­en Retriev­er, encoun­tered a rare and sad occur­rence near the sum­mit of Mount Grant.
Splayed out on a mossy out­crop, with bro­ken-tipped beaks, were two dead Bald Eagles.
Tom and Ellie prompt­ly report­ed the inci­dent to Land Bank staff, and the birds were col­lect­ed and deliv­ered to Wolf Hol­low Wildlife Reha­bil­i­ta­tion Center.
The eagles' demise was most like­ly the result of a risky "pair-bond­ing" rit­u­al. Dur­ing courtship dis­plays, male and female eagles soar high into the sky, lock their talons togeth­er, and then spi­ral and cart­wheel back down to Earth. Their intent is to test each other's strength and fit­ness. Their intent is to release each oth­er before reach­ing the ground.
This time of year, Wolf Hol­low often receives calls about eagles.
Their staff has respond­ed to pairs that have become tan­gled in bush­es, wrapped around tree branch­es, or found them­selves plunged into a pond, with their talons still locked.
Gen­er­al­ly, the eagles are fine. After a bit of (skilled) encour­age­ment, they let go of each oth­er. This can be a dif­fi­cult task. Eagles must change the posi­tion of their legs in order to release their grip. Some­times their dra­mat­ic dis­plays lead to an injury that requires treatment.
But usu­al­ly, they are only exhaust­ed and need a moment to rest. Both birds dying on impact is a first for our islands' reha­bil­i­ta­tion center.
Although accept­ing dead ani­mals may seem unusu­al for a wildlife reha­bil­i­ta­tion cen­ter to do, it's not. In addi­tion to car­ing for injured and orphaned wild crea­tures, Wolf Hol­low car­ries out a range of oth­er work. They are per­mit­ted to col­lect deceased Bald Eagles as it's ille­gal otherwise!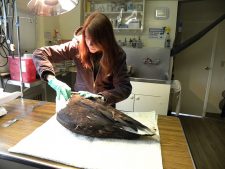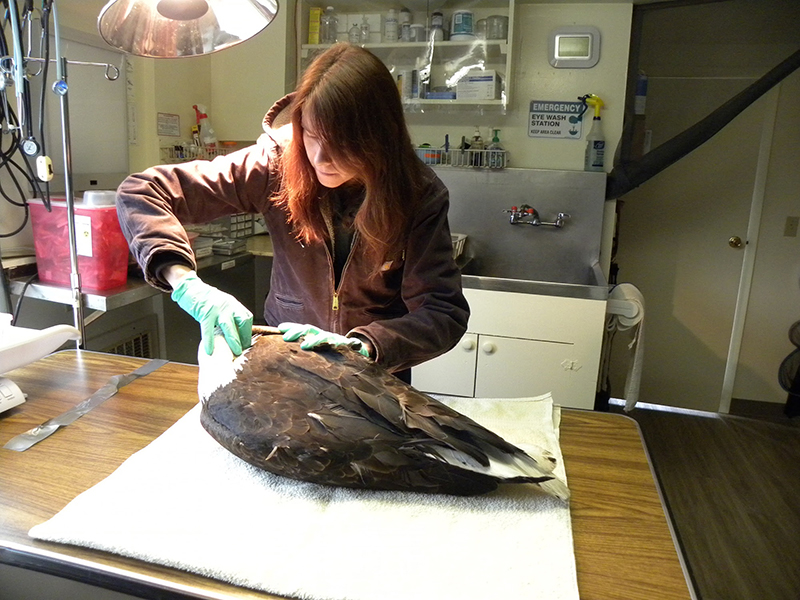 Wolf Hol­low exam­ined the two birds found on Mount Grant and deter­mined their injuries to be con­sis­tent with hit­ting the ground. They both had inter­nal hem­or­rhag­ing; one had a bro­ken neck. Wolf Hol­low didn't deter­mine the sex­es of the two eagles. But their edu­cat­ed guess is that one was a male and the oth­er was a female. Female birds of prey are larg­er, and one eagle had a notice­ably larg­er head and beak.
Whether the pair were engaged in a courtship dis­play or fight­ing over ter­ri­to­ry, we'll nev­er know. How­ev­er, the birds will be sent to the U.S. Fish and Wildlife Service's Nation­al Bald Eagle Repos­i­to­ry and the feath­ers dis­trib­uted to Native Amer­i­can Tribes and Alas­ka Natives for use for cul­tur­al and reli­gious pur­pos­es. So, we can be assured, that their beau­ty and pow­er will con­tin­ue to be honored.
You can support the San Juan Update by doing business with our loyal advertisers, and by making a one-time contribution or a recurring donation.