Timothy G. Hoke | Aug. 15, 1967 – Feb. 3, 2021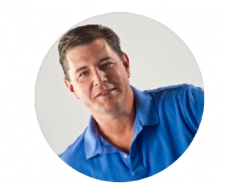 The family would like to share the sad news that Tim Hoke needed to pass onto the next frontier.
We are still raw and feeling this loss so deeply, as the world will never be the same without him. He loved deeply, brilliantly taught so many, and made so many of us laugh. He had a profound presence and impact on so many when he was on top of his game.
We will all miss his brilliance and direct, at times snarky, humor and badass, yet gentle spirit within him. He would want those close to him to know he hung in as long as he could, and he is now out of pain and at peace.
He leaves behind his daughter Angela, attending Western Washington University, son Alex, attending Ohio State University, his mother Deborah Williams, former spouse and life partner of 30 years, Pam and mother-in-law Donna Brockway.
He was born in Warren, MI, met Pam at Ohio State in Columbus, OH, lived and raised their kids in Stuart FL, until 2014 when the family became a part of the Friday Harbor community.
Tim was passionate about teaching and consulting in web and technology services, coaching wrestling and helping others, especially his fellow veterans, struggling with addiction.
He served the U.S. Army as Psychological Operations Specialist, Airborne, ran a business branding consultancy with his Pam from 2001 through 2015, served as web design teacher and wrestling coach at South Fork High School in Stuart FL from 2006-10, and worked with several local Friday Harbor businesses: Cynthia's Bistro, Island Home Finishes and Browne's to name a few.
He was working towards a Chemical Dependency Professional Certification with Skagit Valley College until his health issues began to overcome him. He loved volunteering and assisting many non-profit organizations including Helping People Succeed, SaluteUS, Alzheimer's Community Care, Loggerhead Marinelife Center, Soroptimist International of Stuart, Martin County Arts Council and so many more.
"No matter where you go, there you are." – Buckaroo Bonzai, one of Tim's favorites.
There will be a pandemic-safe outdoor veteran-salute memorial, with plans determined at a future date and posted online. Please feel free to e-mail pam@pamelahoke.com, or text or call 772-919-2244 for more information.
Condolences and any assistance for his family may be sent to P.O. Box 1213 Friday Harbor, WA 98250 or arrange at the contact information above for deliveries to Pam's studio.