Freezer-Burned: Tales of Interior Alaska
Posted March 24, 2021 at 4:30 am by Hayley Day
"Freez­er-Burned: Tales of Inte­ri­or Alas­ka" is a reg­u­lar col­umn on the San Juan Update writ­ten by Steve Ulvi.
Mail Will Be Delivered, Part II
On a Sep­tem­ber day in the 1930s, mail car­ri­er Eddie Hin­der­mann steered his long­boat away from Chris "Phono­graph" Nel­son, who was talk­ing to him­self onshore start­ing into the tall spruce fring­ing the riv­er. He gen­tly nudged his blind dog along, start­ing and stop­ping again. Arm extend­ed high he waved at the boat grow­ing small­er on the broad riv­er. The Nor­we­gian lon­er was again occu­pied with his thoughts and cab­in repairs.
Joseph, a teen with an unusu­al sense of self, zipped his heavy coat and squirmed low­er in the bow, look­ing back beyond his sud­den­ly smirk­ing uncle toward Nelson's cab­in and tall cache that dis­tance revealed. He cringed imag­in­ing that lone­ly way of life, a cho­sen soli­tude that his Atha­paskan roots reject­ed. He was anx­ious to call it a day and get the chance to turn a few pages of the steamy detec­tive mys­tery he had slipped under his coat at the cab­in. He looked down and real­ized that it had fall­en to the floor of the boat with­in view of his favorite uncle.
But It was now mid-Jan­u­ary. Eddie rest­ed at the han­dle­bars of his mail sled, smil­ing with the autumn mem­o­ries of cranky Chris Nel­son and Joseph 'grow­ing horns'. Lat­er he talked with Nel­son at his fam­i­ly fish camp when he boat­ed down to pick up his sled dogs board­ed for the sum­mer. That was the last time he had seen the like­able old man. Now he stared across a half mile of grey-blue blocky ice, thread­ed by fog­ging open water, to the site of the Bluff Cabin.
Squint­ing, smok­ing a butt, Eddie wor­ried about the old trap­per, not seen since freeze up. He had learned from 'Nation City JJ' that in a first vis­it after freeze up, he found a foot of undis­turbed snow around Chris's home cab­in. Most telling, there was no dis­cern­able trail up the Nation Riv­er toward his far-flung trapline and cab­ins as there ought to be. The cab­in was shut up but hard-frozen. The rusty box stove was set with kin­dling and bark for cold hands to eas­i­ly ignite. Plen­ty of dry wood. The only life was the voles scur­ry­ing out of deplet­ed bags of oats and beans into a hole in the plank floor. Nelson's dogs and sled were not there, either. It pained Eddie that all of this trou­ble­some news was a month old. The ten­ta­cles of deep cold could qui­et­ly fin­ish any­one sick­ened or bad­ly injured.
Eddie knew the "Hump"; being halfway into the winter's long grind of mail trips from Eagle to Cir­cle and back. A gru­el­ing 140 miles every week, one way or the oth­er, no mat­ter what. The rumors of air­planes tak­ing over the mail con­tracts cre­at­ed addi­tion­al pres­sure to get through on sched­ule. The tem­per­a­tures had been brit­tle cold, more ear­ly snow blan­ket­ed the Yukon coun­try than had been seen for years. He was down to 8 dogs healthy enough to make the dif­fi­cult run from the 15 he read­ied in Novem­ber. His hick­o­ry sled had been bat­tered and bro­ken; backed-up mail made it hard to keep the loads under 500 pounds, tem­po­rary trail­side repairs were improved dur­ing his one day off at Cir­cle or Eagle.
It was a hell­ish win­ter, even for sour­doughs inured to extremes. Most oth­er vet­er­an mail car­ri­ers in the region lost val­ued hors­es and dogs to seri­ous injury or sheer exhaus­tion and curl­ing up to die. Mail was near­ly lost when his hors­es fell through the ice on the cross-bor­der run between Daw­son City and Eagle. A few weeks ear­li­er, Cana­di­an Per­cy DeWolfe, the "Iron Man of the North", very near­ly drowned strug­gling to unhitch his loaded sled from his ter­ri­fied hors­es after they fell through thin ice. Eyes bulging, front legs churn­ing in the dark water, they weak­ened and slipped under the ice edge leav­ing DeWolfe in stunned silence.
The nor­mal­ly daunt­ing Twelve Mile sum­mit, between Cir­cle City and Fair­banks was a night­mare of drifts, icy sidel­ing hard­pack and mer­ci­less howl­ing wind leav­ing gul­lies and creek head­wa­ters packed with floun­der­ing snow. Horse teams, even hardy dog teams, gave in with repeat­ed efforts by deter­mined car­ri­ers to get mail over to Cen­tral and Cir­cle City. Cir­cle was only a skele­ton of its gol­drush fame as "The Biggest Log Cab­in Town in the World".
The more heav­i­ly trav­eled trail in front of him less­ened Eddie's con­cerns. He would drop 80 pounds of pack­ages and mail at Nation City just ahead. They sel­dom loaded much for Cir­cle. He fig­ured that J.J. Kel­ly, the care­tak­er, post-mas­ter and den­tist would have recent news of Chris Nel­son. Just one lean­ing cab­in stood, serv­ing as the point of con­tact on this stretch of the riv­er. Locals referred to JJ as "Smelly Kel­ly" for his with­er­ing hal­i­to­sis. One wag claimed that the dead flies on the win­dow sills in his small cab­in were the result of dead­ly air.
As Eddie stopped the dogs, the min­ers on near­by 4th of July Creek, flanked by lime­stone spines fired orange by the low sun, could be heard haul­ing diesel fuel sledges and parts behind clank­ing cater­pil­lar trac­tors. John­ny stepped out, stuffy warm air fog­ging, with a hearty "Hal­low Eddie, lemee give yoose a hand" as Eddie teth­ered the lead dog and sled to yel­low-iced trees. Eddie pushed back his par­ka hood, caught a breath, "Some tough trail yet, JJ. Acres of glare ice now at Mon­tauk. Pedro is limp­ing, I got­ta drop him with Cap at Charley Crik tonight".
He tossed chunks of lard­ed dried salmon to each rav­en­ous dog and turned hope­ful­ly to inquire "So what you hear about Chris, I don't see no smoke over there"? "Noth­in' good" barked Kel­ly. "The Fish Broth­ers broke out a coople miles of deep trail up ta Nation, and found some of Van Bibber's old­er trail but not mooch. Lot a bad over­flow. Turned back short of Chris's low­er cab­in, learnin' noth­in' moore dan we knew. It ain't good!" The men smoked, rumi­nat­ing on dark thoughts, while Eddie swal­lowed the last of the bit­ter black tea and corn bread John­ny shared. "Christalmighty, JJ, some­body got to get up there! Chris must be holed up hurt". Eddie exhaled and returned to the moment, "What kin­da mail ya got for me, JJ, my daylight's burnin'."
The next morn­ing leav­ing the com­pa­ny of Cap Dol­phus, his leather-faced always smil­ing part­ner, he felt ener­gized by what he would see lat­er in the day. With a cou­ple of dogs changed out, Eddie antic­i­pat­ed mak­ing good time as the mer­cury had rapid­ly risen to minus 10F. He had a put a faster trail leader up front. Pass­ing right by his family's sum­mer home­stead and fish camp lat­er, he would give it a quick look-see. There were hun­dreds of dried dog fish bagged and hang­ing in the locked barn.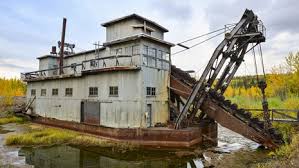 But he was most curi­ous to see the ongo­ing trans­for­ma­tion of the large pieces of the two mas­sive buck­et line dredges barged all the way from Oak­land Cal­i­for­nia. All of it was being cat-trained up to the his­toric min­ing grounds on neigh­bor­ing Coal and Wood­chop­per Creeks. Big mon­ey doings by the new mine own­er Dr. Ernest Pat­ty, a uni­ver­si­ty man. The huge diesel-elec­tric machines would be reassem­bled by welder, winch­es and many gloved hands (often miss­ing fin­gers) to be fas­tened togeth­er by thou­sands heavy riv­ets and bolts. Eddie had seen such mon­sters float­ing in ponds of their own cre­ation, chew­ing down into ancient creek beds, turn­ing val­leys upside down, near Daw­son City.
Trot­ting along crisply, Eddie rode the run­ners tak­ing every­thing in, then halt­ed the team right below Slaven's Road­house. A pot-bel­lied, apron-clad Frank Slaven stood jaw­ing and smok­ing while three cat trac­tors chained to loaded sledges idled, bil­low­ing dark smoke into the tall poplars above him on the cut bank. Sev­er­al fel­lows waved and hollered greet­ings that were drowned out by the throb­bing motors. Eddie whis­tled up the fresh dogs and pushed on, not want­i­ng to get caught up in dis­trac­tions, look­ing for­ward to a good team rest lat­er at Wood­chop­per. He made good time on the shore ice, just skirt­ing the rock­fall zone along the base of tow­er­ing bluffs.
Despite the dam­aged, now drafty two-sto­ry road­house, he stayed overnight out of habit. A strong sense of loy­al­ty and pity, real­ly. A hag­gard, but sto­ic Mrs. Welch was still try­ing to sol­dier on even though her hus­band, Jack, was said to have 'gone around the bend' dur­ing the dev­as­tat­ing spring break up of the riv­er. Twice, in fact.
An ice jam in the canyon backed 12 feet of dirty water into the Road­house for a cou­ple days; soak­ing, spoil­ing, mud­dy­ing or float­ing off near­ly every­thing. Jack, a qui­et man in his late 60's, seemed crushed, unable to recov­er. He often stood star­ing, suck­ing on his emp­ty pipe, try­ing to get his mind around all the work to get back to bare­ly get­ting by. He mut­tered inco­her­ent­ly refus­ing to eat. A week lat­er, while light ice con­tin­ued to flow, he pushed his emp­ty skiff out and rowed into the main cur­rent scrunch­ing floes to slow­ly dis­ap­pear around the riv­er bend shoul­dered by the dark cliffs. He was nev­er seen, or heard from, again.
His long-suf­fer­ing wife, always addressed as Mrs. Welch, some­how car­ried on to muck every­thing out, pur­chase goods on cred­it and start over again. A kind­ly stern­wheel­er cap­tain wood­ed up at the Road­house, direct­ing his hardy deck crew to help her with her freight and flood debris removal. As win­ter set­tled in, she gained a rep­u­ta­tion of her own, strid­ing out to holler and fire her rifle over the heads of trav­el­ers on the near­by win­ter trail, if they looked to be by-pass­ing her musty, slump­ing Roadhouse.
Chilled and fatigued after hours of jounc­ing trail, Eddie chained up his dogs away from the main trail at the Road­house. He noticed the own­er emerge and dump buck­ets of dish water. He tried hard to sound upbeat "Hel­lo Mrs. Welch! I'll be in short­ly, ready to warm up, alright". "Hey Eddie, glad you made it. Fresh bread and rab­bit stew on the stove. That qui­et back bunk is yours tonight". Wip­ing her red­dened hands on her dingy apron, she smiled faint­ly and quick­ly turned back into the arc­tic entry to close the heavy door, shut­ting in the yel­low lamplight.
Lat­er in the evening as his par­ka and gear dried behind the stove, Eddie was smok­ing and loud­ly pass­ing gas while jaw­ing with two weary, beard­ed men. Both were 'cheechakos' from some place called Fri­day Har­bor, Wash­ing­ton, hik­ing on to jobs at the 4th of July Creek digs. Eddie was smil­ing but quick­ly tir­ing of their naive ques­tions when his rest­ing team sud­den­ly erupt­ed in ener­getic bark­ing. He jumped up, tug­ging on his fur hat and gloves to step out­side, his smoke clamped between his front teeth. Not a loose dog. His whole team stood look­ing down­riv­er into the dark­ness, qui­et­ing some at his hol­ler­ing. Min­utes lat­er a large team with a rec­og­niz­able black leader pulled in pant­i­ng hard.
The stocky, heav­i­ly clad mush­er set the hook, strode up the line of dogs pet­ting each, to de-glove and shake hands with Eddie. "Fig­ured I would catch you here, Eddie!". "Hal­lo, Mac! What'er you doin' bar­rel­ing up the trail like yer racin'? Them sportin' gals run you out of Cir­cle now?" "Not hard­ly! But I got an urgent telegram for ya from the Fed­er­al Mar­shal in Fair­banks. I got a bit of return mail with me to go to Eagle and I'm ordered to take your mail down from here. We are both offi­cial­ly dep­u­tized as mar­shals and OK'ed by the Postal Ser­vice for this switch so you can look for Chris Nel­son. Snot­ty weath­er movin' in fast keepin' them fly­boys tied down".
Eddie and Mac depart­ed Wood­chop­per in the ear­ly hours, to the east and west respec­tive­ly, as the weath­er front rolled in. Mac had know­ing­ly passed on anoth­er Ever­Ready flash­light and more bat­ter­ies as Eddie would need them. Eddie reached Charley Creek ear­ly as his team was spir­it­ed by a break in the gru­el­ing week­ly rou­tine and a light load. Cap Dol­phus fed and watered gen­er­ous­ly. He swelled a bit with his role in the grow­ing mys­tery. Eddie forced him­self to his bunk ear­ly, after grab­bing some stored camp gear. His mind was spin­ning know­ing that tomor­row would be a grind and he would like­ly siwash camp on the low­er Nation River.
Kel­ly, hold­ing down Nation City, was sur­prised to see Eddie return so soon but was ener­gized by the infor­ma­tion that he was now privy to. He rel­ished spread­ing the news. After slurp­ing a cup of tea, Eddie pulled the hook and kick­ing hard com­mand­ed his lead dog across the Yukon below the bad jum­ble ice. He ran up the smoother shore ice, quick­ly inspect­ing the emp­ty cab­in scene and wast­ing no time set­tling into break­ing trail up the Nation Riv­er darkness.
His leader, Ol' Chief, found some of the old trail left by the Fish Broth­ers' teams but active over­flow and refreez­ing was eras­ing and chang­ing every­thing. He soon strapped on snow shoes to save the dogs, break­ing trail to avoid creek mouths and hid­den slush, fol­low­ing dry sloughs while light snow fell in the sweep­ing beam of his flash­light. His tired dogs walked behind, the big sled weav­ing, climb­ing up on one run­ner then the oth­er in the nar­row trough trail.
Eddie grew leg weary after sev­er­al miles, choos­ing a decent spot to siwash where the wind had scoured the snow a bit on a low wil­low bar. He lit a small camp­fire for snowmelt- as much for solace as hand warmth and water- then tied and fed the dogs. After tak­ing a leak, he pulled the tarp edge over his heavy sleep­ing bag with his out­er clothes as padding. Turn­ing off his light, chew­ing pem­mi­can, he lay in the immense qui­et mov­ing his feet and legs to warm up. Before drift­ing off, beyond the light pat­ter of snow-flakes and his dogs shift­ing some, he heard faint wolf howls upriver.
Eddie woke and turned over many times. The last time stove up and feel­ing con­fined, unable to hold his blad­der longer, he sat up. Still near­ly 4 hours of dark­ness before dim nat­ur­al light. He tugged on his out­er pants and moose hide foot­gear to stand and drink warm metal­lic snow water from a ther­mos. Light snow float­ed down. His dogs stood, tails a‑wag and tore into the fish Eddie dropped while he repacked the sled and melt­ed snow.
Snow-shoe­ing in front, the ener­getic front dogs repeat­ed­ly stepped on his snow shoe tails, elic­it­ing frus­trat­ed rebukes from Eddie. He peeled out­er lay­ers as he warmed quick­ly. As the gloam of night retreat­ed he pock­et­ed his flash light and slogged on. He rec­og­nized a rock out­crop that placed him two bends below Nelson's low­er cab­in. As he fret­ted over the slim chance of find­ing any clues there at all, sev­er­al ravens pumped over­head, dip­ping and div­ing, acknowl­edg­ing his pres­ence in their world. Wolf and fox tracks increas­ing­ly laced the snow as he forged on.
Eddie caught his breath before turn­ing the sled on its side and tying off his reli­able leader. All the dogs were tense but Ol' Chief growled from deep with­in his chest. He grabbed his 30–30 rifle and trail axe to shuf­fle up the bank to check the cab­in. Ravens jumped from the ground and left their perch­es to nois­i­ly fly. The wide trail and the small open area ahead were heav­i­ly tracked. He reached a point where the cab­in was vis­i­ble ahead of him. The stove pipe, bare­ly pro­trud­ing from the roof snow, emit­ted no smoke. Eddie's shoul­ders dropped. As he shuf­fled clos­er he cussed sharply and froze. Excru­ci­at­ing sad­ness gripped him as he saw sev­er­al rib cages rimmed with snow, sur­round­ed by stain, turds and tuft­ed hair. He prod­ded with his axe to count five devoured dog car­cass­es, all chained to stakes, and a rec­og­niz­able sled pil­lowed with snow.
Eddie stood still, col­lect­ing him­self, wish­ing he was not alone in this moment at this place. He fum­bled strik­ing match­es to light a smoke, suck­ing deeply, shak­ing his head in dis­be­lief. He smoked it to his fin­gers. With­out hur­ry he unstrapped and then used one snow­shoe to scoop near­ly 3 feet of drift­ed snow away from what he knew was an out­ward open­ing cab­in door. A well-oiled rifle, a .22 revolver in a hol­ster hung to the side just above a pair of beaver­tail snow­shoes. He knew Chris's old lever action Sav­age 300.
After sev­er­al lift­ing pulls, he squeezed his shoul­ders into the dank, dim­ly lit silence. His eyes adjust­ed, then he found his light. The beam shone painful­ly bright on his friend Chris Nel­son sprawled on the floor: mouth open, skin tal­low white, fin­gers of his right hand still clench­ing his plaid shirt at the chest, the oth­er grip­ping a table leg, legs splayed. Some of the dark­ened toes and a chalky ear lobe had been chewed by some small crea­ture. No blood, no obvi­ous signs of injury. Solid­ly frozen. As his hunger pangs sharp­ened to nau­sea Eddie urgent­ly backed out to breathe deeply of the win­try world.
He lit anoth­er smoke. A red squir­rel scold­ed him from the roof, ducked into a hole, on his way to nib­bling flesh. Eddie knew that he could not endure stay­ing inside, thaw­ing Chris in a swel­ter­ing space over a cou­ple of days, all the while try­ing to eat and sleep. He also clear­ly under­stood the oth­er ver­sion of hell that await­ed him.
He would have to fight the sled with the 190 pound, long-limbed corpse shift­ing, catch­ing brush and dig­ging into the snow­banks, as if reluc­tant to be tak­en away. It would be many hours of dark­ness back to the open trail of the Yukon Riv­er. He thought of his bow saw as a des­per­ate last resort. His mom's voice and tra­di­tion­al Atha­paskan beliefs, told him nev­er des­e­crate! He could not stom­ach the thought of saw­ing into his friend's frozen limbs, the reac­tions of oth­ers. The sky was clear­ing, the sun a heat­less, but promis­ing smear. He began to move with pur­pose to do what must be done.
You can support the San Juan Update by doing business with our loyal advertisers, and by making a one-time contribution or a recurring donation.