Freezer-Burned: Tales of Interior Alaska
Posted April 14, 2021 at 5:30 am by Hayley Day
"Freez­er-Burned: Tales of Inte­ri­or Alas­ka" is a reg­u­lar col­umn on the San Juan Update writ­ten by Steve Ulvi.
The Pitfalls of Fuzzy Thinking
A decade ago, our fourth sum­mer here, my Alas­ka pal Archie left a phone mes­sage that he would be vis­it­ing in Wash­ing­ton state. Wait­ing through his prac­ticed, jol­ly jibes about us liv­ing in "la-la land, sur­round­ed by a dying Sal­ish Sea, nosh­ing on kale", I heard that he might stop in.
Why Wash­ing­ton? As far as I knew, in his hand­ful of white-knuck­led trips Out­side in 50 years of liv­ing up north, his whole expo­sure to Wash­ing­ton State was pret­ty much fly­over or bend­ing his elbow in smokey lounges with fish­er­man and Bering Sea crab­bers at SeaTac.
I wasn't born yes­ter­day, so I had an inkling there was much more to this sto­ry when I rang him up at his slough cabin.
Hey Archie, Steve here.
Well, I'll be damned, how goes it Champ!
We're good, Archie. We are learn­ing to build a house by our­selves wad­ing through damnable nan­ny-state codes. I know how to do it now and will nev­er do it again! You still gill­net­ting those beau­ti­ful Yukon kings?
Naa, the run and my old 50 horse out­board both petered out, but the smoke­house was full.
Ah, good. Best salmon in the world! What's up with this trip you men­tioned? Maybe you could bring me some king strips?
Well, I'm fly­ing out tomor­row on the ol' red­eye. I have booked a week in the woods rid­ing an ATV with Big­foot Expe­di­tions run by a guy named John­ny Styne around some town called Darrington.
Archie, have you lost your mind? We both know that Big­foot is non-exis­tent; a fan­ci­ful hob­gob­lin wrapped in malarky bun­dled in pure bunk! I got a bet­ter idea. Why don't you char­ter me and my boat out here on San Juan Island to look for cas­es of Cana­di­an booze dumped over­board by ner­vous west­side rum-run­ners dur­ing pro­hi­bi­tion? Bound to be more pro­duc­tive than search­ing for a non-exis­tent ape!
In the pause, I could hear Archie exhale after a deep drag.
I pic­tured yel­lowed thumb and fin­ger pinch­ing a butt, shards of tobac­co cling­ing on a dirty t‑shirt part­ly cov­er­ing his paunch. Prob­a­bly stand­ing on his sag­ging porch fog­ging pesky mos­qui­tos. Odd­ly, he fig­ured that by smok­ing out­side he avoid­ed taint­ing the smell of his musty, gym-lock­er cab­in. Not to men­tion the funk of his pet fer­rets. I wait­ed, suck­ing down some apple cider.
Well, it's in my best inter­ests to go with what Pat­sy Hunter says. Her "Tarheel" fam­i­ly has deep roots there and they insist that they have seen and heard Big­foot. Many times. We met on Find­ASquatch­Match. I got a good feel­ing about this gal! I got­ta get to packin' my duf­fles. I'll call ya, Champ!
Of course. A blind­ing flash of the obvi­ous! There is an unat­tached woman at the cen­ter of the plan; appar­ent­ly will­ing to look beyond appear­ance, free-rang­ing opin­ions and deeply entrenched bach­e­lor habits to check out the fun-lov­ing and per­sua­sive charm of Archie Fer­gu­son at his best. He's nobody's fool. Undoubt­ed­ly, a dou­ble-blind exper­i­ment for two peo­ple clear­ly will­ing to sus­pend ratio­nal think­ing. Fits right in with Bigfoot.
I strug­gled with the idea of my friend's notion of romance flow­er­ing in jounc­ing ATV's and stand­ing shoul­der to shoul­der for hours play­ing 'squatch howls' and bang­ing rocks togeth­er in the night. And sleep depri­va­tion on nar­row cots, clus­tered in leaky yurts with shared unlight­ed out­hous­es 25 yards away. I am sure that there will be read­ing and thrilling to "vet­ted" accounts of Big­foot con­tacts that pre­dis­pose the rep­til­ian brain stem to more eas­i­ly imag­ine cryp­to­zoid con­tact. John­ny Styne would learn that a freez­er-burned Alaskan like Archie will have a pock­et flask or two at all times. He would also learn not to serve navy bean stew for dinner.
Archie's love inter­ests over the decades were always the talk of the vil­lage. I remem­ber a few. The pro­fes­sion­al "enter­tain­er" from Kazak­stan he met on a dat­ing site who was sent back on parole vio­la­tions. A local woman who sang and whis­tled off-key with the radio when hap­py. Boss­ing Archie made her very hap­py. The iden­ti­cal mid­dle-aged twin sis­ters from east Texas who arrived in the vil­lage to spend a sum­mer in the wilds. Archie went all out court­ing both Pam and Tam but found he couldn't tell the dif­fer­ence between them. Then he was told that one of 'em had poi­soned her hus­band and put him through a wood chip­per. Archie abrupt­ly left for fish camp the next morning.
Unchar­ac­ter­is­ti­cal­ly, Archie sent me an email and some pho­tos a few days after arriv­ing in Dar­ring­ton. Hey Champ. Everythin's goin' great. Pat­sy is a fun-lov­ing gal and enjoys being in the woods. We real­ly hit it off. She cooks, chews snooze and likes shootin'. She and her daugh­ter want to come up to my place! This John­ny Styne guy is a real pro­mot­er and will make a name for him­self some­day. No Big­foot so far (heh-heh). AF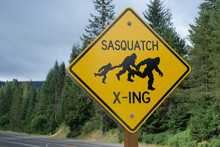 As always, pho­tos reveal so much; peo­ple in the dark by a pair of mud­dy 6‑wheeled ATVs, hud­dled, wrapped in blan­kets, star­ing sky­ward, try­ing to com­mu­ni­cate with Big­foot. Anoth­er was of Pat­sy and her broth­ers, all quite large, armed and camo-clad in front of a log­ging truck (my guess she is the one with­out a beard). And anoth­er of a local chain-saw carved 'Big­foot'. These "beer in one hand, chain­saw in the oth­er" crude attempts to depict some­thing that no one has ever actu­al­ly seen, should be enough to cause any respectable Big­foot (if only they exist­ed) to sneak in at night, bar­ri­cade the exits, and torch the shack of such a person.
I was curi­ous about the lat­est devel­op­ments in this realm of non-reli­gious, faith-based pub­lic delu­sion. I grew up with Abom­inable Snow­man sto­ries in Nation­al Geo­graph­ic while perus­ing pho­tos of equa­to­r­i­al women au nat­ur­al. The Big­foot myth is slight­ly more plau­si­ble than oth­er wish­ful fan­tasies about vam­pires or zom­bies, and does pre­date oth­er long­stand­ing pub­lic codswal­lop tout­ing alien abduc­tions, the Bermu­da Tri­an­gle, and peo­ple who spon­ta­neous­ly combust.
There are very good rea­sons for refusal to believe the unbe­liev­able. Ratio­nal analy­sis, sci­ence and log­ic to start. In my near­ly 70 years of sun orbit, sci­ence has under­gone its own Big Bang expan­sion of ele­gant tech­nol­o­gy devel­oped to unpeel mys­ter­ies of life and death for humankind. We can "see" and mea­sure sub-atom­ic par­ti­cles, make images of tiny things invis­i­ble to the human eye as well as of star birth and demise in our vast neigh­bor­hood of the Uni­verse. Among the most pro­found; sequenc­ing the human genome.
Invis­i­ble dou­ble helix­es of DNA, now vis­i­ble, and manip­u­la­ble, has cut through a thick fog of igno­rance regard­ing liv­ing things and rela­tion­ships. For about 170,000 years, we Homo sapi­ens strug­gling to sur­vive and cope with end­less mys­tery, required cre­ative expla­na­tion (the birth of char­la­tans) to ease our gnaw­ing fears of the unknown in "the life of man, soli­tary, poor, nasty, brutish and short"(Thomas Hobbes, 1651). Adher­ing to reas­sur­ing social con­structs, cus­toms to appease malev­o­lent "gods" and tra­di­tion­al knowl­edge as mem­ber of a tribe, leads to 'our way or be ostra­cized and cast out' as well as social cohe­sion and strength in num­bers for the larg­er tribe. There were count­less things, both real and imag­ined, to fear in the pri­mor­dial for­est and sea.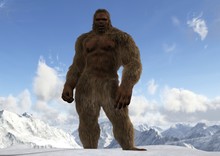 That is where the fan­ci­ful sto­ries of Big­foot, now an anachro­nism, come in. Against all odds, a large, hairy bipedal pri­mate con­tin­ues to exist in small num­bers in wild areas of the North­west region of North Amer­i­ca. The mantra of believ­ers is that sci­ence can't defin­i­tive­ly prove that they don't exist, so there­fore they do. Lots of peo­ple (some sci­en­tists) claim to have seen, heard, found tracks or smelled con­tem­po­rary Big­foot. Native Amer­i­can tribes have many tra­di­tion­al sto­ries of some­what sim­i­lar creatures.
Fur­ther, believ­ers claim that it is com­plete­ly under­stand­able that no skele­tal remains, hair, teeth, turds, or dried blood of any kind have ever been found in nature. Things rapid­ly decom­pose, they say. The many expe­di­tions and numer­ous "real­i­ty TV" pro­grams seek­ing to doc­u­ment or even kill a Big­foot employ­ing sophis­ti­cat­ed tech­nol­o­gy just haven't been lucky, yet. If you refuse to sus­pend ratio­nal think­ing and dis­pute these fuzzy claims and "eye wit­ness accounts" you are deemed arro­gant, close-mind­ed and angri­ly dis­missed. Big­foot lives! And so, it goes today in the free-for-all of social media and the web.
Gigan­to­p­ithe­cus blac­ki is the dead-end twig of a many branched, pri­mate evo­lu­tion­ary tree, from which 'Big­foot' is said to have arisen. Teeth and jaw parts found in Asia, where this very large ape exist­ed for mil­lions of years then went extinct about 100,000 years ago, clear­ly show that they were chew­ers of bam­boo and eaters of fruit in steamy jun­gles, and cer­tain­ly quadrupedal. The cool­ing of the last ice age in the late Pleis­tocene prob­a­bly shrank the jun­gles and they were sim­ply too big to suc­ceed. Believ­ers who even care to think about where Big­foot came from, think that Gigan­to­p­ithe­cus made the many thou­sand-mile trek all the way across the very cold, dry Bering Land Bridge as jun­gle her­bi­vores (eat­ing what exact­ly?) dur­ing the pri­or glacial peri­ods, way before mod­ern humans did some 12,000 years ago.
Some 'Big­foots' (Bigfeet?) then suc­cess­ful­ly sur­vived with giant short-faced bears, great cave bears, sabre tooth cats, lions, dire wolves and great end­less cold that had Nean­derthals wear­ing furs and liv­ing in caves in Spain. Then sev­er­al thou­sand years lat­er they inhab­it­ed what retreat­ing ice had cov­ered for 80,000 years in the mon­tane woods of today's NW along with griz­zly and black bears, wolf packs and cun­ning atlatl-equipped humans. Then about 10,000 years lat­er the bru­tal Man­i­fest Des­tiny of explor­ers, gold seek­ers, set­tlers, fur-traders, pro­fes­sion­al hunters, rail­road engi­neers, botanists, muse­um col­lec­tors, the US Army and fur trap­pers pen­e­trat­ed every cor­ner of the NW but nev­er come up with a pre­served shred of phys­i­cal evi­dence. Nev­er mind the indige­nous first Americans.
Last­ly, the most astound­ing part of the true believer's illog­i­cal men­tal gym­nas­tics and cher­ry-picked sci­ence; the incom­ing tide of the Anthro­pocene in 21st cen­tu­ry Amer­i­ca. No road kills, no skulls or large bones by riv­er drown­ing death, no hunter kills (this fact alone is astound­ing), no fran­tic escap­ing of rag­ing wild­fires, no sight­ings by aer­i­al radio-track­ing biol­o­gists, no satel­lite or trail cam­era images. A drop of blood, some body flu­id, a sin­gle hair, a dried turd or bone shard is all that is need­ed for con­clu­sive DNA evi­dence. Even a clear cell pho­to would be cool. Zilch, nada, noth­ing despite the instant noto­ri­ety and big mon­ey that would reward a per­son who reveals tan­gi­ble evidence.
We are also aware of great strides in the ground-break­ing under­stand­ing of human cog­ni­tive think­ing, "moti­vat­ed per­cep­tion" and the proven vari­abil­i­ty in the degree of reli­a­bil­i­ty of in eye wit­ness tes­ti­mo­ni­als. Put sim­ply, we often "see" what we want to see or expect to see. Then there are the many folks like Archie going along with the quirky hoax for prof­it, 15 min­utes of fame or, well, romance.
Archie final­ly called me again, near the end of his vaca­tion. I hur­ried to pick up, ready for a wild sto­ry or two.
"Hey there Champ! I am head­ing back to Alas­ka tomor­row evening. I need a big favor. Any chance you could dri­ve over here and pick me up?"
Well, I have a cou­ple things tomor­row but can back out, need be. What's the deal? Last I heard you were round­ing sec­ond base with Pat­sy and plan­ning to invite her to come up to your place to 'put the U in snug­gle' as you like to say."
"Well things changed! The oth­er night as our group lis­tened, I heard a rub­bing branch moan­ing in the breeze across the val­ley and the next thing I knew they were all danc­ing and hug­ging, ecsta­t­ic to hear a 'female Big­foot mat­ing call' as iden­ti­fied by John­ny. I had been tug­ging on the flask in bore­dom and start­ed laugh­ing. They turned on me like I was a skunk at a gar­den party!"
"And that ain't the whole of it. I was invit­ed to an extend­ed fam­i­ly pic­nic and cook out yes­ter­day by one of Patsy's broth­ers. Hope springs eter­nal ya know so I bought a suit­case of Bud­weis­er and hopped in the bed of his mon­strous diesel pick­up to ride out there. He has those upstander exhaust stacks that bil­low black smoke on pur­pose and a win­dow sten­cil show­ing a Big­foot uri­nat­ing on a Toy­ota Prius. We pulled in and kids were every­where hol­lerin' and tum­bling and chasin' on a big grassy slope. There was a big fire goin', women with lit­tle babies in camo and caged hounds whinin' and pacing.
I joined a bunch of large guys suck­ing on beers and jok­ing around the fire. They had been watch­ing two lit­tle boys slug it out while the boy's moms root­ed them on. A large cool­er had a bumper stick­er that read "SAVE A LOGGER-EAT SPOTTED OWL!". Patsy's broth­er "Loco" nod­ded, spit some chew juice and said "Boys this is Archie, a woods­man from bush Alas­ka. He and Pat­sy could be get­ting hitched!" Nods and smirks all around, beers raised. I man­aged to not spit up the beer I was swallowing.
Try­ing to buy a moment to clear my mind, I pulled out a full flask, took a tug, then passed it to a guy next to me they called "Tiny" whose fist hid the bot­tle as he drank it down, toss­ing the emp­ty on the fire. He belched loud­ly, turned to anoth­er group and waved over a Chi­nese guy, who had been part of our Big­foot Expe­di­tion. Tiny called him Charley Chan, but I knew that he is an MD and speaks Eng­lish. Point­ing at me Tiny growled 'he hunt lot­ta bears Alas­ka, many gall blad­ders and paws!' The doc had men­tioned the same top­ic one night, not know­ing what else to do in the moment, I smiled and shook his hand, arms pumpin'".
"Feel­in' that things were way south, I head­ed over to the tree edge to take a leak. When I turned back two guys start­ed a round crab trap rolling down the slope with a fran­tic rac­coon tum­blin' in it with a pack of hounds bark­ing and attack­ing it. Most folks point­ed and laughed uproar­i­ous­ly. Kids too! Some boys were sling­ing arrows at a For­est Ser­vice pub­lic use rules sign. That's when I noticed Pat­sy stand­ing there in a Don't Tread on Me sweat­shirt next to a small­er look-alike, who had to be her daugh­ter who was busi­ly smackin' four grub­by, tow-head­ed kids. She'd nev­er said noth­in' about them!
I moseyed qui­et­ly away past the out­hous­es after a while, anx­ious­ly hitched back to Dar­ring­ton and now have my stuff behind the pub­lic library. I'm pret­ty sure I won't run into any of em' there. I need a ride out­ta here ASAP. I'll buy you gas and a burg­er or even one a your goldan­ged raw fish lunch­es if you'll get me to SeaTac!
You can support the San Juan Update by doing business with our loyal advertisers, and by making a one-time contribution or a recurring donation.