Trail Times, Spring 2021: Section 2 of the Old Military Road Trail
Posted April 22, 2021 at 5:11 am by Tim Dustrude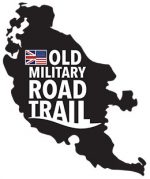 Trail Times is a con­tin­u­ing series of arti­cles intro­duc­ing the Old Mil­i­tary Road Trail (OMRT), a pro­posed 18–21 mile cross-island non-motor­ized mul­ti-use trail link­ing Eng­lish Camp and Amer­i­can Camp and hon­or­ing the orig­i­nal Old Mil­i­tary Road.
Wel­come to Spring and anoth­er seg­ment of the intrigu­ing Old Mil­i­tary Road Trail to explore. Today, we leave rem­nants of the orig­i­nal mil­i­tary (Cowichan) road as we trav­el along Sec­tion 2 but will rejoin the road fur­ther on.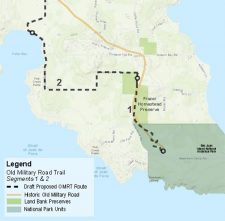 The orig­i­nal "Cowichan" Road, built large­ly by Cowichan labor­ers of the Sal­ish Tribe, was estab­lished in the 1850s-60s as a sheep run for the Hudson's Bay Company's Belle Vue Farms, and was locat­ed at what is now Amer­i­can Camp. This sheep run lat­er became the mil­i­tary road link­ing Eng­lish Camp and Amer­i­can Camp dur­ing the "Pig War" of 1859–1872.
The road served as a vital "hot­line" between the two camps, allow­ing com­mu­ni­ca­tion and encour­ag­ing social inter­ac­tion that con­tributed to the Pig War's peace­ful res­o­lu­tion. The road lat­er became an essen­tial mul­ti-spurred back­bone route for the island's set­tle­ment and commerce.
OMRT's Seg­ment 2 begins near the cor­ner of the Fraz­er home­stead pre­serve at the inter­sec­tion of Rosler Road and Cat­tle Point Road. It trav­els along False Bay Road and pro­vides strik­ing vis­tas of the Olympic Moun­tain range, his­toric agri­cul­tur­al struc­tures and shore­line access at the Uni­ver­si­ty of Wash­ing­ton Pre­serve at False Bay.
By Robin Donnelly
The Old Mil­i­tary Road Trail Committee
www.oldmilitaryroadtrail.org
You can support the San Juan Update by doing business with our loyal advertisers, and by making a one-time contribution or a recurring donation.