Trail Times, Spring 2021: Section 2 of the Old Military Road Trail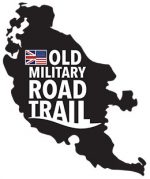 Trail Times is a continuing series of articles introducing the Old Military Road Trail (OMRT), a proposed 18-21 mile cross-island non-motorized multi-use trail linking English Camp and American Camp and honoring the original Old Military Road.
Welcome to Spring and another segment of the intriguing Old Military Road Trail to explore. Today, we leave remnants of the original military (Cowichan) road as we travel along Section 2 but will rejoin the road further on.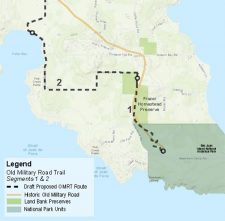 The original "Cowichan" Road, built largely by Cowichan laborers of the Salish Tribe, was established in the 1850s-60s as a sheep run for the Hudson's Bay Company's Belle Vue Farms, and was located at what is now American Camp. This sheep run later became the military road linking English Camp and American Camp during the "Pig War" of 1859-1872.
The road served as a vital "hotline" between the two camps, allowing communication and encouraging social interaction that contributed to the Pig War's peaceful resolution. The road later became an essential multi-spurred backbone route for the island's settlement and commerce.
OMRT's Segment 2 begins near the corner of the Frazer homestead preserve at the intersection of Rosler Road and Cattle Point Road. It travels along False Bay Road and provides striking vistas of the Olympic Mountain range, historic agricultural structures and shoreline access at the University of Washington Preserve at False Bay.
By Robin Donnelly
The Old Military Road Trail Committee
www.oldmilitaryroadtrail.org