Dispose of Pesticides, Fuels, Cleaning Products on San Juan June 11-12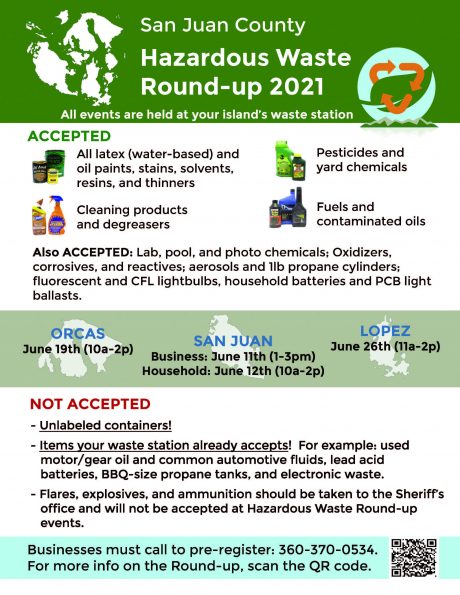 From San Juan County
San Juan County is collecting hazardous waste at the waste stations on San Juan, Orcas and Lopez islands.
Collection times are:
1-3 p.m., June 11 for businesses on San Juan.
10 a.m.-2 p.m., June 12 for households on San Juan.
10 a.m.-2 p.m., June 19 on Orcas
11 a.m.-2 p.m., June 26 on Lopez.
Businesses must call 360-370-0534 to pre-register.
The following items are accepted:
All latex (water-based) and oil paints, stains, solvents, resins, and thinners
Cleaning products and degreasers
Pesticides and yard chemicals
Fuels and contaminated oils
Lab, pool, and photo chemicals
Oxidizers, corrosive and reactives
Aerosols and lib propane cylinders
Fluorescent and CFL lightbulbs
Household batteries
PCB light ballasts
These items are not accepted:
Unlabeled containers
Items your waste station already accepts. For example used motor/gear oil and common automotive fluids, lead-acid batteries, BBQ-size propane tanks, and electronic waste.
Flares, explosives, and ammunition should be taken to the sheriff's office.
For more information, visit www.sanjuanco.com/351/Hazardous-Waste.