Freezer-Burned: Tales of Interior Alaska
Posted May 21, 2021 at 5:30 am by Hayley Day
"Freez­er-Burned: Tales of Inte­ri­or Alas­ka" is a reg­u­lar col­umn on the San Juan Update writ­ten by Steve Ulvi.
A Matter of Weather and Physics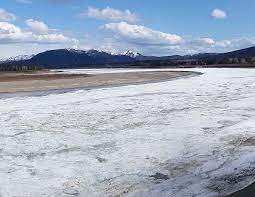 The arrival of spring in the north is a penul­ti­mate plea­sure. For a nature lover, any­way. Like drop­ping a heavy bur­den after a long slog up a moun­tain ridge lead­ing to a soul-stir­ring view and sense of accom­plish­ment. It's was a great com­fort just know­ing that we did not have to cope with brass-mon­key cold and dark any­more. This sense of ela­tion is cer­tain­ly increased by lat­i­tude. I'm guess­ing that being res­cued after months on a desert­ed island would result in a more explo­sive ela­tion and greater exis­ten­tial relief, but the com­par­i­son is not absurd.
It is, of course, the same tilt of the earth's axis, the cur­va­ture toward the north pole and the ellip­ti­cal course around the sun that forge the long win­ter and short sum­mer char­ac­ter­is­tics of the sub-arc­tic. Spring is a short, steeply inclined bridge to the vaunt­ed mid­night sun of sum­mer. In the Brooks Range, that arc­ing but­tress between the Arc­tic prop­er and the north­ern Inte­ri­or, it is said that "sum­mer is just a sweet lie."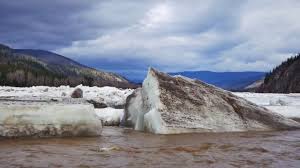 The era­sure of win­ter by the radi­ant weeks of April is the most rapid and intense of the four sharply dis­tinct sea­son­al tran­si­tions in that cli­mat­ic region. The extreme deep cold that solid­i­fied every­thing (except warm liv­ing flesh, hiber­nat­ing crea­tures and deep water) for many months is over­come by a bom­bard­ment of solar heat over sev­er­al weeks at an inex­orable, climb­ing rate. The Inte­ri­or of Alas­ka is a region under­lain by dis­con­tin­u­ous per­mafrost but even the top two feet of the ancient cold from beneath begins to thaw.
River­banks, espe­cial­ly those south-fac­ing, quick­ly expose dirt and fine glacial silt to blow around and accel­er­ate snowmelt. Melt water pooled up to a foot deep and 25 feet wide to moat the main float­ing ice from the shore­line. These changes were hard on the dog's feet, equip­ment, trav­el speed and our sense of safe­ty. Trav­el­ling in the lin­ger­ing dusk of night­fall, under a smear of stars after the air tem­per­a­ture dropped into the 30s, was nec­es­sary as the end drew near.
Due to riv­er upwelling, places of more rapid cur­rent, and "can­dling" of the exposed ice from the top via sur­face heat­ing, the thick main ice and cer­tain­ly areas of thin­ner ice, become unpre­dictably and invis­i­bly dan­ger­ous. I still shud­der, with a sick­en­ing feel­ing in the pit of my stom­ach, in recall­ing close calls on bad ice where my amyg­dala flared in the instant real­iza­tion of immi­nent dan­ger, with no escape but to back away some and pro­ceed cautiously.
Some­times with fam­i­ly. With a dog team you have a lighter foot­print and extend­ed trac­tion to nego­ti­ate dicey areas. They sense it too. But inad­ver­tent­ly on fresh rub­bery ice in ear­ly win­ter you grip hard­er, lean for­ward over the sled and give the dogs the seri­ous­ly urgent "Let's go! Let's go! Think­ing of plung­ing through and being swept under the ice into watery dark­ness was unthinkable.
I used a dry pole to stab hard at the crusty sur­face ahead in cross­ing the wide riv­er; thunk, thunk, thunk a hun­dred times then croosh, punched right on down! The pole was stout and long enough to span the hole if I fell through (and had the pres­ence to turn it hor­i­zon­tal) in the moment of pan­ic. Some­times we roped up. Yet much of the rot­ting riv­er ice would be plen­ty safe until it lift­ed and began to move and frac­ture. I nev­er knew of any life lost through the spring riv­er ice. One near­by bush­man was on the ice when it start­ed mov­ing but quick­ly retreat­ed. Out west with win­ter trails cross­ing deep­er lakes blan­ket­ed by accu­mu­lat­ed snow, poor deci­sions, some­times cloud­ed by sub­stances, took the lives of vil­lagers on pow­er­ful snow machines every year.
For us, it felt good to call it quits with the last of mail, hard­ware, a few gal­lons of fresh gas and treats from the lit­tle store in Eagle. The town was only 12 miles away, but on the oth­er side of the riv­er. We had no means of com­mu­ni­ca­tion. Two weeks ear­li­er we had packed up the kids to mush the well-worn trails 35 miles upriv­er to vis­it good friends in the Yukon Ter­ri­to­ry before trav­el­ing con­di­tions went all to hell. One day up and one back.
Every sen­sa­tion felt so regen­er­a­tive. The eaves of our small cab­in in the for­est dripped and formed ici­cles as the dead grass­es grow­ing out of the insu­lat­ing sod emerged. An arm­ful of fire­wood warmed the place eas­i­ly for the night. Snow slumped, trails grew icy, for­est odors mul­ti­plied and mixed where there had been none. Breezes caressed rather than seared. Light cloth­ing seemed a lux­u­ry, bare skin a delight. The slow "bomber mos­qui­tos" that had win­tered over would emerge ear­ly in small num­bers. We were re-invig­o­rat­ed as we hap­pi­ly shift­ed pri­or­i­ties and set­tled in for 3 to 4 weeks of com­plete fam­i­ly iso­la­tion. Break-up of the riv­er would clear the way for boat­ing sea­son, wages and all that lay ahead.
Every­thing changed marked­ly with soil, mud and run­ning tree pitch. Wise­ly, after sev­er­al years of this sea­son­al melt (plus cloth baby dia­pers washed on a glass scrub board) my hard-work­ing wife, Lynette, put her foot down and ordered a gas-pow­ered wringer wash­er. At $500 from Sears in Fair­banks it was a very cost­ly item to be picked up on an ear­ly sup­ply run. She and the kids still had to haul buck­ets of water or melt snow to fill that won­drous machine.
With the rise of the mer­cury, our sled dogs began shed­ding win­ter coats to add old fur to months of turds thaw­ing and emerg­ing from the packed lay­ers of win­ter with­in the radius of each chain. Our birch dog sled and tobog­gan, nylon dog har­ness­es and wall tent gear were dried and stowed under cov­er. The wheel­bar­row came out for haul­ing stuff to and from the river­bank. A rifle was car­ried every­where now as bears, an impor­tant source of fresh meat, emerged from their dens.
Cut­ting fire­wood was a far less labo­ri­ous chore as we had final­ly pur­chased a chain saw after 5 years of hand saw­ing and axe work. Gar­den beds were turned. The buried chum salmon guts that had been dug in dur­ing the late fall gill-net­ting were turn­ing into whitish emul­sion. Veg­gie seeds sprout­ed in a tem­po­rary plas­tic attach­ment to our front south-fac­ing cab­in win­dow. The riv­er was reg­u­lar­ly checked for promis­ing signs of the approach­ing break-up.
While mov­ing emp­ty drums and fish-cut­ting tables fur­ther up into the trees above our steep beach we paused, elat­ed by swarms of small passer­ine birds chit­ter­ing through the tree­tops like swirling smoke. Skeins of ducks streaked low over the heat-shim­mer­ing ice intent on reach­ing nest­ing grounds far­ther north. Of all the breed­ing bird arrivals to our for­est, the thrush­es were most vocal and exu­ber­ant. The late evening and ear­ly morn­ing flute calls from the extra­or­di­nary Swainson's Thrush seemed oth­er-world­ly. On tat­tered wings Mourn­ing Cloak but­ter­flies emerged unsteadi­ly from 7 months of hiber­na­tion in the leaf lit­ter, to take flight again to lay eggs in their last weeks of life. Wood frogs emerged no worse for wear from being frozen sol­id in their mud holes.
Spring in the north­ern hemi­sphere is always exhil­a­rat­ing, nev­er the same. Espe­cial­ly with the obvi­ous wilder swings of cli­mate change becom­ing evi­dent in the 1980s on. So, the "big show" starts at any giv­en place on the upper drainage (the Yukon is 1,800 miles long; we lived near mile 1,225) between late April and mid-May as a result of inter­play of win­ter snow­pack, warm or cool April tem­per­a­tures and the aver­age thick­ness of riv­er ice. The mighty Yukon breaks out begin­ning from the east­ern head­wa­ters in Cana­da and even­tu­al­ly domi­no-like down to the 5‑milewide mouth on the Bering Sea. Some "big shows" began with low snow­pack, mod­er­ate ice thick­ness and cool­er weath­er result­ing in a slow, low-water "rot out" that lift­ed to break out and run for a week, then drop leav­ing huge chunks and packed cliffs of ice to slow­ly melt onshore and in back sloughs.
Some shows were tumul­tuous and mas­sive­ly destruc­tive. Once, just once, in a divine moment; being in the right place at the right time, I stood look­ing over the expanse of sta­t­ic ice, felt more than saw a rip­ple of ener­gy as the immen­si­ty of ice lift­ed and began mov­ing. That moment of poten­tial ener­gy trans­formed into kinet­ic move­ment on such a scale bog­gles my mind.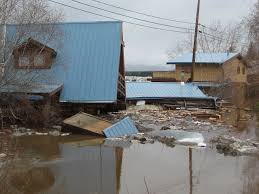 Liv­ing many years in the same place gives a nature observ­er a lot of per­spec­tive. High lat­i­tude, say about 64 degrees north and low ele­va­tion, along a large riv­er in an extreme con­ti­nen­tal cli­mate, is the place to be. We felt for­tu­nate to have a front-row seat from which to expe­ri­ence one of the great nat­ur­al shows on earth: the liquifi­ca­tion of a vast blan­ket of snow on well over 100,000 square miles of upper basin and a deeply frozen large riv­er like the Yukon, rapid­ly giv­ing in to the relent­less bar­rage of solar radi­a­tion strik­ing the land­scape from near­ly over­head by the end of April. Daylength was grow­ing by six min­utes a day.
This par­tic­u­lar breakup, around our sixth year of liv­ing at Windy Cor­ner, would be one to remem­ber. The com­bi­na­tion of lots of snow and a deep cold that built thick ice promised a spec­tac­u­lar event. We had a tra­di­tion of pic­nick­ing with the kids on a grassy over­look in front of the shop cab­in. Treaty snacks await­ed the one with the clos­est breakup guess. The sweep­ing view was of a mile and a half of riv­er bend, steeply ris­ing to a high forest­ed table­top, cleaved by Bound­ary Creek and marked by the inter­na­tion­al bor­der cut fol­low­ing the 141st meridian.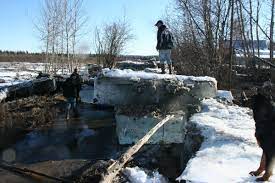 I hunt­ed suc­cess­ful­ly for a few days on the sub­alpine slopes of the low moun­tains behind our place with the whole coun­try blush­ing fresh leaf green. With huge sweeps of frozen riv­er and islands below, migrant birds of prey, like Red-tails, Sharp-shin hawks and Kestrels, soared along the warm­ing slopes. Four pant­i­ng dogs and me, packs loaded down with sheep and bear meat, had returned weary but glad that we had the riv­er bank to ease our walk back rather than bush­whack­ing in the for­est edge. This trea­sured spring meat, fat and organ del­i­ca­cies would be dug into the creek ice at the cab­in. In a week or two we canned or jerked what we couldn't eat fresh.
On about May 5, the riv­er ice was lift­ed by immense hydro­sta­t­ic pres­sure, frac­tured and quick­ly rose well up into the high­er bank wil­lows rum­bling by at 6 or 8 miles per hour. It kept mov­ing inex­orably toward the Bering Sea for a cou­ple of days with­out pause, when we real­ized an eerie silence and saw the water lev­el drop and ice decrease to a few pans among uproot­ed trees and mud­dy water. Ice jam! We were work­ing around the gar­den while the kids played with toy trucks in a sand­pit, when I heard the dis­tant whine of an out­board motor. Imme­di­ate­ly con­cerned that one of our Cana­di­an neigh­bors had an emer­gency we stepped out onto the grassy out­crop to see a skiff rac­ing along toward us from upriv­er. Soon I rec­og­nized our friend Gae­tan, a French-Cana­di­an fel­low new­ly set­tled at Pop­py Creek about 7 miles up.
We dropped down onto the beach, now exposed by the dras­ti­cal­ly low­ered Yukon, await­ing him with con­cern. He stood and curved the slow­ing boat into shore with a big smile and wave. The bow soft­ly bumped on the dark sand.
Hey Gae­tan, how are ya? Good! Good to see you, Steve. Hi there Kids! (in a flu­id French accent). I took his bow­line as he stepped out to hug Lynette with the kids cling­ing to her legs. His skiff was nice and clean, first time in the water this year. There wasn't much to tie to on the steep, mud­dy beach but then as he would soon learn, he wouldn't be stay­ing long. The kids liked Gae­tan, we all did, and they didn't often see peo­ple even in the lan­guid sum­mer months and nev­er dur­ing breakup.
I looked at him curi­ous­ly and asked Well, what's up and why are you on the riv­er? Whady­ou mean? He cocked his head quizzi­cal­ly mum­bling some­thing about head­ing down to Eagle for mail. I looked at my watch, did some quick men­tal cal­cu­la­tions. Gae­tan, breakup is only half done. There is a jam upriv­er, maybe Cliff Creek bend. If it has let go, I fig­ure that you may have only 30 to 40 min­utes to get back to your place and pull the boat up into the trees. If you make it you should bow and pray to the Riv­er Gods and enjoy some homebrew.
The full weight of a newcomer's error and impend­ing dan­ger imme­di­ate­ly changed his demean­er. If he hadn't stopped by but instead had con­tin­ued on to Eagle he most like­ly would have lost his out­fit meet­ing the ice surg­ing half way home. He would have had no choice but to beach his rig and scram­ble up into the trees to view the destruc­tion of puny human mate­ri­als. I gave him some gas and a good chunk of sheep meat. He wast­ed no time push­ing out, throt­tling up and speed­ing upriv­er dodg­ing the clear ice lens­es bob­bing in the dirty water to dis­ap­pear around the bend.
Just over an hour lat­er, reg­u­lar­ly check­ing my watch as we turned gar­den beds and burn piles, think­ing of our friend's fate, there came a low vibra­tion, almost like dis­tant break­ing waves but con­tin­u­ous. The water at our shore start­ed to steadi­ly rise. With­in min­utes a surg­ing white wall of tum­bling ice became vis­i­ble upriv­er and our water rose many ver­ti­cal feet. Soon enough jum­bled ice was cours­ing by bank to bank and water was longer vis­i­ble for a cou­ple of days. The riv­er stayed high but more water and float­ing tree trunks became the norm for a cou­ple more days. It was the real end of breakup.
While I was drag­ging our small alu­minum boat and 18 horse Evin­rude to the water between strand­ed bergs, prepar­ing to go to town, Gae­tan showed up grin­ning ear to ear and shak­ing his head. We hugged and laughed hearti­ly. He described the day he hur­ried­ly left us to rope-winch his boat and motor up into the trees just in time to see the ice wave mash­ing trees on low islands upriv­er. A weeks lat­er we motored 30 miles upriv­er beyond Cliff Creek to see the destruc­tion; miles of barked mature spruce and acres of drip­ping dirty ice­bergs high cen­tered in back sloughs. The hard­wood groves on some low islands and along the out­side of bends were com­plete­ly flat­tened, jum­bled like pick-up sticks with acres of ice­bergs strand­ed atop them melting.
We lis­tened to radio reports of some vil­lages flood­ing. Lat­er we heard via the "riv­er grapevine" about the mis­for­tunes of oth­ers in our area. Unfor­tu­nate­ly, high water behind the Cliff Creek jam had flood­ed our friends low-lying cab­in. To add insult to injury, a half bar­rel of diesel oil with­in the cab­in had float­ed up and spilled coat­ing every sur­face as the water lev­el dropped. Once they rec­og­nized that there was a seri­ous ice jam down­riv­er, they had man­aged in a day-long fren­zy to move most of their valu­ables to high­er ground using dogs. But it took two weeks for them to labo­ri­ous­ly clean and repair and to find stuff back in the woods. Oth­ers had spent a cou­ple days with their dogs on the roofs of inun­dat­ed cab­ins, boat or canoe line tied around the stovepipe. Liv­ing back in the trees on a high bank on the inside of a long riv­er bend pro­tect­ed us from breakup anx­i­ety and unpre­dictable destruc­tion for 10 years. We nev­er said any­thing to oth­ers of Gaetan's mis­take but he owned up to it.
You can support the San Juan Update by doing business with our loyal advertisers, and by making a one-time contribution or a recurring donation.