Ernie's is Re-Opening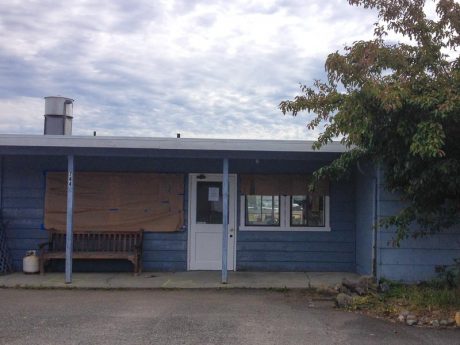 Story and photos by Louise Dustrude –
The popular cafe at the airport, which closed in December, will be open once again on Saturday, June 5, with an expanded menu and expanded hours. Kristine Crossley will be the host and chef. Her husband, Jim Crossley, an aviation enthusiast, is currently refurbishing the building with the help of friends and volunteers, to be both a cafe and an aviation museum.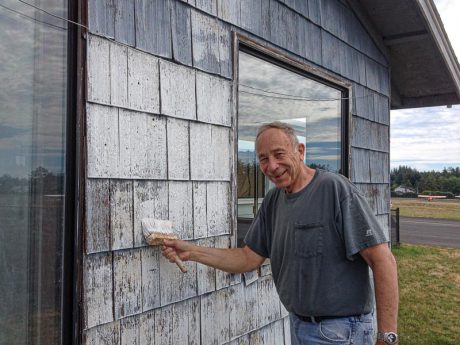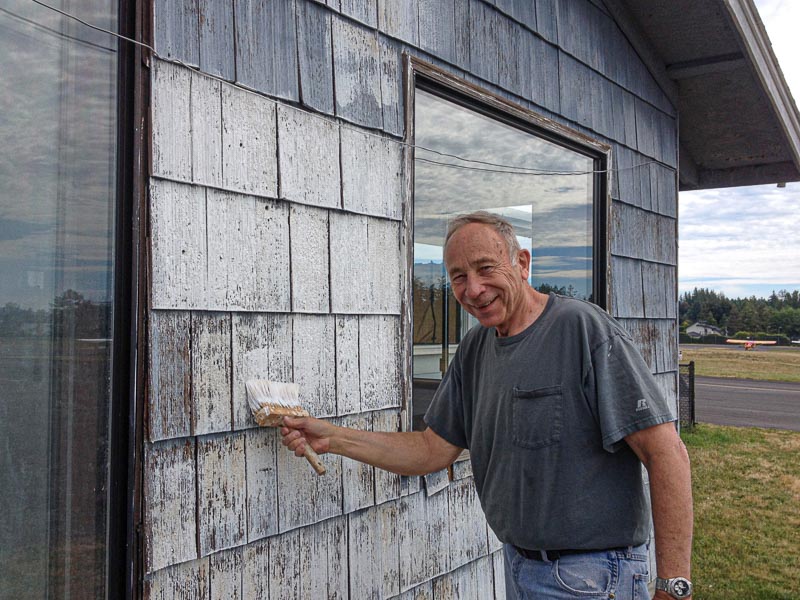 Lunch will be served daily from 11 to 2, and the cafe will re-open from 4 to 7 serving beer and wine and light food. The menu will expand from American and Korean items to add other Asian specialties: Filipino, Malaysian, and Japanese. Kristine holds a college degree in restaurant management, and she was the manager of a Chinese restaurant in the Philippines, which was her home.
Jim ran Ernie's years ago with his then wife, Chisom, who was Korean and who added traditional Korean food to the menu. She ran the cafe for about five years.
After that, Patrick and Christine Minney took over and ran Ernie's for 10 years until the end of 2020. Their last year offered only to-go meals because of the pandemic, and during that time Christine was also running (successfully) for County Commissioner. They had each had a number of years of restaurant experience in Friday Harbor before they took on Ernie's. They kept the Korean menu items because they loved that food themselves and knew it had a growing following here. They added salads, great sandwiches, and, probably the most popular: the daily soup with a freshly made popover.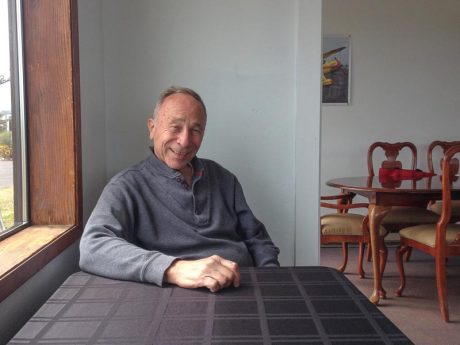 Jim's interest has been in preserving the building, built in 1960 by Roy Franklin and his father as a passenger terminal for Island Sky Ferries (later called San Juan Airlines). Roy had started the airline service before there was a runway or a passenger terminal, landing and taking off from a cow pasture.
In addition to the cafe, the building will house the Roy Franklin Museum, dedicated to telling the story of the man Jim calls "one of the greatest aviators I've known" and what he did for this island for 40 years. Roy will be remembered by many islanders whose lives were saved by his flying skills and never-failing willingness to fly in all kinds of weather when needed. The museum is here to tell his amazing story. John Geyman is president of the museum. The story of Roy's life and adventures here is well-told by John on historylink.org. He died in 2011.
The building will also house the Lone Eagle Society, a non-profit organization of seniors who mentor youth in aviation. Bob Jamieson is the primary teacher for a group of kids aged 12 to 19 who will be rebuilding one plane and completing another. And it will house the Ernest K. Gann Pilot Center, featuring Ernie's many aviation-related books. Ernie moved to the island in 1966 and bought land in San Juan Valley which he and his wife Dodie left to the San Juan Preservation Trust. He flew for San Juan Airlines one summer. Ernie died in 1991.
Jim flew for Fed-Ex until he retired seven years ago.