Lori Haugen is Friday Harbor Animal Shelter Volunteer of the Month
Posted June 12, 2021 at 4:30 am by Hayley Day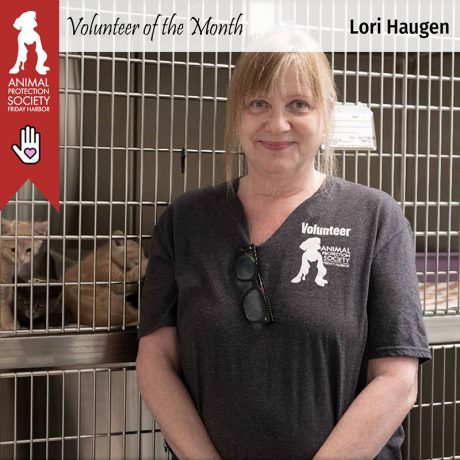 From the Ani­mal Pro­tec­tion Soci­ety of Fri­day Harbor
Lori Hau­gen is the Ani­mal Pro­tec­tion Soci­ety — Fri­day Har­bor vol­un­teer of the month for June 2021.
Lori start­ed vol­un­teer­ing for the shel­ter in Feb­ru­ary 2021 as a Trea­sure Hounds retail associate.
Lori also vol­un­teers her time help­ing at the shel­ter, in the APS-FH Low-Cost Spay and Neuter Clin­ic, where she assists with the recov­ery of sur­gi­cal patients.
In her spare time, Lori also walks dogs the shel­ter dogs, some­times tak­ing them on field trips to the beach or on hikes. Even though Lori is a rel­a­tive­ly new vol­un­teer, she has quick­ly become indis­pens­able to APS-FH.
Thanks so much, Lori, for mak­ing a dif­fer­ence in the lives of shel­ter ani­mals. Your ded­i­ca­tion and hard work are deeply appreciated.
You can support the San Juan Update by doing business with our loyal advertisers, and by making a one-time contribution or a recurring donation.