Weather Service Places Excessive Heat Warning in San Juans through Monday Night
Posted June 27, 2021 at 12:57 pm by Hayley Day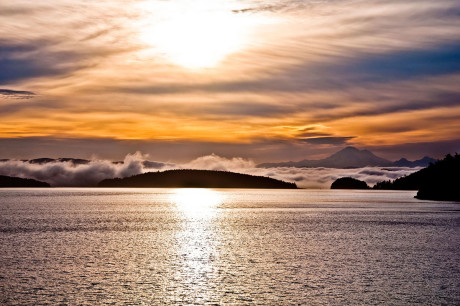 San Juan Islands Sun­rise — Aaron Shep­ard photo
By Hay­ley Day, San Juan Update
The Nation­al Weath­er Ser­vice issued an exces­sive heat warn­ing for the San Juan Islands through 9 p.m. Monday.
Mete­o­rol­o­gists call for "dan­ger­ous­ly hot con­di­tions with high tem­per­a­tures in the 90s, espe­cial­ly areas inland and away from the water."
The weath­er ser­vice fore­casts the high in Fri­day Har­bor to be 90 degrees Sun­day and 92 degrees Mon­day. Low tem­per­a­tures will be in the 60s.
There is a high risk for heat-relat­ed ill­ness­es for those out­side, with­out air con­di­tion­ing and the elder­ly, accord­ing to the weath­er service.
San Juan Coun­ty Depart­ment of Emer­gency Man­age­ment Direc­tor Bren­dan Cow­an report­ed that even though island tem­per­a­tures are low­er than on the main­land, local ris­ing tem­per­a­tures can still be dangerous.
"There are a num­ber of com­mon-sense pre­cau­tions … to min­i­mize the impact, but if you or some­one you know is in cri­sis due to the tem­per­a­tures, call 911," he said.
Those in need can receive med­ical atten­tion or sim­ply find a place to cool down, he said.
The depart­ment lists the fol­low­ing ways to stay cool:
Stay hydrat­ed.
Stay indoors.
Keep your shades and cur­tains down and win­dows closed.
Fans will make a big difference.
Put buck­ets of ice in front of your fan.
Moist­en your skin or your sheets at night.
Open your house win­dows at night.
Don't cook indoors.
You can support the San Juan Update by doing business with our loyal advertisers, and by making a one-time contribution or a recurring donation.