Weather Service Places Excessive Heat Warning in San Juans through Monday Night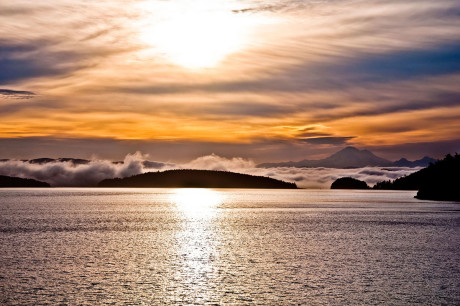 San Juan Islands Sunrise – Aaron Shepard photo
By Hayley Day, San Juan Update
The National Weather Service issued an excessive heat warning for the San Juan Islands through 9 p.m. Monday.
Meteorologists call for "dangerously hot conditions with high temperatures in the 90s, especially areas inland and away from the water."
The weather service forecasts the high in Friday Harbor to be 90 degrees Sunday and 92 degrees Monday. Low temperatures will be in the 60s.
There is a high risk for heat-related illnesses for those outside, without air conditioning and the elderly, according to the weather service.
San Juan County Department of Emergency Management Director Brendan Cowan reported that even though island temperatures are lower than on the mainland, local rising temperatures can still be dangerous.
"There are a number of common-sense precautions … to minimize the impact, but if you or someone you know is in crisis due to the temperatures, call 911," he said.
Those in need can receive medical attention or simply find a place to cool down, he said.
The department lists the following ways to stay cool:
Stay hydrated.
Stay indoors.
Keep your shades and curtains down and windows closed.
Fans will make a big difference.
Put buckets of ice in front of your fan.
Moisten your skin or your sheets at night.
Open your house windows at night.
Don't cook indoors.