Artists to Paint Friday Harbor Mural of Local Flora and Fauna in August
Posted July 29, 2021 at 5:30 am by Hayley Day
From town of Fri­day Harbor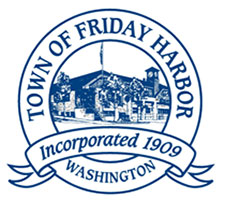 The Town of Fri­day Har­bor invites the pub­lic to view the instal­la­tion of a mur­al along Blair Avenue the first week of August. The mur­al will be cre­at­ed on the long wall behind Earth­box Inn and Spa.
The pro­posed con­cept by Pouls­bo artists Josh Ben­nett and Cory Ander­son is a trib­ute to the small­er flo­ra and fau­na of our San Juan Island ecosys­tem. Through a fusion of abstract art, fine draw­ing and street-inspired tech­niques, the artists will cre­ate motifs and sil­hou­ettes in what they describe as a unique, endur­ing, and joy­ful piece.
Their pro­pos­al, "A Liv­ing Island," was select­ed by the Fri­day Har­bor Arts Com­mis­sion and approved by the town coun­cil at their May 6 meeting.
The mur­al selec­tion process includ­ed a review by an Art Selec­tion Pan­el of com­mis­sion­ers, artists, and neigh­bors of the pro­posed mur­al site. Pan­el mem­bers reviewed 11 pro­pos­als sub­mit­ted by artists from San Juan Coun­ty, the Puget Sound and Col­orado. The final selec­tion of Ben­nett and Fish­er was dis­cussed pub­licly at FHAC and Town Coun­cil meet­ings ear­li­er this year.
The ASP and FHAC expressed appre­ci­a­tion for the expe­ri­ence and skill of all of the artists and for the degree of research and care­ful thought that went into each of their concepts.
"Pub­lic input was crit­i­cal to our art selec­tion process," said Arts Com­mis­sion­er Lynn Weber/Roochvarg, adding, "The com­mis­sion wants the selec­tion and instal­la­tion of our projects to be an excit­ing and mem­o­rable process for the community."
This is the sec­ond major mur­al project com­mis­sioned by the FHAC which was formed in 2015 to advise the town coun­cil on the cul­ti­va­tion, selec­tion, acqui­si­tion and place­ment of pub­lic art. The mur­al "Wit­ness the Beau­ty," installed in Sunken Park in 2016, is sched­uled to be retouched by the orig­i­nal artist Jake Wag­oner lat­er this month.
You can support the San Juan Update by doing business with our loyal advertisers, and by making a one-time contribution or a recurring donation.