Island Senior: Are We There Yet? The Mullis Center Cautiously Reopens
Posted July 18, 2021 at 5:30 am by Peggy Sue McRae
"Island Senior" is a reg­u­lar col­umn on the San Juan Update writ­ten by Peg­gy Sue McRae.
UPDATE — We are mon­i­tor­ing devel­op­ments with Delta and oth­er COVID vari­ants that may affect our Mullis Cen­ter onsite com­mu­ni­ty meal re-open­ing. Every­one's health safe­ty is our top pri­or­i­ty. Please stay tuned for more infor­ma­tion via our newslet­ter, web­site, Face­book page and week­ly E‑Update.
Like cranky kids in the back seat look­ing for­ward to our arrival in a post-pan­dem­ic world, we may well ask, "Are we there yet?" The answer being, "Hang on, we're get­ting there".
Things are start­ing to open up. Accord­ing to July's San Juan Island Senior Sig­nal* the Mullis Cen­ter is ten­ta­tive­ly plan­ning to resume com­mu­ni­ty lunch­es in Sep­tem­ber start­ing once a week on Wednesdays.
The Mullis Center's Paint­ing group met sev­er­al times this spring out­side on the patio wear­ing masks and social dis­tanc­ing. They hope to start inside paint­ing ses­sions soon. Rain­shad­ow Quil­ters group also met out­side this spring. They plan to start hold­ing meet­ings in per­son on Wednesdays.
The Mullis Cen­ter's book club will meet with a hybrid option in Sep­tem­ber with some of us meet­ing in per­son in the Mullis Cen­ter's library while those who still wish to par­tic­i­pate via Zoom will be sent the link. Said Beth Hel­stien, "Our first hybrid, in-per­son­/­Zoom meet­ing will take place on Mon­day, Sep­tem­ber 20 at 1:15 and we will dis­cuss The Leavers by Lisa Ko (I'll be trav­el­ing on the sec­ond Mon­day) at the Mullis Cen­ter at 1:15." Nor­mal­ly the book club meets on the sec­ond Mon­day of each month. Con­tact Beth, the club's facil­i­ta­tor, at San Juan Pub­lic Library if you would like the Zoom link or for more information.
The Gar­den Club looks for­ward to in-per­son meet­ings this fall. Meet­ings are ten­ta­tive­ly set for Sept. 2, Oct. 4, and Dec. 2.
If you have an inter­est in join­ing the quil­ters, painters, oth­er groups, or start­ing a new activ­i­ty group, please call Anna Cof­felt-Kuet­z­ing, the Mullis Cen­ter man­ag­er, at 360–370-7520.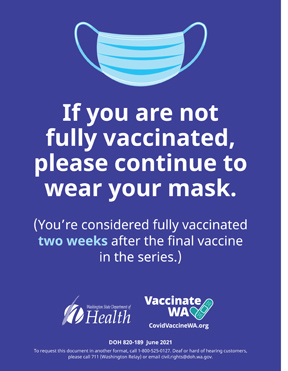 The Tues­day family/friend Care­giv­er Sup­port Group is meet­ing in per­son now. If you are inter­est­ed in join­ing this group or would like more infor­ma­tion please call Gail Les­chine-Seitz at 360–378-2677.
It has been such a relief to be able to greet friends again, to hug, to relax and take our masks off. How­ev­er, we are not quite out of the woods. We still have chil­dren to vac­ci­nate and then there are those trou­bling vari­ants of the virus.
San Juan Coun­ty is unique in that we are the most vac­ci­nat­ed coun­ty in the state of Wash­ing­ton. Good for us! At the same time in the sum­mer, we are a tourist mec­ca where peo­ple come to vis­it our small island from all over the world. It's not a bad idea to keep your mask handy and your hands clean.
There is still rea­son to be cau­tious. Unvac­ci­nat­ed peo­ple remain at risk. Areas of the coun­try with low vac­cine rates or oth­er coun­tries that have not had the advan­tage of get­ting their pop­u­la­tion vac­ci­nat­ed are see­ing surges.
Get­ting more peo­ple vac­ci­nat­ed is key world­wide to us final­ly reach­ing our des­ti­na­tion, a post-pan­dem­ic world. At the Mullis Cen­ter, we hope to be see­ing you soon!
San Juan Island Senior Sig­nal newslet­ter and is pub­lished by San Juan Coun­ty Senior Ser­vices for the Mullis Cen­ter and is dis­trib­uted free at the Mullis Cen­ter and oth­er loca­tions, by mail or by email. If you would like to receive the Senior Sig­nal newslet­ter, please con­tact Deb­bie Haa­gensen at 360‑0370-7526 and pro­vide your email or mail­ing address.
You can support the San Juan Update by doing business with our loyal advertisers, and by making a one-time contribution or a recurring donation.