Island Senior: Are We There Yet? The Mullis Center Cautiously Reopens
"Island Senior" is a regular column on the San Juan Update written by Peggy Sue McRae.
UPDATE – We are monitoring developments with Delta and other COVID variants that may affect our Mullis Center onsite community meal re-opening. Everyone's health safety is our top priority. Please stay tuned for more information via our newsletter, website, Facebook page and weekly E-Update.
Like cranky kids in the back seat looking forward to our arrival in a post-pandemic world, we may well ask, "Are we there yet?" The answer being, "Hang on, we're getting there".
Things are starting to open up. According to July's San Juan Island Senior Signal* the Mullis Center is tentatively planning to resume community lunches in September starting once a week on Wednesdays.
The Mullis Center's Painting group met several times this spring outside on the patio wearing masks and social distancing. They hope to start inside painting sessions soon. Rainshadow Quilters group also met outside this spring. They plan to start holding meetings in person on Wednesdays.
The Mullis Center's book club will meet with a hybrid option in September with some of us meeting in person in the Mullis Center's library while those who still wish to participate via Zoom will be sent the link. Said Beth Helstien, "Our first hybrid, in-person/Zoom meeting will take place on Monday, September 20 at 1:15 and we will discuss The Leavers by Lisa Ko (I'll be traveling on the second Monday) at the Mullis Center at 1:15." Normally the book club meets on the second Monday of each month. Contact Beth, the club's facilitator, at San Juan Public Library if you would like the Zoom link or for more information.
The Garden Club looks forward to in-person meetings this fall. Meetings are tentatively set for Sept. 2, Oct. 4, and Dec. 2.
If you have an interest in joining the quilters, painters, other groups, or starting a new activity group, please call Anna Coffelt-Kuetzing, the Mullis Center manager, at 360-370-7520.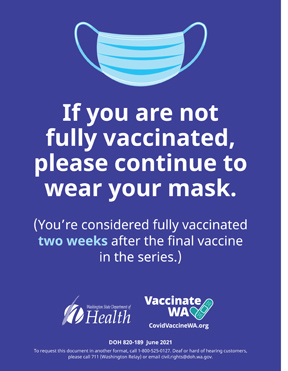 The Tuesday family/friend Caregiver Support Group is meeting in person now. If you are interested in joining this group or would like more information please call Gail Leschine-Seitz at 360-378-2677.
It has been such a relief to be able to greet friends again, to hug, to relax and take our masks off. However, we are not quite out of the woods. We still have children to vaccinate and then there are those troubling variants of the virus.
San Juan County is unique in that we are the most vaccinated county in the state of Washington. Good for us! At the same time in the summer, we are a tourist mecca where people come to visit our small island from all over the world. It's not a bad idea to keep your mask handy and your hands clean.
There is still reason to be cautious. Unvaccinated people remain at risk. Areas of the country with low vaccine rates or other countries that have not had the advantage of getting their population vaccinated are seeing surges.
Getting more people vaccinated is key worldwide to us finally reaching our destination, a post-pandemic world. At the Mullis Center, we hope to be seeing you soon!
San Juan Island Senior Signal newsletter and is published by San Juan County Senior Services for the Mullis Center and is distributed free at the Mullis Center and other locations, by mail or by email. If you would like to receive the Senior Signal newsletter, please contact Debbie Haagensen at 360-0370-7526 and provide your email or mailing address.