San Juan County approves Proclamation for 'Plastic Free July'
Posted July 2, 2021 at 5:00 am by Hayley Day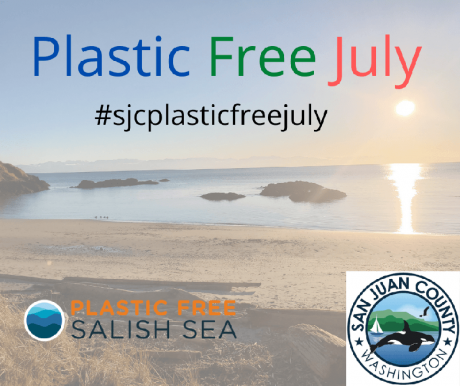 From San Juan County
The San Juan Coun­ty Coun­cil approved a procla­ma­tion June 29 des­ig­nat­ing "Plas­tic Free July" in San Juan County.
The procla­ma­tion rec­og­nizes the press­ing issues around plas­tic waste, includ­ing the fact that plas­tics are the most preva­lent type of marine debris found in our oceans, as well as being found dai­ly on San Juan County's shores, with dev­as­tat­ing effects on marine life and human health.
Plas­tic Free July is a glob­al move­ment help­ing mil­lions of peo­ple be part of the solu­tion by pro­vid­ing resources and ideas to help you reduce sin­gle-use plas­tic waste in your dai­ly life.
San Juan Coun­ty encour­ages staff, res­i­dents and vis­i­tors to reduce plas­tic con­sump­tion by choos­ing reusable alter­na­tives to sin­gle-use plas­tics, mak­ing pur­chas­es mean­ing­ful by seek­ing prod­ucts pack­aged with biodegrad­able mate­ri­als, sourc­ing food and prod­ucts local­ly where pos­si­ble and learn­ing about what resources exist in San Juan Coun­ty for recy­cling and indi­vid­ual waste reduction.
The coun­cil extend­ed recog­ni­tion and sup­port to the envi­ron­men­tal resource division's ongo­ing work as well as the mis­sion of Plas­tic Free Sal­ish Sea, a com­mu­ni­ty cam­paign spear­head­ed by the San Juan Coun­ty Marine Resources Committee.
The coun­cil also ele­vat­ed envi­ron­men­tal resources to a coun­ty depart­ment. The team will be shar­ing infor­ma­tion and ways to get involved in Plas­tic Free July all month and invite you to join the con­ver­sa­tion on the coun­ty's new Face­book page, Facebook.com/SanJuanCountyWA.
You can support the San Juan Update by doing business with our loyal advertisers, and by making a one-time contribution or a recurring donation.