San Juan County Fire Districts Warn of High Fire Risk in Islands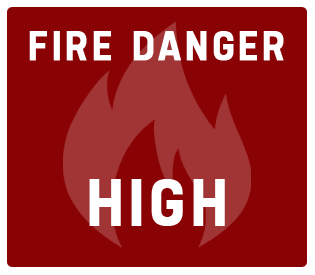 From San Juan Fire and Rescue, Orcas Island Fire and Rescue, Lopez Fire and EMS and Shaw Island fire department
Throughout the San Juan Islands, the fire danger level is high as of July 12.
The following burn status applies only to privately owned properties in San Juan County. Other restrictions and guidelines are in place for public lands including The U.S. National Park Service, Department of Parks, the Washington State Department of Natural Resources, and Washington State Parks.
Your San Juan County fire districts are actively monitoring local conditions and currently, the county allows only recreational fires on private property.
Recreational fires in San Juan County are defined as fires that are comprised of clean, dry firewood – not yard waste – in a fire ring or bowl that is no larger than 3 feet in diameter. Recreational fires may also be contained in a commercially available fire pit and may be liquid or gas-fueled, which is the recommended option.
Always have a water source on hand and be sure your recreational fire is "dead out" by drowning it with water, stirring, then drowning again.
Following direction from Washington State Governor Jay Inslee's Emergency Proclamation 21-10:
Recreational fires must have a 5-foot perimeter around them that is clear of grass, weeds, moss or other flammable vegetation.
Charcoal grills and liquid or gas-fueled stoves must also be over a non-flammable surface and at least five feet from flammable vegetation. Do not have a recreational fire if these conditions do not exist.
Burning refuse, plastic, and treated or painted wood is illegal and subject to fines. Burn barrels are not allowed at any time due to a prohibition by the Department of Ecology.
The fire danger rating and burn ban status can be viewed for each fire district on Orcasfire.org, SJIFIRE.org and Lopezfire.com.
Current burn ban status for the state parks can be found at parks.state.wa.us/1186/Parks-burn-bans and parks.state.wa.us/AlertCenter.aspx?AID=2854
San Juan County fire districts urge you to be safe and responsible with Recreational fire activities. Enjoy your time with family and friends this summer!