San Juan Community Theatre to Host Fall Classes for All Ages and Reduced Tuition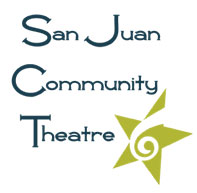 San Juan Community Theatre will finally be open to the public this fall. In addition to touring artist performances and the fall musical, Mamma Mia, SJCT will also be hosting multiple classes for all ages throughout the fall season. Regular classes are available for ages three and older.
SJCT will also be hosting Drama Club Nights for families, middle school students, and adults. Participants will play theatre games, sing karaoke, and dance.
Additionally, thanks to SJCT's donors, all youth classes will no longer exceed $50. Previously, class tuition ranged from under $100 to over $400.
Executive Artistic Director, Nathan Kessler-Jeffrey said, "We suspect that there are still families out there that see tuition rates for our camps and think, 'that's not for our family'. That's why, next season, no class will be advertised with a cost of over $50. We've found that people don't show up for free classes, but when it's affordable, students come out in droves."
Scholarships are still available if needed. For more details including registration and current COVID-19 policies, visit www.sjctheatre.org or call (360) 378-3210.