San Juan Community Theatre to Host Fall Classes for All Ages and Reduced Tuition
Posted August 9, 2021 at 5:47 am by Tim Dustrude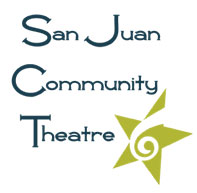 San Juan Com­mu­ni­ty The­atre will final­ly be open to the pub­lic this fall. In addi­tion to tour­ing artist per­for­mances and the fall musi­cal, Mam­ma Mia, SJCT will also be host­ing mul­ti­ple class­es for all ages through­out the fall sea­son. Reg­u­lar class­es are avail­able for ages three and older.
SJCT will also be host­ing Dra­ma Club Nights for fam­i­lies, mid­dle school stu­dents, and adults. Par­tic­i­pants will play the­atre games, sing karaoke, and dance.
Addi­tion­al­ly, thanks to SJCT's donors, all youth class­es will no longer exceed $50. Pre­vi­ous­ly, class tuition ranged from under $100 to over $400.
Exec­u­tive Artis­tic Direc­tor, Nathan Kessler-Jef­frey said, "We sus­pect that there are still fam­i­lies out there that see tuition rates for our camps and think, 'that's not for our fam­i­ly'. That's why, next sea­son, no class will be adver­tised with a cost of over $50. We've found that peo­ple don't show up for free class­es, but when it's afford­able, stu­dents come out in droves."
Schol­ar­ships are still avail­able if need­ed. For more details includ­ing reg­is­tra­tion and cur­rent COVID-19 poli­cies, vis­it www.sjctheatre.org or call (360) 378‑3210.
You can support the San Juan Update by doing business with our loyal advertisers, and by making a one-time contribution or a recurring donation.