San Juan Island National Historical Park Hit with Vandalism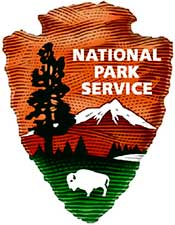 Friday Harbor, WA – On September 4, 2021 unknown individuals damaged public lands and destroyed public property at the American Camp Unit of San Juan Island National Historical Park. The park needs your help to identify and apprehend these lawbreakers. Any tips will be treated as confidential.
The damage to the park was extensive including the theft and destruction of interpretive signs, parking signs, and trail signs at the Redoubt. Split rail fencing was damaged and vehicular off-roading on and around the Redoubt damaged the surface of the structure and its surroundings. The Redoubt is the most intact example of a. pre-Civil war fortification of its type. It is a contributing resource to the cultural landscape within a National Historic Landmark, which means that preserving it and protecting it from adverse impacts is mandated by federal law.
The perpetrators used all-terrain vehicles whose tire width was 12 inches with a combined width of 53 inches Their vandalism disturbed a total of 97 feet of fence on the parking lot island and the east side of the parking lot. They also destroyed an interpretive kiosk and littered numerous cigarette butts on park property. Some park interpretive and wayfinding signs were stolen while others were cut from their bases using a chainsaw or electric saw and thrown into the prairie.
The park has conducted a thorough investigation and has reported these crimes to the San Juan County Sheriff's Department. The perpetrators currently remain at large. If you have any leads, we would appreciate if you would contact the San Juan County Sheriff's anonymous tip line at 360-370-7629 or their dispatch center at 360-378-4151.