Construction for Wastewater Sewer Plant Outfall Project
Posted October 13, 2021 at 10:21 am by Tim Dustrude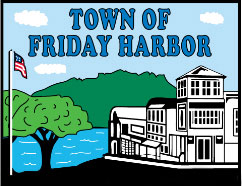 The Town of Fri­day Har­bor has con­tract­ed with Red­side Con­struc­tion to replace its exist­ing sub­ma­rine sew­er out­fall line with new 18-inch diam­e­ter HDPE pipe via direc­tion­al drilling and place­ment on sea bed. Then con­nect the line upland to exist­ing sew­er util­i­ties from the Waste­water Treat­ment Plant. Two aer­i­al views are pro­vid­ed to help under­stand the project scope and how it may tem­porar­i­ly affect ves­sel traffic.
Start­ing in ear­ly Novem­ber, the new pip­ing will be fused togeth­er. This activ­i­ty will take place just south of Jensen's Mari­na on Turn Point Road. After com­ple­tion, the pipe will be launched out to the south end of Fri­day Har­bor, where it will be moored off­shore for a cou­ple of weeks in its Launch Location.
While moored, the pipe will have red buoys every 30 feet to alert boaters to its loca­tion. Both ends will be marked with four flash­ing yel­low lights and every 600 feet in between for night­time identification.
Direc­tion­al drilling will begin in mid-Novem­ber and is antic­i­pat­ed to be com­plete in mid-Decem­ber. The over­all out­fall line will be approx­i­mate­ly 1,950 feet long from the end of McDon­ald Street out into the harbor.
While the bore from McDon­ald Street is being com­plet­ed, the new pipe will be towed to its Install Loca­tion, where it will be pulled into the bore for 1,200 feet, then pro­gres­sive­ly sunk to the bot­tom of the harbor.
If you have any ques­tions or con­cerns regard­ing the project, con­tact the Town of Fri­day Har­bor at (360) 378‑2154 or pedrom@fridayharbor.org.
You can support the San Juan Update by doing business with our loyal advertisers, and by making a one-time contribution or a recurring donation.