Island Rec – Teen Halloween Party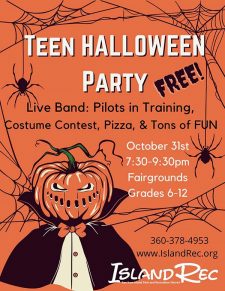 When the ghouls come out this year, we'll be ready for them! A night of fun awaits you at Island Rec's annual Teen Halloween Party! This year's party will be held just outside of the Fairgrounds Building, with live music performed by Pilots in Training, a costume contest, escape room, pizza and more! Prizes will be awarded for best costumes, including scariest, funniest, most creative and best group costume. The party will run from 7:30-9:30pm on Sunday, October 31st and is for grades 6-12.
Toy weapons are not allowed. Face masks are required to attend.
For more information call 378-4953 or visit www.islandrec.org.
Our office is located at 580 Guard Street.