Jan Murphy Joins SJIMA in Marketing
Posted October 12, 2021 at 5:48 am by Tim Dustrude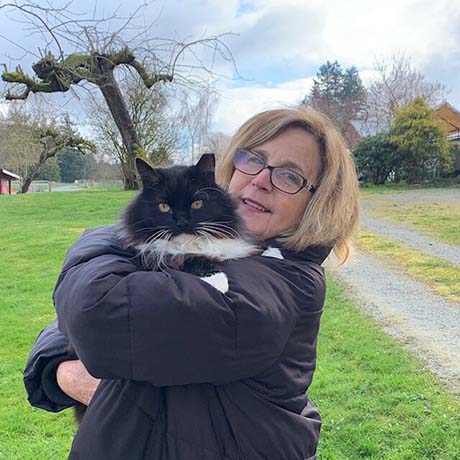 The San Juan Islands Muse­um of Art (SJIMA) in Fri­day Har­bor is excit­ed to announce that Jan Mur­phy is join­ing our mar­ket­ing team.
As an artist, Jan has been a fre­quent exhibitor in the annu­al SJIMA Artists' Reg­istry show. Her works include paint­ings and mixed media assem­blage art. Her work has been exhib­it­ed in sev­er­al gal­leries through­out the Pacif­ic Northwest.
Jan Mur­phy has been a res­i­dent of San Juan Island since 2010 and has been active in the com­mu­ni­ty since then. She has par­tic­u­lar­ly been inter­est­ed in the areas of ani­mal wel­fare and the arts.
Many may know her as hav­ing served on sev­er­al local boards, Jan has focused a great deal of time on vol­un­teerism to con­tribute and give back to the com­mu­ni­ty she loves to call home. Her vol­un­teer activ­i­ties have includ­ed work for The Ani­mal Pro­tec­tion Soci­ety of Fri­day Har­bor, San Juan Island Hos­pice, The Home Trust, The San Juan Island ACLU and Wolf Hollow.
If you have read the Pet of the Week col­umn in the past, you will be famil­iar with her work. Jan has always been impressed with the exhi­bi­tions and pro­grams at SJIMA and looks for­ward to this new challenge.
Jan shares stu­dio space with sev­en oth­er artists at The Fri­day Har­bor Ate­lier and often exhibits her work at shows and recep­tions there. She is a mem­ber of the Ate­lier Mas­ters group and often teach­es art work­shops there.
You can support the San Juan Update by doing business with our loyal advertisers, and by making a one-time contribution or a recurring donation.