Pet of the Week: Tiramisu
Posted October 10, 2021 at 5:35 am by Tim Dustrude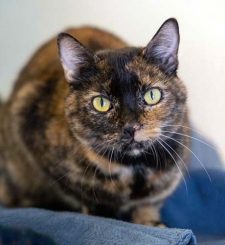 Eye of newt, wing of bat,
this is one cool, crazy, Cal­i­co cat.
From dusk till dawn she'll spell­bound you
and tell you tele­path­i­cal­ly what it is you should do.
No handsy hands, no fast feet,
but if you con­jure them up, she will take some tasty treats.
Cat nor kid does she want to greet.
Make your motions flu­id and smooth, your voice soft and sweet,
and she'll be the best feline you ever did meet.
Lap sits, fore­head rubs, and hon­eyed words is the best she can do,
it is what it is, let her come to you.
Fol­low these strange steps true and through,
you could be the one to change her hiss to a coo.
Age: 11 years
Sex: Female
Breed: Tor­tie
Appli­ca­tion: https://www.apsfh.com/adoption-program/feline-application/
ABOUT
Ori­gin: Orcas Island
Weight: 9 lbs
Per­son­al­i­ty: Mys­te­ri­ous, Super­sti­tious, Talk­a­tive Grem­lin, Mesmerizing
Ener­gy Lev­el: Medium-Low
Likes: Wand play, Curs­ing Cats, High Perch­es, Sil­ver-Tongued Talks, Sto­ry Telling
Dis­likes: Kids, Cat­nip Con­coc­tions, Cute Curi­ous Cats
You can support the San Juan Update by doing business with our loyal advertisers, and by making a one-time contribution or a recurring donation.