Pfizer Booster Clinics Next Week
Posted October 13, 2021 at 9:02 am by Tim Dustrude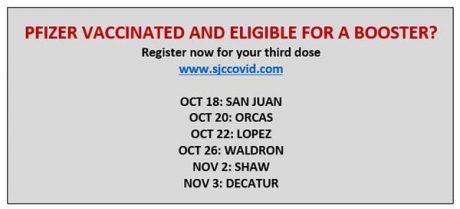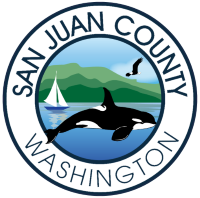 Islanders who are eli­gi­ble for COVID vac­cine boost­ers (review this FAQ for details) and who are vac­ci­nat­ed with the Pfiz­er vac­cine are encour­aged to receive their third dose boost­ers begin­ning next week at free vac­cine clin­ics through­out San Juan County.
Please reg­is­ter in advance at: https://www.sanjuanco.com/1737/COVID-Vaccine-Info. San Juan Coun­ty is also offer­ing flu vac­cine clin­ics in late Octo­ber and Novem­ber, go here for details and to reg­is­ter:https://www.sanjuanco.com/1856/Flu-Vaccine-Clinics.
FDA and CDC deci­sions on Mod­er­na and John­son & John­son boost­ers are expect­ed by the end of October.
SAN JUAN
Mon­day Octo­ber 18th
9am – 12pm
ORCAS
Wednes­day Octo­ber 20th
10am – 12pm
LOPEZ
Fri­day Octo­ber 22nd
1:45 – 3:00pm
SHAW
Tues­day Novem­ber 2nd
1:00 – 2:00pm
WALDRON
Tues­day Octo­ber 26th
10am – 12pm
DECATUR
Wednes­day Novem­ber 3rd
10am – 2pm
You can support the San Juan Update by doing business with our loyal advertisers, and by making a one-time contribution or a recurring donation.