Pfizer Booster Clinics Next Week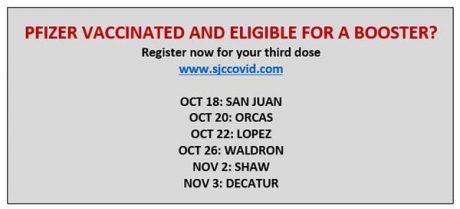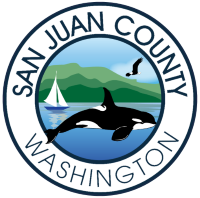 Islanders who are eligible for COVID vaccine boosters (review this FAQ for details) and who are vaccinated with the Pfizer vaccine are encouraged to receive their third dose boosters beginning next week at free vaccine clinics throughout San Juan County.
Please register in advance at: https://www.sanjuanco.com/1737/COVID-Vaccine-Info. San Juan County is also offering flu vaccine clinics in late October and November, go here for details and to register:https://www.sanjuanco.com/1856/Flu-Vaccine-Clinics.
FDA and CDC decisions on Moderna and Johnson & Johnson boosters are expected by the end of October.
SAN JUAN
Monday October 18th
9am – 12pm
ORCAS
Wednesday October 20th
10am – 12pm
LOPEZ
Friday October 22nd
1:45 – 3:00pm
SHAW
Tuesday November 2nd
1:00 – 2:00pm
WALDRON
Tuesday October 26th
10am – 12pm
DECATUR
Wednesday November 3rd
10am – 2pm