Plastic Film Recycling Pilot Program Launches this Week
Posted October 24, 2021 at 9:33 am by Tim Dustrude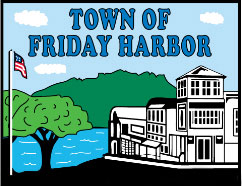 The Town of Fri­day Harbor's free month­ly res­i­den­tial curb­side pick­up of plas­tic film for recy­cling begins Wednes­day, Octo­ber 27th. Cus­tomers have been giv­en "Plas­tic Film Only" recy­cling bins and asked to par­tic­i­pate in a one-year pilot pro­gram spon­sored by the Town in part­ner­ship with SC John­son, the glob­al man­u­fac­tur­er of Windex® and oth­er house­hold brands.
Clean, dry, flex­i­ble plas­tic film such as sand­wich bags, bub­ble wrap, and paper tow­el pack­ag­ing is recy­clable, but can­not be mixed with stan­dard recy­cling as it can dam­age sort­ing machin­ery. This pro­gram will send the film to Delta, B.C., for recy­cling into pel­lets that can be used for new bags, pal­lets, con­tain­ers, crates, pipe, and com­pos­ite lumber.
Fri­day Har­bor is the sec­ond com­mu­ni­ty in the state to be select­ed by SC John­son for this pro­gram after Point Roberts, WA, which was the sec­ond city in the coun­try to par­tic­i­pate in the pro­gram. So far, the pro­grams have col­lec­tive­ly stopped more than 6,000 pounds of plas­tic film from end­ing up in local landfills.
"Plas­tic waste is one of the great envi­ron­men­tal chal­lenges we face today, and at SC John­son, we believe we have a respon­si­bil­i­ty to help solve this crit­i­cal envi­ron­men­tal issue," said Alan Van­der­Molen, Senior Vice Pres­i­dent and Chief Com­mu­ni­ca­tions Offi­cer at SC John­son. "Our part­ner­ship with Fri­day Har­bor, one of three curb­side plas­tic film recy­cling pro­grams we are launch­ing this week, is one of the many steps we are tak­ing to move toward our vision for a waste-free world."
Specifics about the plas­tic film recy­cling pro­gram are on the Town web­site at fridayharbor.org/2151/Refuse-Recycling. Res­i­dents who did not receive their bin or want to sign up for refuse pick­up should call Town Hall at (360)378‑2810.
You can support the San Juan Update by doing business with our loyal advertisers, and by making a one-time contribution or a recurring donation.