POP UP StoryWalk™
Posted October 23, 2021 at 5:49 am by Tim Dustrude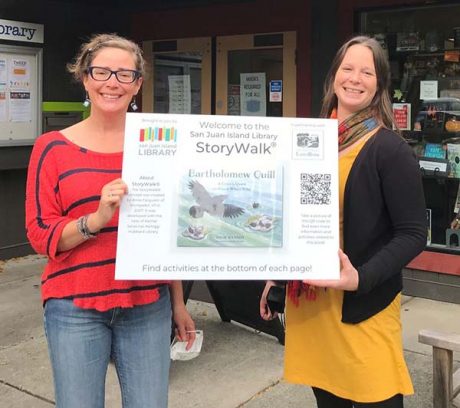 Zyl­stra Lake Trail Loop at Zyl­stra Lake Pre­serve, San Juan Island
Take a read­ing adven­ture this Fall! Now through the month of Novem­ber, the San Juan Coun­ty Land Bank and San Juan Island Library are host­ing a Pop Up Sto­ry­Walk™ at Zyl­stra Lake Pre­serve fea­tur­ing Thor Hanson's Bartholomew Quill: A Crow's Quest to Know Who's Who.
A Sto­ry­Walk™ is a cre­ative way for chil­dren to enjoy the out­doors and read a book with their fam­i­ly and friends. Pages of a children's book are put on signs and placed along the trail. Walk, skip, or hop along the trail and read the sto­ry, step-by-step and page-by-page!
For a spe­cial treat, Thor Han­son will lead a walk and read the sto­ry aloud Fri­day, Novem­ber 5. The event begins at 10am. Space is lim­it­ed – please email youthservices@sjlib.org to reg­is­ter. A pub­lic shut­tle, cour­tesy of the San Juan Island Library, will be pro­vid­ed to the pro­gram location.
The first Sto­ry­Walk™ Project was cre­at­ed by Anne Fer­gu­son of Mont­pe­lier, VT and devel­oped with the help of Rachel Senechal, Kel­logg Hub­bard Library. There are now more than 300 Sto­ry­Walk™ projects through­out Cana­da and the Unit­ed States.
For more infor­ma­tion, please con­tact the San Juan Island Library at youthservices@sjlib.org or Tan­ja Williamson at tanjaw@sjclandbank.org.
About the San Juan Coun­ty Land Bank:
The San Juan Coun­ty Land Bank is a local land con­ser­va­tion pro­gram, cre­at­ed by vot­ers in 1990, and fund­ed by a 1% real estate excise tax paid by pur­chasers of prop­er­ty in San Juan Coun­ty. Through con­ser­va­tion ease­ments or out­right pur­chas­es, the Land Bank pro­tects spe­cial places in the Islands includ­ing coast­lines, farm­land, forests and wetlands.
About the San Juan Island Library:
The San Juan Island Library is a learn­ing cen­ter for the com­mu­ni­ty: a place for peo­ple to pur­sue inde­pen­dent edu­ca­tion­al and recre­ation­al inter­ests, to use infor­ma­tion resources, and to meet and inter­act in a pub­lic forum. It is locat­ed in one of the most beau­ti­ful set­tings in the Pacif­ic North­west. San Juan Island, on which the library resides, is just one of the 172 islands which com­prise San Juan Coun­ty, in Wash­ing­ton state.
You can support the San Juan Update by doing business with our loyal advertisers, and by making a one-time contribution or a recurring donation.