Focusing on Their Future
Posted November 24, 2021 at 12:42 pm by Tim Dustrude
This is from the Cen­ter for Whale Research…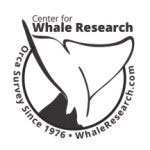 Please help us raise $74,000 by year's end!
The $74,000 rep­re­sents one thou­sand dol­lars for each of the sev­en­ty-four (74) whales in the South­ern Res­i­dent orca community.
We all remem­ber J35. In 2018, the whole world watched J35 car­ry her deceased baby for 17 days and 1,000 miles on what became known as the Tour of Grief. Fast for­ward to 2020, J35 gave birth to a healthy boy, J57. As you can see in the above pic­ture, he's close to his mom.
For five decades, the Cen­ter for Whale Research has focused on doing its best to help the fam­i­lies of the South­ern Res­i­dent orca com­mu­ni­ty, like J35 and her sons, J57 and J47. Our hopes are high for the next half-cen­tu­ry: not only that the South­ern Res­i­dents will sur­vive … but that they'll thrive. Your finan­cial sup­port of our research, out­reach and edu­ca­tion, and con­ser­va­tion efforts make it pos­si­ble for the Cen­ter for Whale Research team to fight for a bet­ter future for J35 and her fam­i­ly and all the whales in the Sal­ish Sea orca community.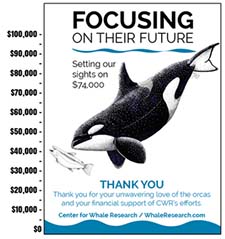 Today is the launch day of our month-long Focus­ing on Their Future fundrais­ing cam­paign (thru Decem­ber 31).
Donate in the name of your favorite whale and track the campaign's suc­cess on the Orca and Salmon graph at WhaleResearch.com. Watch the water rise as dona­tions accrue.
You can support the San Juan Update by doing business with our loyal advertisers, and by making a one-time contribution or a recurring donation.