Food Recovery — Why We Need To Care About Composting
Posted November 19, 2021 at 5:53 am by Tim Dustrude
The fol­low­ing is sub­mit­ted by San Juan Island res­i­dent Ang­ie Light with the Tran­si­tion San Juan Waste Reduc­tion Group…
My fam­i­ly and I are new to the island, and one of the many char­ac­ter­is­tics of San Juan that we love is the access to won­der­ful farms and farm­ers. Many an evening our fam­i­ly meal is made entire­ly from pro­duce grown right here, in this soil, on this land by skilled and pas­sion­ate peo­ple. I feel abun­dance and grat­i­tude for our family's abil­i­ty to live by the true mean­ing of "farm to table."
While this pic­ture is dreamy, there's anoth­er side to it that's not utopic. It became glar­ing­ly clear that the scraps left over from our food cre­ate a whole lot of hefty weight in our garbage. Our beau­ti­ful food sto­ry unfor­tu­nate­ly does not end hap­pi­ly with our farm to table bliss. It takes an alarm­ing turn that con­tin­ues with tons and tons of garbage bags rid­ing the fer­ry back to the main­land. Filled with food waste, these garbage bags then trav­el by train to east­ern Wash­ing­ton where they are buried in a land­fill — a not so hap­py ending.
The ques­tion of how to keep our food out of our garbage quick­ly became an all-con­sum­ing con­cern for me. And why should you and I care about keep­ing food out of our garbage bags and chang­ing this sad end­ing to the sto­ry? Three words: envi­ron­ment, finances, humanity…

The US Depart­ment of Agri­cul­ture esti­mates that 133 bil­lion pounds of food equal­ing about 161–165 bil­lion dol­lars' worth each year is thrown away! That means that 30–40% of the food sup­ply in Amer­i­ca is either not har­vest­ed and left to rot due to imper­fec­tions, or wast­ed in homes — and then thrown into land­fills. I have read esti­mates from World Vision that the aver­age sin­gle-fam­i­ly house­hold in North Amer­i­ca wastes 600 pounds of food per year. Per house­hold this equals rough­ly $135 per month in the trash along with that uneat­en and wast­ed food.
The real hor­ror behind the bil­lions of pounds of food waste is the fact that any food or organ­ic mat­ter that finds its way into land­fills cre­ates methane, a tox­ic green­house gas. In 2017 the U.S. Envi­ron­men­tal Pro­tec­tion Agency issued data show­ing that food is the sin­gle largest cat­e­go­ry of mate­r­i­al placed in munic­i­pal land­fills cre­at­ing the third-largest source of human-relat­ed methane emis­sions in the US. Methane emis­sions are the sec­ond most tox­ic source of green­house gas­es and a direct link to cli­mate change. Food needs to avoid landfills.
I know many of us would agree that learn­ing to live a more sus­tain­able life is absolute­ly nec­es­sary, and it is also extreme­ly chal­leng­ing. How­ev­er, keep­ing food out of land­fills is in fact very achiev­able. It's low hang­ing fruit, so-to-speak, (yes, pun intend­ed!). To farm­ers and gar­den­ers alike, com­post, or the break­down of organ­ic mat­ter into its most potent nutri­tion­al form, is black gold. It's incred­i­bly impor­tant to the pro­duc­tion of healthy soil need­ed to grow suc­cess­ful crops. That rot­ting mess of unused let­tuce in your fridge is not waste, it's a har­vest wait­ing to happen.
There are many ways to com­post such as worm bins, aer­o­bic bins or turn­ing a bar­rel. Some are pas­sion­ate about mak­ing their own com­post right in their gar­dens, but for a lot of us, my fam­i­ly includ­ed, that's just not pos­si­ble. At least it wasn't — until I learnt about Fed­eri­co Farms, right here in San Juan island.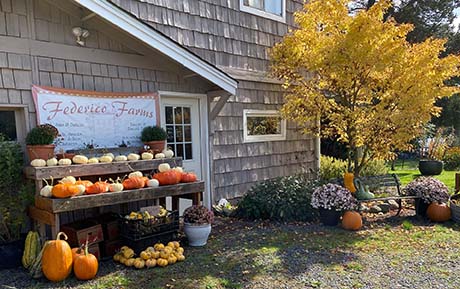 Fed­eri­co Farms is offer­ing an excit­ing and unique com­post­ing pro­gram tak­ing not only the usu­al sus­pects of food scraps, but also meat, meat by-prod­ucts, and dairy. Fed­eri­co Farm knows my left­over sal­ad and chick­en bones from din­ner, the kids' half-eat­en turkey sand­wich, and the well-intend­ed wilt­ing remains of cilantro in my fridge are ener­gy and nutri­ents for their farm soils. Through a com­post­ing process of fer­men­ta­tion with spe­cial­ist bac­te­ria, the break­down of organ­ic mat­ter hap­pens more effi­cient­ly. This in turn allows the har­vest­ed com­post, and all those rich nutri­ents, to be put back into the soil faster. The food scraps left over from the food I pur­chased from either Fed­eri­co Farms or any oth­er farm on the island is har­vest­ed to cre­ate soil amend­ment for future crops. What a win for every­one — con­sumers, farm­ers and the environment!
But it can't just stop there! There are many com­mu­ni­ties in our cor­ner of the world that offer indus­tri­al com­post­ing pro­grams. And there is a very real neces­si­ty and glar­ing oppor­tu­ni­ty for San Juan Coun­ty, Fri­day and Roche Har­bor to take more action to address the need for a larg­er scale indus­tri­al com­post­ing pro­gram. This would not only help cap­ture food waste from larg­er oper­a­tions such as gro­cery stores and restau­rants, but also all that well-intend­ed com­postable pack­ag­ing. As good as com­postable pack­ag­ing is, if there's not a place for it to be com­post­ed, all that pack­ag­ing is in fact still garbage.
And what about human­i­ty? How does that all come into the equa­tion? The group Feed­ing Amer­i­ca esti­mates that 38 mil­lion peo­ple face hunger today in the Unit­ed States. Recov­er­ing food not able to be sold by farms or gro­cery stores for mar­ket­ing rea­sons and mak­ing it acces­si­ble for those in need is help­ing to take care of those in our com­mu­ni­ty and keep­ing that usable food out of the land­fill. There are sev­er­al fan­tas­tic orga­ni­za­tions nation­wide that have made it their mis­sion to recov­er food from farms and gro­cery stores and get it direct­ly to those who need it. Here on the island there is the San Juan Island Food Bank, the San Juan Island Food Hub and the Nour­ish to Flour­ish pro­gram all who talk direct­ly with farm­ers, local busi­ness­es and com­mu­ni­ty mem­bers to help high­light farm­ers and their pro­duce and to help access food that could be gleaned or donat­ed for those who are in need of it.
You might say, but we're just a small com­mu­ni­ty and what we do won't make that much of a dif­fer­ence. It makes a dif­fer­ence to our pre­cious island and marine envi­ron­ment that is not immune to cli­mate change. It makes a dif­fer­ence to the farm­ers mak­ing a liv­ing grow­ing our food. It makes a dif­fer­ence to the chil­dren access­ing the lunch pro­gram at school. It makes a dif­fer­ence to us all finan­cial­ly through the cost­ly resources used to deal with our garbage and the costs to mit­i­gate dam­age done by our garbage. Small local actions build big change envi­ron­men­tal­ly, finan­cial­ly and socially.
To take action now on com­post­ing for San Juan Island, let our town, coun­ty, and port rep­re­sen­ta­tives know that it's time to get seri­ous about an indus­tri­al com­post­ing sys­tem. Then, con­tact Fed­eri­co Farm federicofarms6@gmail.com where you can either request to pur­chase a 5 gal­lon com­post buck­et from them ($15), or sim­ply use your own. Toss that sog­gy let­tuce in and sprin­kle some of the inoc­u­lant ($5 a bag and pur­chased in their farm store) on top each time you add scraps. Once your bin is full ‑our fam­i­ly of 4 fills a 5 gal­lon buck­et each week- head out to Fed­eri­co Farms and dump it into their com­post bins. This is def­i­nite­ly not curb­side pick-up, but come on folks, noth­ing is far on this island, how­ev­er, your efforts are far reaching.
Tak­ing our com­post bin out to Fed­eri­co Farms once a week has become a fun and ful­fill­ing fam­i­ly rit­u­al. We dump the com­post, pick up eggs and oth­er good­ies, chat with the farm­ers and dri­ve home know­ing we've built a much bet­ter end­ing for our food sto­ry. Because no part of food is waste, it's a har­vest wait­ing to grow. Let's keep our food out of land­fills and recov­er those nutri­ents, those dol­lars and our humanity!
You can support the San Juan Update by doing business with our loyal advertisers, and by making a one-time contribution or a recurring donation.