Land Bank Preserves Closed due to Severe Weather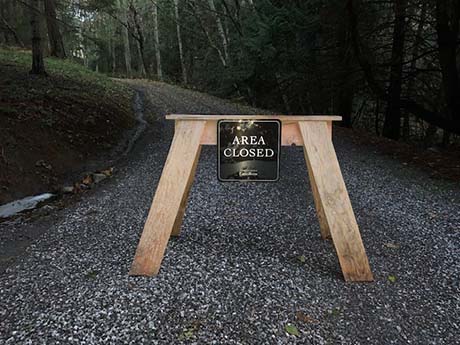 The Conservation Land Bank's Turtleback Mountain, Judd Cove and Coho Preserves on Orcas Island sustained heavy damage from last weekend's record rainfall. Although staff are prioritizing safety-related repairs to roads and trails, please expect minor disruptions. Some repairs may take months and some impacts will be lasting.
In particular, the culvert under Wildrose Lane just above Turtleback's South Entrance parking area has failed and the road will remain closed until further notice. Preserve visitors may still access the South Trail on foot from the parking lot, but major trail repairs cannot be completed without equipment access. We regret any inconvenience.
For additional information, please contact Orcas Preserve Steward, Peter Guillozet at peterg@sjclandbank.org or phone 360-378-4402.
About the San Juan County Conservation Land Bank
The San Juan County Conservation Land Bank is a local land conservation program, created by voters in 1990, and funded by a 1% real estate excise tax paid by purchasers of property in San Juan County. Through conservation easements or outright purchases, the Land Bank protects special places in the Islands including coastlines, farmland, forests and wetlands. For more information, contact the Land Bank at 360-378-4402 or visit www.sjclandbank.org.