Land Bank Preserves Closed due to Severe Weather
Posted November 16, 2021 at 11:05 am by Tim Dustrude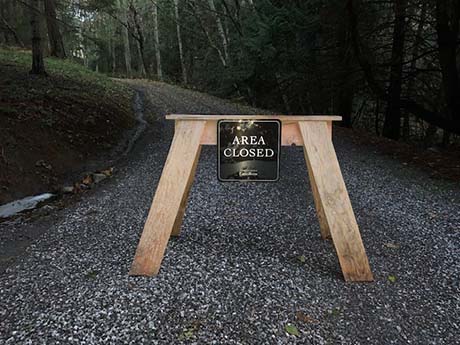 The Con­ser­va­tion Land Bank's Turtle­back Moun­tain, Judd Cove and Coho Pre­serves on Orcas Island sus­tained heavy dam­age from last weekend's record rain­fall. Although staff are pri­or­i­tiz­ing safe­ty-relat­ed repairs to roads and trails, please expect minor dis­rup­tions. Some repairs may take months and some impacts will be lasting.
In par­tic­u­lar, the cul­vert under Wil­drose Lane just above Turtleback's South Entrance park­ing area has failed and the road will remain closed until fur­ther notice. Pre­serve vis­i­tors may still access the South Trail on foot from the park­ing lot, but major trail repairs can­not be com­plet­ed with­out equip­ment access. We regret any inconvenience.
For addi­tion­al infor­ma­tion, please con­tact Orcas Pre­serve Stew­ard, Peter Guil­lozet at peterg@sjclandbank.org or phone 360–378-4402.
About the San Juan Coun­ty Con­ser­va­tion Land Bank
The San Juan Coun­ty Con­ser­va­tion Land Bank is a local land con­ser­va­tion pro­gram, cre­at­ed by vot­ers in 1990, and fund­ed by a 1% real estate excise tax paid by pur­chasers of prop­er­ty in San Juan Coun­ty. Through con­ser­va­tion ease­ments or out­right pur­chas­es, the Land Bank pro­tects spe­cial places in the Islands includ­ing coast­lines, farm­land, forests and wet­lands. For more infor­ma­tion, con­tact the Land Bank at 360–378-4402 or vis­it www.sjclandbank.org.
You can support the San Juan Update by doing business with our loyal advertisers, and by making a one-time contribution or a recurring donation.