Laporte Road on Orcas Island Closed
Posted November 29, 2021 at 3:59 pm by Tim Dustrude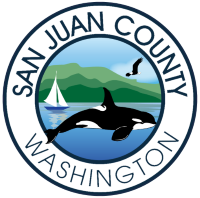 A blocked cul­vert has cre­at­ed a dan­ger­ous sit­u­a­tion on Laporte Road on Orcas Island. A large amount of water has built up on the uphill side of the road, and the road­way is in dan­ger of fail­ure, in par­tic­u­lar with more rain in the forecast.
The clo­sure is on Laporte Road, just up from the junc­tion with John Jones Road. There are approx­i­mate­ly 19 res­i­dences above the closure.
San Juan Coun­ty Pub­lic Works Direc­tor Col­in Hunte­mer wants to high­light the seri­ous­ness of this sit­u­a­tion, "While it is impos­si­ble to know exact­ly what might hap­pen, I am very con­cerned about the poten­tial of a cat­a­stroph­ic fail­ure of the road­way. Peo­ple should not be tra­vers­ing the closed area. We will be fur­ther inves­ti­gat­ing the sit­u­a­tion and explor­ing avenues for reduc­ing water lev­els, but for now the road is not safe to cross."
San Juan Coun­ty Emer­gency Man­age­ment is work­ing to alert res­i­dents who are liv­ing down­stream in the drainage and will be work­ing with emer­gency respon­ders to ensure access to impact­ed res­i­dences in the event of a 911 call from the area. More infor­ma­tion will be shared with the com­mu­ni­ty as it becomes available.
You can support the San Juan Update by doing business with our loyal advertisers, and by making a one-time contribution or a recurring donation.