Letter from Victoria
Posted November 3, 2021 at 5:44 am by Tim Dustrude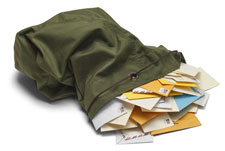 In the SJ Update mail­bag this morn­ing there is this let­ter to you from Vic­to­ria Compton…
Dear Island Neighbors,
Thank you infi­nite­ly for your words of encour­age­ment, your advice, and for shar­ing your thoughts about our island's Port dur­ing my campaign.
I was so proud and hum­bled to be able to car­ry your hopes for our com­mu­ni­ty into my cam­paign. I will be equal­ly proud and hum­bled to do so as your Port of Fri­day Har­bor Com­mis­sion­er, Dis­trict 3.
I would like par­tic­u­lar­ly to thank all of those who worked tire­less­ly on my cam­paign. Each one of you is a trea­sure and I lit­er­al­ly could nev­er, ever have gone so far with­out you. Thank you also to my oppo­nent Greg Her­tel for his 30 years of ser­vice to our community.
Vic­to­ria Compton
You can support the San Juan Update by doing business with our loyal advertisers, and by making a one-time contribution or a recurring donation.