Thor Hanson Author Talk and Stroll at Zylstra Lake Preserve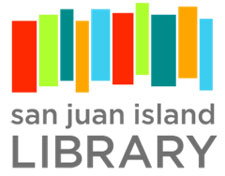 (Friday Harbor, WA) – November 2, 2021 – Join author Thor Hanson for two upcoming events hosted by the San Juan Island Library. Hanson will regale readers with a discussion of his newly released book, Hurricane Lizards and Plastic Squid: The Fraught and Fascinating Biology of Climate Change via Zoom on Wednesday, November 3, at 7:00 PM. Email giverson@sjlib.org to attend.
On Friday, November 5, at 10:00 AM, Hanson will join community members of all ages at Zylstra Lake Preserve for a reading of his picture book, Bartholomew Quill: A Crow's Quest to Know Who's Who, and hear other nature inspired poems he has written. The story features animals found in the Pacific Northwest and is a fun mix of whimsy, science, nature, and poetry.
Bartholomew Quill is the featured book for a pop-up StoryWalk® at Zylstra Lake Preserve, sponsored by the San Juan Island Library in partnership with the San Juan County Land Bank. StoryWalk® is an innovative and engaging way for children—and adults!—to enjoy reading and the outdoors at the same time, originally developed in 2007 by librarian Anne Ferguson of Montpelier, Vermont.
Thor Hanson is a nationally-renowned author and biologist who makes San Juan County his home. "Hanson is an affable guide and storyteller, with a knack for analogy, a sense of humor and the natural curiosity of a scientist," remarks Jonathan Balcombe of The New York Times.
Parking at Zylstra Lake Preserve is limited. Please carpool if possible. A free public shuttle is being offered by the Library. To reserve a space, email youthservices@sjlib.org. Children are welcome with adult supervision.
For more information about Thor Hanson, visit his website at www.thorhanson.net. To learn more about San Juan Island Library programs and services, visit www.sjlib.org or call the Library at (360) 378-2798.