Town Residents to Receive Free Refuse "Carts"
Posted November 24, 2021 at 5:45 am by Tim Dustrude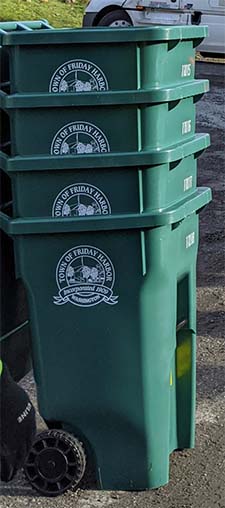 With­in the com­ing weeks, Town of Fri­day Har­bor res­i­den­tial refuse cus­tomers will receive 32-gal­lon, wheeled refuse carts with a lift bar to assist refuse work­ers in load­ing their truck. These carts will help refuse per­son­nel avoid injuries incurred from repet­i­tive lift­ing. Rates and pick­up dates for res­i­den­tial cus­tomers will remain the same, and tra­di­tion­al (non-lift) cans will con­tin­ue to be picked up. Place­ment of carts at the curb will be the same as for cans. The cur­rent refuse truck has a sin­gle lift for these carts. A new truck arriv­ing this spring will have two lifts to expe­dite refuse pickup.
Cus­tomers are asked to secure­ly bag all garbage before deposit­ing it in the cart and dou­ble bag nox­ious trash such as cat lit­ter and dia­pers. Carts are for house­hold refuse only, not recy­cling, yard waste, con­struc­tion debris, or oth­er unal­low­able refuse as out­lined on the Town's web­site at http://www.fridayharbor.org/2151/Refuse-Recycling.
Carts are stamped with the Town's logo and remain the prop­er­ty of the Town. Carts are to stay with the prop­er­ty when the res­i­dent moves. If they are bro­ken or stolen, replace­ments may be pro­vid­ed while sup­ply lasts. Once the sup­ply is gone, cus­tomers will be asked to pro­vide replace­ments which should be avail­able at most hard­ware stores.
Accord­ing to Town Admin­is­tra­tor Dun­can Wil­son, the need to replace an aging truck in the Town's fleet pro­vid­ed an oppor­tu­ni­ty to improve work con­di­tions for the refuse crew. He explained, "We were able to respond to our employ­ees' very real con­cern with the ongo­ing risk of injury from heavy lift­ing and repet­i­tive motion. The new truck and wheeled carts are a wise invest­ment in our employ­ees and the community."
Town res­i­den­tial refuse cus­tomers may direct ques­tions to Town Hall at (360) 378‑2810 or con­tact the Admin­is­tra­tor at duncanw@fridayharbor.org.
You can support the San Juan Update by doing business with our loyal advertisers, and by making a one-time contribution or a recurring donation.