Town Residents to Receive Free Refuse "Carts"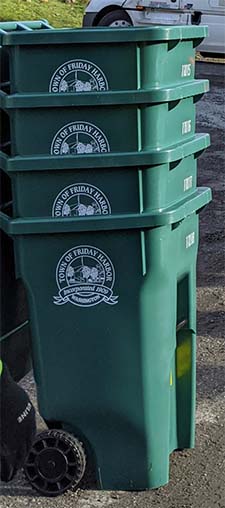 Within the coming weeks, Town of Friday Harbor residential refuse customers will receive 32-gallon, wheeled refuse carts with a lift bar to assist refuse workers in loading their truck. These carts will help refuse personnel avoid injuries incurred from repetitive lifting. Rates and pickup dates for residential customers will remain the same, and traditional (non-lift) cans will continue to be picked up. Placement of carts at the curb will be the same as for cans. The current refuse truck has a single lift for these carts. A new truck arriving this spring will have two lifts to expedite refuse pickup.
Customers are asked to securely bag all garbage before depositing it in the cart and double bag noxious trash such as cat litter and diapers. Carts are for household refuse only, not recycling, yard waste, construction debris, or other unallowable refuse as outlined on the Town's website at http://www.fridayharbor.org/2151/Refuse-Recycling.
Carts are stamped with the Town's logo and remain the property of the Town. Carts are to stay with the property when the resident moves. If they are broken or stolen, replacements may be provided while supply lasts. Once the supply is gone, customers will be asked to provide replacements which should be available at most hardware stores.
According to Town Administrator Duncan Wilson, the need to replace an aging truck in the Town's fleet provided an opportunity to improve work conditions for the refuse crew. He explained, "We were able to respond to our employees' very real concern with the ongoing risk of injury from heavy lifting and repetitive motion. The new truck and wheeled carts are a wise investment in our employees and the community."
Town residential refuse customers may direct questions to Town Hall at (360) 378-2810 or contact the Administrator at duncanw@fridayharbor.org.