Weekly Covid Case Update
Posted November 12, 2021 at 10:53 am by Tim Dustrude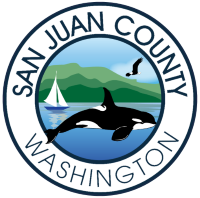 Since the last update on Fri­day Novem­ber 5, there have been 19 new con­firmed or prob­a­ble cas­es in San Juan Coun­ty. Cur­rent case count is now 376.
Of these 19 new cas­es, ini­tial inves­ti­ga­tions indi­cate that 7 appear to have occurred in ful­ly vac­ci­nat­ed indi­vid­u­als. There are approx­i­mate­ly 29 unvac­ci­nat­ed close con­tacts of pos­i­tive cas­es cur­rent­ly in quar­an­tine in the islands.
Lopez Island: There are four new cas­es on Lopez Island since the last update. There are four pos­i­tive cas­es under active mon­i­tor­ing on Lopez Island.
Orcas Island: There are no new cas­es on Orcas Island since the last update. There is one pos­i­tive case under active mon­i­tor­ing on Orcas Island.
San Juan Island: There are fif­teen new cas­es on San Juan Island since the last update. There are thir­teen pos­i­tive cas­es under active mon­i­tor­ing on San Juan Island.
IMPORTANT INFO:
Case num­bers remain stub­born­ly ele­vat­ed in the islands. Cas­es in Skag­it Coun­ty are near an all-time peak. Our chances of being exposed to COVID infec­tion remain high. What does this mean?
Being ful­ly vac­ci­nat­ed is more impor­tant than ever. Each pass­ing week only makes it clear­er that being vac­ci­nat­ed pro­vides sig­nif­i­cant pro­tec­tion from seri­ous ill­ness and death and great­ly reduces the like­li­hood of ini­tial infection.
If you are eli­gi­ble, get your boost­er. If you have chil­dren who are eli­gi­ble, get them vac­ci­nat­ed. And if you're not vac­ci­nat­ed yet, please do so.

Thou­sands of islanders are reg­is­tered for clin­ics that are hap­pen­ing across the islands this com­ing week, and there are still appoint­ments avail­able for many of them. Please go here to learn more and reg­is­ter.
LIMITING SPREAD:
With many islanders gath­er­ing with oth­ers over Thanks­giv­ing, tak­ing pre­cau­tions to lim­it spread is crit­i­cal to cel­e­brat­ing safe­ly. One of the sin­gle most use­ful tools is using over the counter rapid COVID tests to test those gath­er­ing before they come togeth­er. This isn't a 100% fool-proof approach but does pro­vide a sig­nif­i­cant lev­el of assur­ance that those gath­er­ing are not infectious.
Sad­ly, for rea­sons that are unclear and frus­trat­ing, rapid tests are not near­ly as read­i­ly avail­able as they should be giv­en how far into this mess we are. How­ev­er, they are fre­quent­ly avail­able online and at main­land and some island phar­ma­cies. Search­ing "rapid anti­gen COVID test" should get you point­ed in the right direc­tion. Tests usu­al­ly cost about $25 for two. Test­ing before and after any gath­er­ing of friends or fam­i­ly is a rel­a­tive­ly sim­ple pre­cau­tion well worth taking.
You can support the San Juan Update by doing business with our loyal advertisers, and by making a one-time contribution or a recurring donation.