Freezer Burned: Tales of Interior Alaska
Posted December 18, 2021 at 5:22 am by Tim Dustrude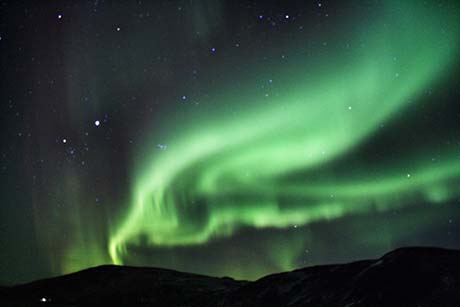 Freez­er Burned is an ongo­ing series on the San Juan Update, writ­ten by Steve Ulvi…
(Authors note: this fic­tion­al tale of Alas­ka bush life adven­ture, grief and redemp­tion, cir­ca the 1980s, will be con­tin­ued found­ed upon two pre­vi­ous sto­ries. See Freez­er Burned: "No Mat­ter What" and "The Con­fines of Heav­en" for char­ac­ter background.)
The Con­fines of Heav­en (part II)
An unusu­al­ly sharp deep­freeze gripped a broad swath of the Yukon Riv­er basin after a lengthy autumn of gold­en light. Bore­al con­ti­nen­tal cold is uncom­pro­mis­ing. The first win­ter months high in Alaska's sub­arc­tic, are dic­tat­ed by the inter­play of unpre­dictable atmos­pher­ic forces, nev­er in the same mix. The syn­er­gy of moist, low- pres­sure troughs invad­ing far from the North Pacif­ic to clash with con­ti­nen­tal high-pres­sure ridges, stirred by the snaking jet stream, is a mete­o­ro­log­i­cal crap shoot for any inland region around 67 degrees north.
The wan­ing days of a sub­arc­tic Novem­ber are an accel­er­a­tor for seri­ous cold. A so-called "Omega High" had stag­nant­ly domed the Yukon basin for weeks. Again, this morn­ing the air was dense beneath clear skies, forc­ing the smoke that qui­et­ly chuffed from every stovepipe in the vil­lage of Tonas­ket Cross­ing to hug the ground. Large pans of float­ing ice spun with a soft crys­talline grind along the shore ice that extend­ed from the stair-step mud shelves of the shore­line. Con­di­tions promised an ear­ly Yukon Riv­er freeze-up.
Wreathed in the mist ris­ing from the mov­ing water in front of the his­toric Epis­co­pal church, a dozen riv­er boats sat askew; well dust­ed with wind-blown beach silt, high and dry where they had been teth­ered to strand­ed drift­wood since the late fall. A stocky man in stained, insu­lat­ed over­alls and untied shoepacs clenched a smoke in his teeth to toss off his jack­et to more effec­tive­ly wres­tle a met­al skiff onto a long wood­en pal­let. The pal­let was roped to his red ATV hitch on the slope of the exposed beach.
He sweat­ed pro­fuse­ly despite the minus 15F air tem­per­a­ture and breeze. His smoke lipped and eyes squint­ed, he cussed and half-heart­ed­ly kicked at a loose husky dog for lift­ing a leg on his machine. The yel­low splat­ter froze quick­ly on the plas­tic fend­er and bal­loon tire as the guy sad­dled the ATV and lurched for­ward, tires spin­ning, to slow­ly pull the drag back to his cab­in. The wan­der­ing dog fol­lowed, trail­ing its chain to parade with tail curled high past a teth­ered mutt lung­ing and bark­ing psychotically.
More often than not, by mid-Novem­ber, an infill­ing of snow would have been slow­ly blan­ket­ing the low coun­try, but the tiny, icy flakes from weeks of cold, dry air had bare­ly whitened the brick sol­id ground. Edged by wil­lows fes­tooned with trash, a shal­low slough curved along the wash-board­ed back road, capped by sev­er­al inch­es of translu­cent ice that entrapped odd pat­terns of hub­cap-size grey bub­bles, clumps of yel­lowed leaves. Branch­es of sur­round­ing alder and cot­ton­wood rubbed and clacked like a thou­sand chop sticks in the brit­tle wind.
As the days short­ened and social­ly coher­ing fes­tiv­i­ties around Thanks­giv­ing passed, fre­net­ic huskies danced and barked on short chains among frozen turds and large ani­mal bones. Vil­lage Ravens tail-chased and graakked over­head to kite down and strut just out of reach of some of the chained dogs. They clear­ly enjoyed the ancient dance of scav­enger and predator.
Son­ny Johns turned and stood for a moment after pad­lock­ing his entry door, let­ting his eyes adjust to the dim morn­ing light. The "shot­gun style cab­in" had been his mother's place and his rus­tic fam­i­ly home, before her hor­rif­ic maul­ing death up at The Ram­parts fish camp, two falls back. It deeply pained Son­ny to think of her anguish and fear and his own fran­tic, futile efforts to pre­vent her from being vicious­ly borne into the drip­ping for­est gloam. Then she was gone for­ev­er. A well-armed search par­ty found her bones piled with for­est duff a few days later.
Son­ny, now 19, cursed his recent, high­ly out of char­ac­ter fall from grace in a few days of drunk­en­ness fol­low­ing his live-in girlfriend's abrupt depar­ture for the bright lights of Fair­banks. As he walked in the som­no­lent vil­lage, he felt the break­down and dis­tor­tion of alco­hol and could eas­i­ly dis­cern which fam­i­lies suf­fered most from the malaise of addic­tion. Two yam­mer­ing kids wob­bled passed him, bun­dled on their squeak­ing bikes. His gen­er­a­tion, and the one before, were most­ly con­fused young men angered by their neb­u­lous roles in third world con­di­tions with few viable eco­nom­ic prospects. In con­trast, women had always been cul­tur­al lead­ers and a coher­ing force in the tribe.
The piles of wood and pal­lets (and chain­saw-dulling, silty drift wood that had been towed to the boat land­ing weeks back by whin­ing, churn­ing out­boards) were shrink­ing alarm­ing­ly at some cab­ins. Despite the frigid overnight tem­per­a­tures, some cab­ins emit­ted no smoke at all. A hand­ful of fam­i­lies were already saw­ing and burn­ing their fish rack poles that were essen­tial in sum­mer fish har­vest. A Witte gen­er­a­tor thumped rhyth­mi­cal­ly in a sooty, pad-locked build­ing pro­vid­ing elec­tric­i­ty for light and appli­ances as long as the barged-in fuel lasted.
Son­ny hat­ed the boot­leg­gers for their soul­less, par­a­sitic busi­ness while loathing his own weak­ness. He knew he had so much to be thank­ful for. Dur­ing these trou­bling 'drink­ing times', morn­ing was usu­al­ly a time of slum­ber, sick­ness and guilt after a night of wild behav­ior and fam­i­ly vio­lence. Some­times the State Troop­ers flew in to inves­ti­gate com­plaints, make an arrest. Hol­ler­ing, gun­fire and snow machine races on bar­ren grav­el roads, sparks fly­ing into the dark wee hours, was impos­si­ble to ignore in a tight­ly clus­tered vil­lage of over 300 most­ly relat­ed peo­ple. Cold, dense air car­ries sound all too well.
Hav­ing gained a grip on him­self, after tough love from respect­ed uncles and aun­ties, Son­ny avoid­ed most of the chaos by cut­ting fire­wood or hunt­ing back on the flats by day. At night he locked his arc­tic entry door, ignor­ing the bang­ing and hol­ler­ing by row­dies look­ing for a warm place. And more intox­i­cants of any kind. His bruised face and wrist still hurt from tus­sling and being cut in a bro­ken win­dow a week earlier.
As it was a Sun­day, old Chief Peter and his wife Eliza, both in their 80s and up ear­ly as always, stoked the church bar­rel stove and rem­i­nisced in their gut­tur­al tongue about the old sub­sis­tence pat­terns so many decades ear­li­er. Many fam­i­lies would have been itch­ing to trav­el to dis­tant tent camps to trap fur ani­mals and live off the coun­try until the New Year. It had been much cold­er, like this, back then. Peter ran his gnarled hand through his thin hair and adjust­ed his cap at the frost­ed glass win­dow to watch Son­ny walk with pur­pose in the ground mist. He was one of the favored young men of the extend­ed fam­i­ly for his work eth­ic and skills in the tra­di­tion­al ways. He was still young, but had been tem­pered by tragedy and the inner strength that must follow.
Peter recalled the ser­vice in which a youth­ful, long-haired Fair­banks min­is­ter had spo­ken of "god's lov­ing plan" for tak­ing Sarah away, Sonny's mom who was one of Peter and Eliza's lov­ing grand-daugh­ters. Those flow­ery phras­es had trou­bled Son­ny. Soon after that somber day, Son­ny had testi­ly chal­lenged old Peter. "Why would God, who cre­at­ed every­thing, includ­ing those griz­zly bears, call for a ter­ri­ble death for a spe­cial woman, a leader? Why would such a God stand by while boot­leg­gers, with­out shame, prey on the sick­ness of good peo­ple?" Peter sat silent­ly, nod­ding, know­ing that his adopt­ed Chris­t­ian response would not salve Sonny's pain.
The old man nat­u­ral­ly thought about his tra­di­tion­al cul­tur­al beliefs based upon 10,000 years of co-exis­tence with Griz­zly Bear; left pawed, an extreme­ly pow­er­ful spir­it to be respect­ed, women were nev­er to speak its name or look direct­ly at them. The drink­ing hunters from his vil­lage whom he had turned away from the fish camp just days before Sarah was killed, had bragged about shoot­ing at two bears plung­ing into the brush down­riv­er, maybe wound­ing one.
Son­ny made his way between bat­tered snow machines, ATVs, wood pal­lets, and fuel drums cloaked in brown grass. Jimmy's dusty pick­up truck was half full of funky smelling trash bags pecked open by ravens. Son­ny mount­ed rot­ting steps into an arc­tic entry stuffed with card­board box­es and dry wood. He rapped smart­ly and wait­ed. Announc­ing him­self and hear­ing no signs of life he knocked loud­er, hear­ing shuf­fling and mut­ter­ing through the bat­tered wood­en door.
One of Jimmy's teenaged sons cracked the door, unsteadi­ly push­ing long black hair out of his face, a hand shad­ing squint­ing eyes with bare­ly a hint of greet­ing. He sleep­i­ly turned back and motioned toward the kitchen, walk­ing bare­foot past two girls breath­ing deeply, wrapped in blan­kets on a couch. Jim­my and his wife fre­quent­ly offered a place to sleep and eat for teens avoid­ing trou­ble at home. Son­ny care­ful­ly stepped around a thaw­ing beaver car­cass, as big as he had ever seen, lying on card­board in the entry to the kitchen.
Jim­my, a hard-lived gen­er­a­tion old­er than Son­ny wore a frayed Yan­kees t‑shirt, dingy sweat pants and unlaced bas­ket­ball shoes. He still owned the local high school record for points scored in a bas­ket­ball sea­son. Son­ny had also starred decades lat­er on the same hard­wood gym floor. Lean and affa­ble with pierc­ing dark eyes he turned slight­ly from lean­ing straight-armed at the formi­ca counter edge, where nailed blan­kets part­ed to the morn­ing light com­ing through frost­ed win­dow panes. He smiled in say­ing "Mornin' dere nephew, some coffee?"
"Sure, alright then". Son­ny unzipped his leather coat, moved a water jug, and slid onto a met­al chair with SCHOOL PROPERTY uneven­ly sten­ciled on it. Scoop­ing two table­spoons of crust­ed sug­ar from an open bowl, he pushed away the reek­ing, plas­tic jar lid in front of him, piled with fil­tered butts. A baby's thin cry was lov­ing­ly shushed behind a closed door. Jimmy's first grand­child was named for the moral strength of his depart­ed sis­ter, Sarah.
Jim­my raised his chin toward a fry­pan of cold white­fish in con­gealed Crisco. Blow­ing and sip­ping, Son­ny shook his head, "Already ate soup, Unc. I want to char­ter you up the Kuuk. Get on up past Pok­er Creek mine soon as soon as it snows. I got­ta dog sled. You can tow me and my pack and gear. I will snow­shoe and siwash camp from there on up to Ala­pah. Maybe stop at Hendersons".
"Guess you're thinkin' to get up there to trap with park ranger Nate, I bet? A long­ways up there, what 80 some riv­er miles, nobody else close? If that allot­ment of Old Peter's was clos­er to the vil­lage, we would get Nate boot­ed out so we could use the place". He smiled ruefully.
"Nate came through last fall after a gov­ern­ment float on the upper Kuuk, way up in the Park. He invit­ed me this win­ter. Good marten and wolf coun­try, cari­bou too, ya know. I like him OK and can't be hap­py here. I have some cord wood on the flats ready to sell, then I can pay you".
"That poor baby girl suf­fo­cat­ed in the sled bag. After Angela flew back here with Hen­der­son, I heard talk after that that Nate's old man, a preach­er, fooled with his own daugh­ter up the Yukon there by Mis­sion City. Maybe Nates not right too, ya know? I saw Ange in Anchor­age this fall. You know she hard­ly smiles any­more. She might nev­er get over that loss of a first child, then see­ing our sis­ter Sarah's death. She don't even talk about that time up there at Ala­pah, mar­ried and all. She told me she wrote Nate tellin' him she wants a divorce to start over in the city".
Son­ny shrugged, not hav­ing words, fin­ished his mug and promised to be ready in a week. He stepped out, qui­et­ly clos­ing the door and zip­ping his jack­et, just as the sin­gle-engine mail plane arriv­ing from Fair­banks banked loud­ly over the wide riv­er, plex­i­glass glint­ing in the sun on final approach to the airstrip in the thick morn­ing air.
He knew that Stan, the lone Vil­lage Pub­lic Safe­ty Offi­cer, would be wait­ing to search sus­pi­cious bag­gage for ille­gal impor­ta­tion of alco­hol or drugs, some­times by his own rel­a­tives. And maybe sub­tly warn come-to-a-meet­ing peo­ple like the Park Ser­vice staff or region­al school dis­trict offi­cials that it was not a good time to hold a meet­ing in the vil­lage. As Son­ny stepped past a short-chained, skin­ny hound dog with no future lying shiv­er­ing on a filthy blan­ket, one dark eye fol­lowed him unblinking.
Ten days lat­er, Son­ny tight­ly gripped the sled han­dle bow, turn­ing slight­ly side­ways to the snow­ma­chine fumes and sear­ing air at 25 mph as Jim­my scout­ed a route to the Kuuk Riv­er con­flu­ence. The icon­ic but­tress of forest­ed bluff was vis­i­ble in the ground fog com­ing from the black water where to two strong cur­rents met. Com­plete­ly bun­dled; insu­lat­ed cov­er­alls, fur-rimmed hood up, face mask, bead­ed moose­hide mitts over gloves, Son­ny bal­anced on the sled run­ners skit­ter­ing over the glare ice and hard sas­tru­gi along the Yukon shore. Exposed and going too fast to run behind, it was the cold­est way to travel.
Ear­ly freez­ing shelves had grown from the shore, then col­lapsed as the water lev­el dropped. The weight of sag­ging, float­ing mid-chan­nel ice pushed water out in all those cracks near shore to refreeze as a smoother mar­gin between land and the jum­bled riv­er ice. The head­light searched and swung wild­ly, met­al skis of the Polaris clack­ing. Son­ny, despite his fit­ness had been jolt­ed off the run­ners, to drag momen­tar­i­ly then let go to avoid injury. The first time Jim­my was so focused on pick­ing a course, that he didn't notice for a bit, had to loop back, laugh­ing at Son­ny jog­ging to catch up.
The low­er Kuuk Riv­er was hard against a series of steep bluffs cut by plung­ing creeks in forest­ed notch­es along the west­ern bank. Exten­sive oxbow flats and mixed for­est lay beyond the east­ern shore. Both men had hoped for bet­ter snow con­di­tions and were reward­ed by local topo­graph­ic effects, allow­ing them to pick up some speed head­ing away from the broad Yukon Riv­er. They passed sev­er­al vil­lage fish camps vis­i­ble at the edge of the spruce across the foot­ball field width of riv­er, where good eddies for salmon set nets were cre­at­ed by the rock­fall of unsta­ble bluffs along the deep waters of the west­ern shoreline.
They whined past the barge land­ing, log cab­in ruins and an old cater­pil­lar trac­tor clothed by wil­lows at Pok­er Creek Mine where sin­u­ous snow­ma­chine tracks dropped onto the riv­er and some­times loop­ing up the bank to fish camps. After a cou­ple dozen miles, a large clot of ravens reluc­tant­ly lift­ed with rau­cous fan­fare from the thin snow drifts at the mar­gin of a low, drift wood laced island. Three wolves, one very dark, tails straight behind, swift­ly trot­ted away into a back slough.
Curi­ous, Jim­my fol­lowed the days-old machine trails up to the island, ready to stretch, share a ther­mos of tea and cook­ies and add gas from a jug tied into the sled. As the dying engine sounds echoed from the bluffs both men stepped toward sev­er­al cari­bou car­cass­es; frozen and ripped opened by scav­engers. The dead ani­mals lay in a tram­pled area of bloody snow, raven white­wash and tufts of grey hair. There was a scat­ter of spent hand­gun brass near one. Only the hindquar­ters and antlers of three white-maned herd bulls had been hacked away, leav­ing the rest and three young cows to lay.
Always both­ered by the uneth­i­cal waste of healthy ani­mals, Son­ny cussed while kick­ing around, sip­ping his tea. Jim­my stood silent­ly, cradling his scoped rifle in case the wolves came into the open. "Damn min­ers! Same out­law bull­shit! What now, two years since the price of gold is up and those fat-cat Tex­ans ramped up oper­a­tions. Son­ny, you heard about that moose hunt­ing group from Fair­banks last year that only land­ed by the mine ramp and were held at gun­point for hours?"
"Nope. But Lars Hen­der­son had some hol­ler­ing and gun point­ing trou­bles near his place last win­ter. Some­thing bad about one of his daugh­ters run­ning dogs and being both­ered on the riv­er. And Nate despis­es the min­ing crew's spring trips to poach sheep and run wolves near the cliffs above Ala­pah Creek. He hates them but hasn't decid­ed to risk turnin' 'em in".
Dusk set­tled in the ear­ly after­noon. Soon it would be dark and Son­ny want­ed to get a few more miles up before Jim­my decid­ed it was time to turn back. Then he would be on his own. He was more than ready to embrace the solitude.
You can support the San Juan Update by doing business with our loyal advertisers, and by making a one-time contribution or a recurring donation.