Letter from J. Michael Edwards
Posted December 31, 2021 at 4:44 pm by Tim Dustrude
In the mail­bag this after­noon we find this let­ter to you from J. Michael Edwards…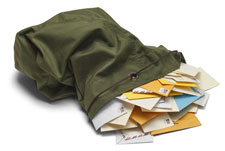 The PHD #1 Again 'Miss­ing the Boat'
In their press release of Nov. 24, 2021 the PHD #1 stat­ed: "On Novem­ber 2, 2021, res­i­dents vot­ed for San Juan Island EMS to remain under the juris­dic­tion of San Juan Coun­ty Pub­lic Hos­pi­tal Dis­trict No. 1." In actu­al­i­ty, a major­i­ty of the res­i­dents (over 56%) vot­ed for the levy to merge EMS ser­vices with the San Juan Island's Fire and Res­cue #3 and away from the PHD…in fact a low­er per­cent­age sup­port­ed the PHD's levy lift to acquire the Village.
The PHD's aban­don­ing sup­port of the EMS merg­er with Fire and Res­cue #3 demon­strates the PHD board's pride­ful blind­ness, and flies in the face of not only dis­trict vot­ers but also dia­met­ri­cal­ly oppos­es the find­ings of the Cit­i­zens Advi­so­ry Group (CAG), the expressed opin­ion of our San Juan Coun­ty EMS Med­ical Pro­gram Direc­tor and both Fire and Res­cue #3 and PHD Boards.
The lat­est deci­sion of the PHD to with­draw their sup­port for a merg­er is most dis­con­cert­ing for the fol­low­ing rea­sons among many others:
The PHD has lost a con­sid­er­able num­ber of their vol­un­teer EMTs who have cho­sen to join the ranks of Fire and Res­cue #3's EMT/Firefighters, to the point that the PHD Chair has admit­ted they are hav­ing dif­fi­cul­ties fill­ing the EMT duty ros­ter. One very impor­tant rea­son is that the PHD has repeat­ed­ly dimin­ished the impor­tance of its vol­un­teer EMTs and offi­cial­ly respond­ed to their col­lec­tive con­cerns in an author­i­tar­i­an and demean­ing way. Once on scene, EMS medics per­form admirably, as they also cer­tain­ly would do, with even faster response times, under the lead­er­ship of Fire and Res­cue #3.
The PHD has not pro­vid­ed learned lead­er­ship to its EMS agency in the form of a true Chief vs. a lay "Admin­is­tra­tor". Pre­vi­ous attempts to fill this vacan­cy have repeat­ed­ly failed so why will con­tin­ued attempts be fruitful?
The PHD is shirk­ing its duty to pro­vide opti­mum call response times by not stag­ing Para­medics at the EMS sta­tion. Sta­tion stag­ing of all 1st respon­ders is the Fire and Res­cue #3 and nation­al model.
The PHD will be over­tasked just run­ning the Vil­lage and unable to cor­rect per­sis­tent inad­e­qua­cies of its EMS agency, prob­lems made worse by EMS's defi­cient com­mand and admin­is­tra­tive structure.
I call for the PHD to recon­sid­er its deci­sion to not sup­port the trans­fer­ring of its EMS agency and ser­vices to our Fire and Res­cue #3. Our com­mu­ni­ty deserves ful­fill­ment of its desires and sta­bi­liza­tion of its med­ical emer­gency needs.
J. Michael Edwards, MD, DDS
Fri­day Har­bor, WA
You can support the San Juan Update by doing business with our loyal advertisers, and by making a one-time contribution or a recurring donation.