Response to Fire Chief Norvin Collins
Posted December 27, 2021 at 4:25 am by Tim Dustrude
In the Mail­bag today we have this let­ter from Nathan But­ler, Super­in­ten­dent and EMS Administrator…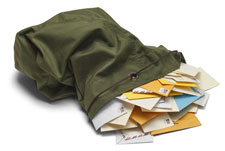 We have seen the recent let­ter from Fire Chief Norvin Collins regard­ing our agency and merg­er talks. He bad­ly mis­rep­re­sent­ed our agency, and his let­ter is an object les­son in why we have opt­ed not to try again at merg­ing EMS with Fire fol­low­ing the unsuc­cess­ful Novem­ber attempt. Our com­mu­ni­ty can­not afford to have the high-qual­i­ty EMS ser­vice built up over years be dis­man­tled by some­one who is fun­da­men­tal­ly hos­tile towards San Juan Island EMS.
We would like to reas­sure the pub­lic that we will be there for you when you need us. Our aver­age response time for the entire island is well under ten min­utes, while response times in town are about six min­utes. This includes the time it takes to do a safe­ty check and leave the sta­tion. Our crews con­sis­tent­ly score high­ly in anony­mous sur­veys as com­pas­sion­ate, effec­tive, and respon­sive. We work effec­tive­ly with the Sheriff's office to serve the out­er islands, as well as our medi­vac partners.
As we enter the new year, we believe the pub­lic has every rea­son to be proud of the Emer­gency Med­ical Ser­vices that they have spon­sored over more than two decades under San Juan Coun­ty Pub­lic Hos­pi­tal Dis­trict No. 1. We are proud to serve you and will con­tin­ue to do so with excellence.
Mem­bers of the pub­lic who want infor­ma­tion about the renew­al of the EMS levy under the hos­pi­tal dis­trict in Feb­ru­ary 2022 can go to www.sjcphd.org/ems, and are always wel­come to con­tact our com­mis­sion­ers or lead­er­ship with any ques­tions they may have (see https://sjcphd.org/contactus/board).
Sin­cere­ly,
Nathan Butler
Super­in­ten­dent and EMS Administrator
You can support the San Juan Update by doing business with our loyal advertisers, and by making a one-time contribution or a recurring donation.