San Juan Island Fire and Rescue saves Island home
Posted March 15, 2022 at 1:50 pm by San Juan Update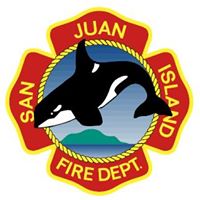 San Juan Island Fire and Res­cue sends along some details about their response to a recent fire at a home in Fri­day Harbor.
On Fri­day after­noon, March 11, San Juan Island Fire and Res­cue (SJIF&R) crews received a page from a 911 call regard­ing reports of fire at a home in the town of Fri­day Harbor.
The first engine crew arrived on the scene in min­utes and came upon an active exte­ri­or fire with heavy smoke, and the fire had already spread onto a cov­ered entry­way, as well as envelop­ing some mate­ri­als stored along­side the home.
SJIF&R fire crews rapid­ly deployed the engine's hose line and were able to extin­guish the fire, which had begun to spread onto the roof line of the home. Addi­tion­al fire per­son­nel and resources arrived and entered the home's inte­ri­or to ensure the fire had not spread inter­nal­ly. Fire crews deployed fans to ven­ti­late the home's inte­ri­or and extri­cate smoke and par­tic­u­late mat­ter. After ven­ti­la­tion, crews remained on scene to help the home­own­ers by cov­er­ing the entry­way from fur­ther dam­age from weather.
No peo­ple or ani­mals were inside the home at the time of the fire and there were no injuries dur­ing the emer­gency response. Res­i­dents were receiv­ing assis­tance from the Amer­i­can Red Cross. The cause of the fire was accidental.
The emer­gency response was suc­cess­ful and part­ner agen­cies active­ly assist­ed by pro­vid­ing sup­port dur­ing this incident.
You can support the San Juan Update by doing business with our loyal advertisers, and by making a one-time contribution or a recurring donation.