Dutch elms at the foot of Spring Street face an uncertain future
Posted June 3, 2022 at 8:39 pm by San Juan Update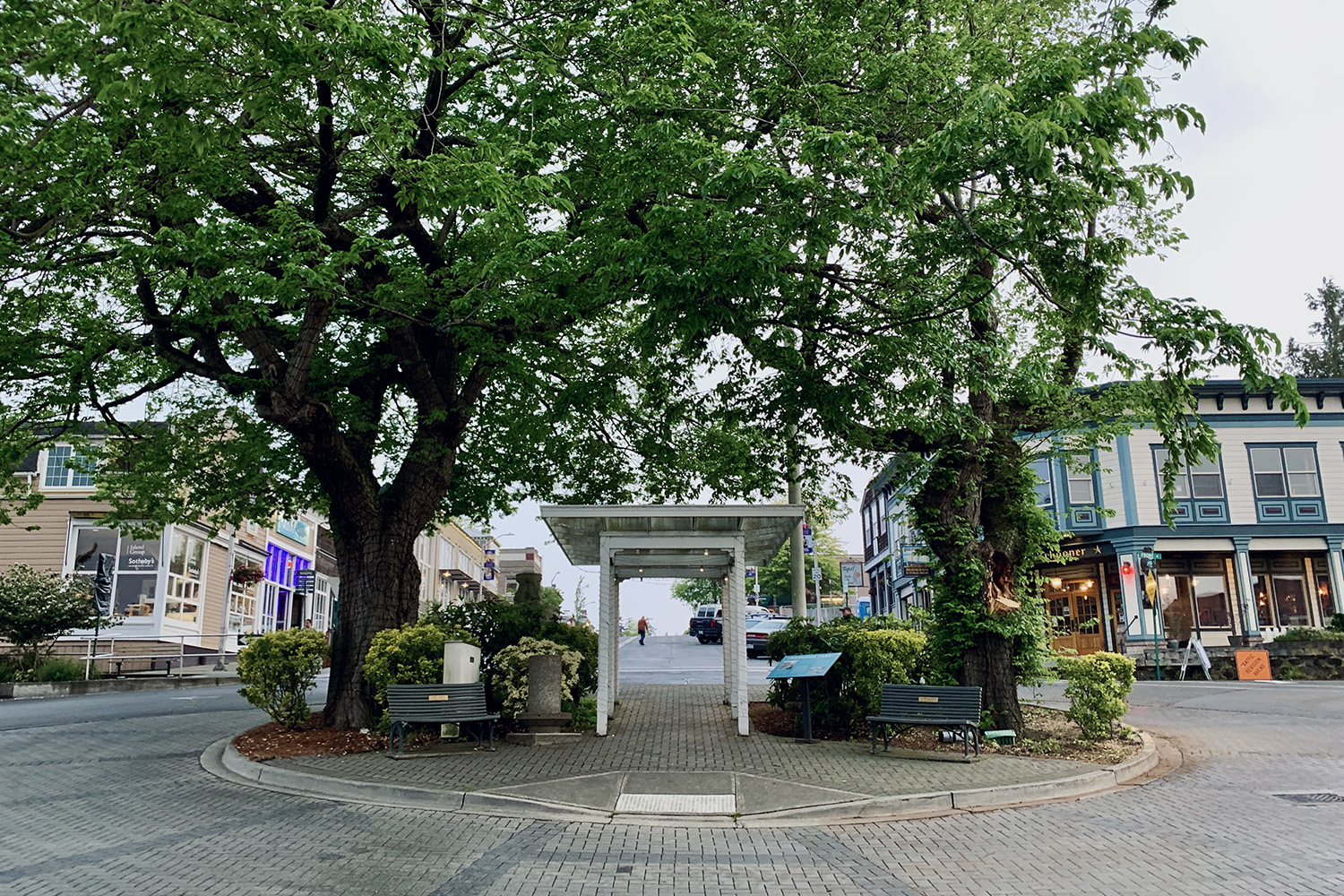 The Town of Fri­day Har­bor shares some unfor­tu­nate news about the elm trees in Memo­r­i­al Park.
A sig­nif­i­cant por­tion of one of the two 100-year-old Dutch elm trees in Memo­r­i­al Park broke last night, tak­ing out a street­lamp and block­ing access to the bot­tom of the Spring Street traf­fic cir­cle. No injuries or addi­tion­al prop­er­ty dam­age has been report­ed. Pre­lim­i­nary inspec­tions by cer­ti­fied arborists from two local com­pa­nies iden­ti­fied the cause as severe rot. A detailed report will be com­plet­ed next week.
Due to the sud­den, unex­pect­ed break­age and the result­ing imbal­ance of the remain­ing tree, the pub­lic is advised to exer­cise extreme cau­tion and avoid the area until the sta­bil­i­ty of both trees can be assured. On the advice of the arborists, the Town is remov­ing upper branch­es of the tree in an effort to avoid fur­ther break­age. The future of the trees will be deter­mined after a thor­ough, pro­fes­sion­al evaluation.
"The Town's pri­or­i­ty is to extend the life of these icon­ic trees but not at the expense of pub­lic safe­ty," said Town Admin­is­tra­tor Denice Kulseth, adding, "We are thank­ful that this hap­pened when no pedes­tri­ans or vehi­cles were in the area." Kulseth fur­ther stat­ed, "We all love these trees. They are the wel­come mat to our town and a bea­con that we have come home. How­ev­er, we real­ize that it was incred­i­bly for­tu­nate that no one was injured, and we under­stand we may need to make a very dif­fi­cult deci­sion about the future of these grand trees. We trust the pub­lic will sup­port what­ev­er mea­sures must be tak­en to elim­i­nate future risk of harm."
The two elms were plant­ed in May 1922 by the Women's Study Club as a memo­r­i­al to those lost in WWI, one rep­re­sent­ing Army loss­es, one rep­re­sent­ing Navy losses.
Ques­tions regard­ing the elms may be direct­ed to the Town Admin­is­tra­tor at dkulseth@fridayharbor.org.
You can support the San Juan Update by doing business with our loyal advertisers, and by making a one-time contribution or a recurring donation.