Esme is the Animal Protection Society's pet of the week
Posted June 17, 2022 at 10:09 am by San Juan Update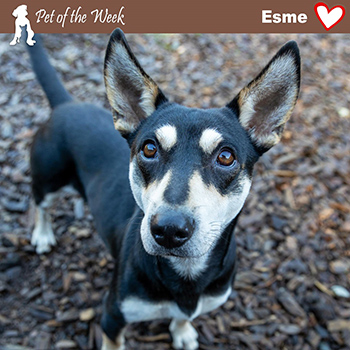 Here's the adopt­able ani­mal of the week from the Ani­mal Pro­tec­tion Soci­ety of Fri­day Har­bor — Esme, a 20-pound bull ter­ri­er mix.
Don't let her size fool you, she's a strong lady who's seen her fair share in two years. Esme is a young mom who loved tak­ing her daugh­ter out to din­ner at their favorite local restau­rant, but liv­ing on the streets in Mex­i­co was hard.
It has tak­en Esme a lit­tle while to build trust with peo­ple but once you're in her cir­cle, you will find that she is quite a softy. In fact, it is rumored that Esme might be part otter because she loves to spend time lay­ing on her back. Esme likes to go on walks or is hap­py to stay home and play with her favorite toys. She loves to cud­dle on the couch and will even let you pick what to watch. If you are look­ing for a snug­gle bug with a big per­son­al­i­ty, Esme is your girl.
You can support the San Juan Update by doing business with our loyal advertisers, and by making a one-time contribution or a recurring donation.