Plastic Free July — habit shift #17
Posted July 17, 2022 at 9:29 pm by San Juan Update
Tran­si­tion San Juan Island's Waste Reduc­tion group shares today's habit shift inspi­ra­tion from the glob­al Plas­tic Free July campaign.
Plastic Free Dental Care
A large amount of plas­tic waste enter­ing into our nat­ur­al sur­round­ings and water­ways are from den­tal care prod­ucts: floss con­tain­ers, floss, floss sticks and plas­tic tooth­brush­es. Here they will stay for­ev­er and are often mis­tak­en­ly con­sumed by marine life caus­ing great damage.
Choose to say "thanks, but no thanks" to the den­tal swag bags from the den­tist. Switch to tooth­brush­es made from sus­tain­able, com­postable mate­ri­als such as bam­boo, which can be com­post­ed in back­yard or indus­tri­al com­post­ing sys­tems. Pur­chase a tooth­brush with a replace­able head — there are bam­boo options now — and elim­i­nate the need to con­tin­u­al­ly pur­chase a new plas­tic brush every few months. Final­ly, switch to nat­ur­al, refill­able den­tal lace sold in glass can­is­ters instead of plastic.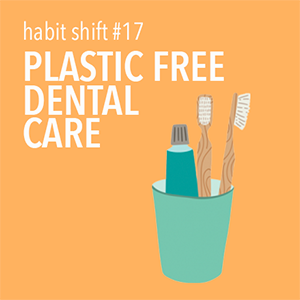 You can support the San Juan Update by doing business with our loyal advertisers, and by making a one-time contribution or a recurring donation.