Plastic Free July — habit shift #21
Posted July 21, 2022 at 9:49 pm by San Juan Update
Tran­si­tion San Juan Island's Waste Reduc­tion group shares today's habit shift inspi­ra­tion from the glob­al Plas­tic Free July campaign.
Refuse! Refuse! Refuse!
Break­ing and mak­ing habits are no small feat. Keep­ing things sim­ple so you can suc­cess­ful­ly build on rep­e­ti­tion is key. The sim­plest way for­ward is to start refus­ing sin­gle-use plas­tics. For exam­ple, keep­ing pro­duce and gro­cery bags in the car or by the front door helps our future selves to not bring home the end­less clut­ter of paper or plas­tic bags. With each lit­tle step for­ward and each plas­tic-free win expe­ri­enced, you'll be feel­ing very suc­cess­ful in your sim­ple habit shifts.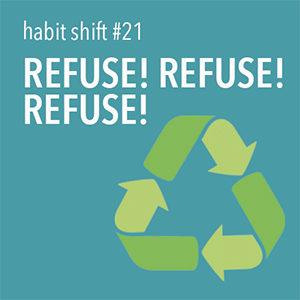 You can support the San Juan Update by doing business with our loyal advertisers, and by making a one-time contribution or a recurring donation.