San Juan County Board of Health celebrates two retiring members
Posted July 21, 2022 at 9:45 am by San Juan Update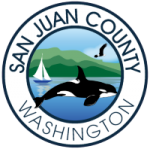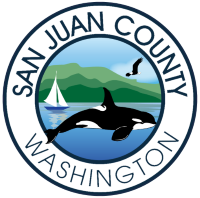 The Coun­ty shares some kind words about the pub­lic ser­vice of Drs. John Gey­man and Dale Heisinger.
San Juan Coun­ty Board of Health rec­og­nizes and thanks Dr. John Gey­man and Dr. Dale Heisinger for their years of ser­vice on the Board. At the July 20 meet­ing, Coun­ty offi­cials, staff, and board mem­bers cel­e­brat­ed the doc­tors for their 21 com­bined years of ser­vice with a good­bye recep­tion, speech­es, and a small gift.
Dur­ing their tenure, both Dr. Heisinger and Dr. Gey­man focused on access to care – advo­cat­ing for patient rights, equi­ty of access, and increased research in pub­lic health issues. They draft­ed a patient bill of rights that was adopt­ed by the Board in 2014, over­saw changes to med­ical clin­ics around the islands, sup­port­ed increased access to mobile den­tal clin­ics, sup­port­ed the long term care fea­si­bil­i­ty study, and were instru­men­tal in nav­i­gat­ing the COVID-19 pandemic.
"This is a real chang­ing of the guard," said Health and Com­mu­ni­ty Ser­vices Direc­tor Mark Tomp­kins. "Each with over 10 years of com­mu­ni­ty ser­vice, they're two stal­warts who have been influ­en­tial in advanc­ing access to pub­lic health and the scope of the health depart­ment here in the county."
Dr. Heisinger began his time as a BOH mem­ber in Jan­u­ary of 2012 and served as chair­man of the BOH from 2014–2021. Under his lead­er­ship the Board was active in leg­isla­tive and advo­ca­cy work, writ­ing let­ters to state rep­re­sen­ta­tives and sen­a­tors on the top­ics of young people's use of tobac­co and vape prod­ucts, gun vio­lence as a pub­lic health issue, sin­gle-pay­er health care sys­tems, and increased sup­port for foun­da­tion­al pub­lic health ser­vices, among many oth­er issues.
"Dr. Gey­man has been some­body I've looked up for a long time. He's a nation­al leader and we're so lucky to have had him," said Dr. Frank James, San Juan County's Health Offi­cer. "He's an astound­ing intel­lect and he's been a dear friend and men­tor to me."
Dr. Gey­man began his time as a BOH mem­ber in Octo­ber of 2011. As a fam­i­ly physi­cian, he prac­ticed in rur­al com­mu­ni­ties for 13 years, includ­ing in Fri­day Har­bor where he worked at Inter Island Med­ical Cen­ter from 1990–1997. As an islander, Dr. Gey­man was instru­men­tal in estab­lish­ing The Eagles, a group of pilots on San Juan Island who fly can­cer patients to and from the main­land for treatment.
"You've been con­stant advo­cates for chil­dren and fam­i­lies and the deliv­ery of med­i­cine," said coun­cil­man Jamie Stephens. "Both of you have kept us on our toes as to how we should be focus­ing on the big­ger health care sys­tem in our coun­ty and in our state. Thank you."
The part­ing gift to the retired doc­tors and avid read­ers was a leather book­mark donned with the say­ing, "Nev­er under­es­ti­mate the dif­fer­ence you made and the lives you've touched."
Indi­vid­u­als look­ing to serve their com­mu­ni­ty via the Board of Health are encour­aged to apply. The Board of Health gen­er­al­ly meets on the third Wednes­day of each month. Mem­ber terms are four years.
You can support the San Juan Update by doing business with our loyal advertisers, and by making a one-time contribution or a recurring donation.