Friday Harbor Atelier hosting holiday open house
Posted November 30, 2022 at 11:10 am by San Juan Update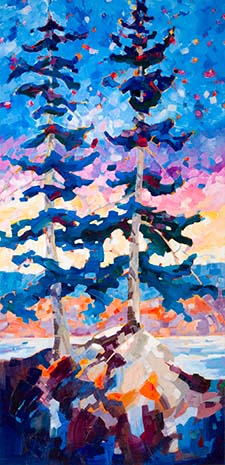 One of San Juan Island's local artist groups shares news about their upcom­ing art sale.
The artists of the Fri­day Har­bor Ate­lier invite the pub­lic to a hol­i­day open house and art sale on Fri­day, Dec. 2 from 4–7 p.m. More than a dozen artists will be on hand to open their stu­dios or present their work in the gallery space for sale, with styles and themes includ­ing por­traits, land­scapes, flo­rals, ani­mals, and abstract fine art. There will also be a selec­tion of cards, fine art prints, tote bags and oth­er unique gifts.
"This year we are cel­e­brat­ing our fifth anniver­sary as an art com­mu­ni­ty," says artist Deb­bie Daniels. "After the past few years, more than ever we want to cel­e­brate local small busi­ness­es and encour­age islanders to give the gift of hand­made art for the holidays."
Fri­day Har­bor Ate­lier — locat­ed at 313 Spring St. — will also be open Dec. 3, 10, and 17 from 11 a.m.-4 p.m.
The Ate­lier is an inde­pen­dent group of artists work­ing in a com­mon stu­dio space. They pro­vide afford­able pri­vate stu­dio spaces, an open stu­dio space, show­case art, and host class­es, work­shops and exhi­bi­tions. Mem­ber artists of the Ate­lier include Gretchen Alli­son, Rita Althoff, Shan­non Borg, Mary Bruce, Deb­bie Daniels, Ali­son Engle, David Harsh, Lori Hell­strom, Pam Hoke, Lisa Lam­ore­aux, Lau­ra & Sam­my Long, Jan Mur­phy, Tere­sa Smith, and Dol­ly Sundstrom.
You can support the San Juan Update by doing business with our loyal advertisers, and by making a one-time contribution or a recurring donation.