Griffin Bay Bookstore has a new owner
Posted December 6, 2022 at 1:55 pm by San Juan Update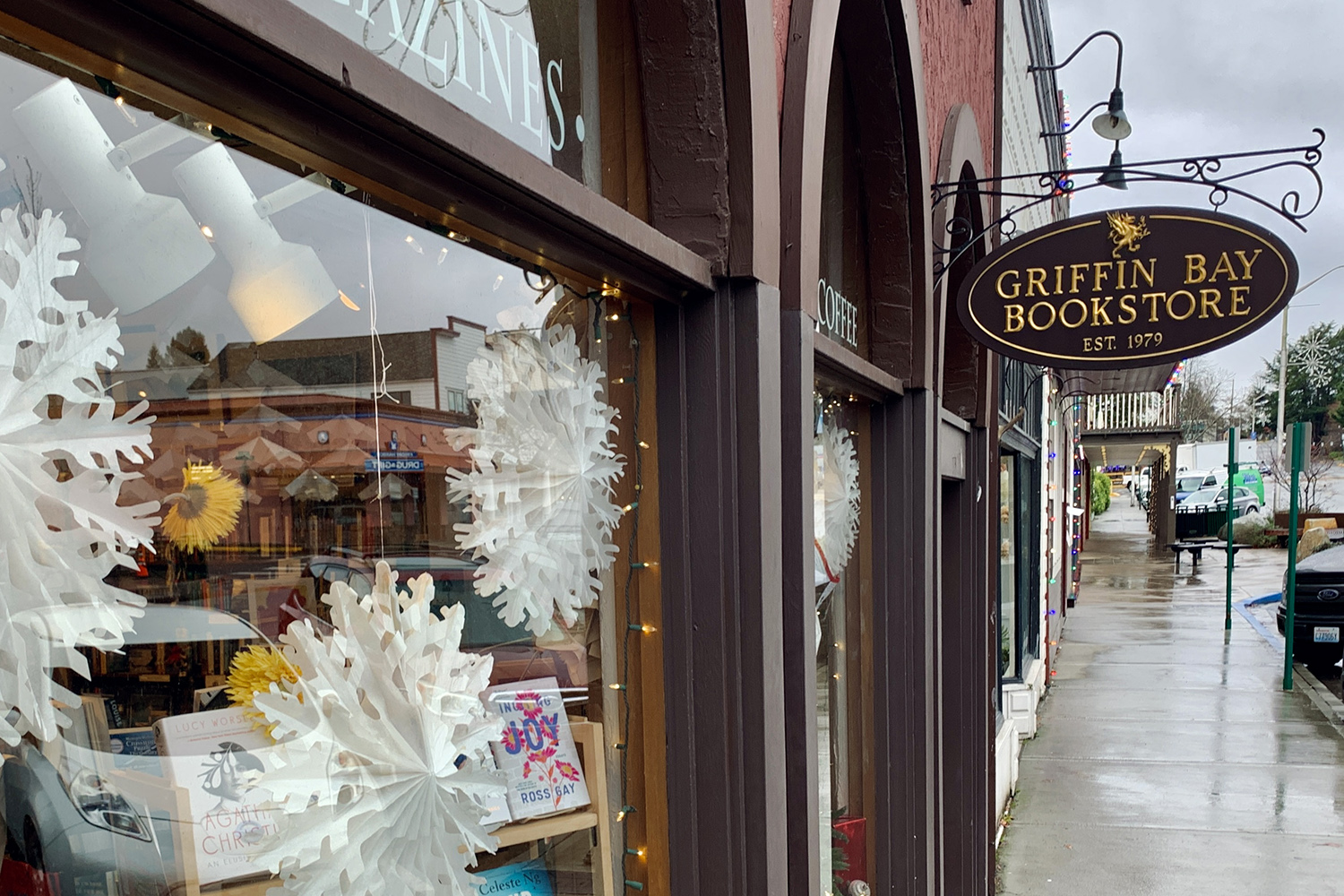 One of Fri­day Har­bor's longest-run­ning busi­ness­es shares news about their new owner.
For 43 years Grif­fin Bay Book­store has been promi­nent in down­town Fri­day Har­bor, con­tribut­ing in myr­i­ad large and small ways to the lit­er­ary, cul­tur­al, and social lives of our island com­mu­ni­ty. It has been our mis­sion to pro­vide islanders with the books and lit­er­a­ture they trea­sure, cater­ing to the unique pref­er­ences of loy­al cus­tomers. Our shelves have always been stocked with a wide range of books, a col­lec­tion that is con­sid­ered curat­ed in trade par­lance. And though there have been many changes in island life since 1979, there has been con­ti­nu­ity of mis­sion and pur­pose. Under wise and care­ful stew­ard­ship, the three own­ers — Chris Schmidt, Susan Eye­r­ly, and Lau­ra Nor­ris — have stressed hands-on cus­tomer ser­vice, bring­ing friend­ly, knowl­edge­able, and help­ful staff to the book­store, bib­lio­philes ded­i­cat­ed to find­ing just the right book or gifts for customers.
Lau­ra Nor­ris and staff extend a great thank you to all our cus­tomers for their loy­al­ty and on-going sup­port for the last 16 years. We have weath­ered fraught times togeth­er — a reces­sion, a pan­dem­ic, and sig­nif­i­cant changes in Fri­day Har­bor as well as San Juan Island. And as we have said before, adapt­ing to uncer­tain­ties and chang­ing cir­cum­stances is no small feat for any of us. Now new and refresh­ing oppor­tu­ni­ties are com­ing to the bookstore.
This month there is new own­er­ship at Grif­fin Bay. Lau­ra Nor­ris has passed the torch to San Juan Island res­i­dent Mae Can­non effec­tive Dec. 5. While there will be some­one new at the helm, there will be the steadi­ness of con­ti­nu­ity, the steadi­ness of mis­sion and pur­pose and in staffing. You will see famil­iar faces behind the counter — Allyson, McK­ay­la, Shaw, and occa­sion­al­ly Cather­ine and Lau­ra — and Nan­cy behind the scenes. Busi­ness will con­tin­ue unin­ter­rupt­ed as usu­al. Rest assured, all gift cer­tifi­cates will be hon­ored and spe­cial orders ful­filled. The store is well-stocked for your Christ­mas gift-giv­ing needs.
Lau­ra express­es great thanks to all the book lovers who've browsed our shelves over these many years. "With a full and grate­ful heart, I am leav­ing Grif­fin Bay Book­store steeped in the con­fi­dence that its future is secure in the hands of new own­er Mae Can­non," Lau­ra says. "She is a devot­ed bib­lio­phile with a wide breadth of tal­ents and exper­tise which will suit the book­store and read­ing com­mu­ni­ty well. It has been my hon­or to serve the island com­mu­ni­ty which I grew up in and love so much for these past 16 years, but I know the time has come to wel­come in the next gen­er­a­tion and I trust that all of you will join me in sup­port­ing Grif­fin Bay Bookstore's new owner."
Mae has loved Grif­fin Bay Book­store since the first time she and her hus­band came to vis­it Fri­day Har­bor. A res­i­dent of San Juan Island for the past sev­er­al years, Mae loves books and has a per­son­al col­lec­tion across a vari­ety of gen­res. Own­ing a book­store has been a life­long dream, and from her per­spec­tive there is no bet­ter place than on San Juan Island. Mae will be in the book­store begin­ning today. Please stop in and join us in wel­com­ing her.
"I am excit­ed to keep the tra­di­tion of Grif­fin Bay Book­store strong. My desire is for the store to con­tin­ue to be a place where all peo­ple feel wel­come and can come to learn about the trea­sures of our island and beyond, "Mae says of her vision for the book­store. "I look for­ward to being involved in the island com­mu­ni­ty as well as being a part of Fri­day Harbor's busi­ness com­mu­ni­ty. I salute Lau­ra Nor­ris for her years of run­ning the book­store, and I am grate­ful to learn from her exper­tise as I embark on this new adventure."
You can support the San Juan Update by doing business with our loyal advertisers, and by making a one-time contribution or a recurring donation.