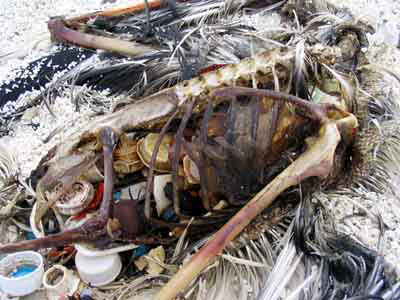 Bottle caps and other plastic objects are visible inside the decomposed carcass of this Laysan albatross on Kure Atoll, which lies in a remote and virtually uninhabited region of the North Pacific. The bird probably mistook the plastics for food and ingested them while foraging for prey.
Next Monday, there will be an important lecture by Dr. Charles Moore titled "Plastics in our Oceans" for Monday November 3rd at 5:30pm at the FH Labs Commons. Topic: Synthetic Polymers in the Marine Environment: A Rapidly Increasing, Long Term Threat.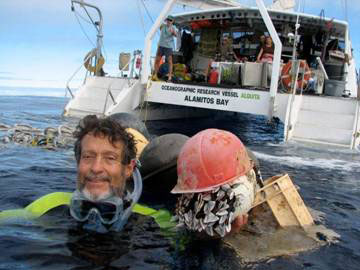 Charles Moore, Founder of the Algalita Marine Research Foundation, will explore the consequences of our society's profligate waste over the last half century, and how it is showing up in the ocean's food web from the smallest marine animals to the largest cetaceans.
He will explain the unexpected longevity of our waste in the marine environment, how it threatens the ocean's biodiversity, and what we must do to change the tide of trash inundating our shores.
This special presentation is sponsored by Doris Estabrooks, FRIENDS of the San Juans, Friday Harbor Labs, and the San Juan Island Anti-Litter Initiative.

Time to sign up - Flea Market & Craft Fair in November & December....
Rev (right) at the San Juan County Fair tells me:
The San Juan County Fair will host two giant Flea Market and Craft Fairs, Saturday, November 15 and Saturday, December 13, 2008.
The events are open to all sellers, artists, crafts people and buyers and will run from 9:00a.m. until 1:00p.m. in the Main Building at the fairgrounds.
Contact the Fair office at 378-4310 or email to info@sanjuancountyfair.org for information or an application to reserve a vendor booth space. There is a discount available for reserving booth space on both dates.
Opportunities for young women......
Here are a couple of chances for women to help themselves - forward this over to anybody whom you think would be a candidate (just tell 'em to look on the Update...). They're both connected to the Soroptimists - Joyce sobel sent over the first & Stephanie Buffum sent the second - check 'em out:
Violet Richardson Award: Young women between the ages of 14 and 17 who are helping to make our community and world a better place are encouraged to apply for the Violet Richardson Award, which is presented each year by the Soroptimists of Friday Harbor. This cash award is given to a young woman who has demonstrated initiative in both identifying a problem and in try to solve
it through her volunteer activities. Volunteer work can include, but is not limited to, projects that address social problems such as homelessness, violence, drug abuse, unemployment, illiteracy, discrimination, AIDS, and environmental pollution. Activities that benefit women and girls are especially valued. The award is an opportunity to hone a girl who might not otherwise receive recognition.
She may not be the best student, the best athlete, or the most popular girl in school, but she is caring, compassionate, creative, and most of all committed to making the world a better place.
Application form (which includes information about the award) are available from Joyce Sobel (378-5246 or jsobel@rockisland.com) and are due by Monday, December 1.

Women's Opportunity Award: The Women's Opportunity Awards program is Soroptimist's major service project. The awards improve the lives of women by giving them the resources they need to improve their education, skills, and employment prospects. Each year, Soroptimist International of Friday Harbor awards a $1500 grant to an area woman who provides the primary source of financial support for her family and is improving her life through education and skills training. The award may be used to offset any costs associated with efforts to attain higher education, including books, childcare and transportation. Club recipients then become eligible for additional cash awards at other levels of the organization, including three $10,000 finalist awards.
Many Women's Opportunity Award recipients have overcome enormous obstacles in their quest for a better life, including poverty, domestic violence, and drug and alcohol abuse. Each year, more than $800,000 is disbursed through awards at various levels of the organization to help women achieve their dreams of a better life for themselves and their families. Since the Women's Opportunity Awards program began in 1972, it is estimated that $15 million has been disbursed and more than 20,000 women have been assisted. In 2003, The Women's Opportunity Awards program received the Award of Excellence from the American Society of Association Executives' Associations Advance America program.
Applications are available by calling Kristine Odle 378-2414 or download Award application at soroptimist.org/pdf/engappform2005.pdf . Submit application to Soroptimist International of Friday Harbor, PO Box 2856, Friday Harbor, Washington, 98250 by December 15th.
The Times They Are A-Changin'.....
Here's the Tracy Chapman version: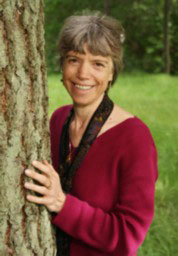 Dealing with the final transition......
Adrienne at the Library tells me this is gonna be a good talk to come to, on Saturday at 7pm (here's a bit more about the seminar she's putting on the next day, all day):
Come meet Maria Dancing Heart! She wrote "The Last Adventure of Life: Sacred Resources for the Living and Dying from a Hospice Counselor," which contains stories and "healing tools" to help those dealing with grief, loss and the "final transition." Maria has worked as a hospice and spiritual bereavement counselor for several years.
For more information visit Maria's website: The Last Adventure of Life.
Quote
Well begun is half done.
Aristotle
---
October 28, 2008
Passing...
I just heard that Pat Speer passed away Sunday night at her brother's home in Nebraska, quietly in her sleep. Thousands of FHHS students since 1973 knew Ms. Speer as an art teacher who (they told me) brought out their creativity and helped them feel better about themselves. Although she had ended her teaching career last June, at the age of 62, she'll be remembered by the teachers she worked with and the kids she helped shape for years to come.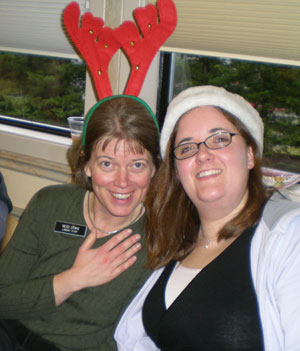 Needs a little help....
I nearly got it right - yesterday I mentioned that Ada & Mi Piace were gonna close, but that's because I didn't understand that she's gonna be away in January, like a lot of business owners are in the winter - sorry for the misunderstanding! I was right that she has her merchandise at 50% off, so drop by & see her..
Moving on.....
The last two children's librarians at our library have moved on to greater things - Laura Tretter came in 2001 and has since become the director. Now Shannan Sword is moving up - she's been named the director of the library in Sylvan Lake, Alberta, so she'll be leaving in mid-November.
Looks like Alberta got a good one - Shannan has been keeping a lot of balls in the air, including the Teen Writing Program, the teen reading program, the summer reading program, the kids' lapsit reading times, and all of these have grown while she's been here since mid-2005. Good luck!
That's Shannan on the right at last year's volunteer Christmas party, with Heidi Lewis & her antlers.
Bringing it all together.....
Have you ever wondered how come we don't have one big school district in the islands, instead of districts for Shaw, Orcas, San Juan, Lopez, Decatur, and so on? So have I.
That's why I want to go to the special meeting next Monday (the 3rd) to see what the superintendents have to say about what would be involved with consolidation. It's one of those ideas that feels like it makes sense - let's begin that discussion. Here's more.
Have you registered yet?
Vic & Monique Woodward are hosting a "Laugh Your Way to a Better Marriage" video conference on Nov. 14-15 at The Elements Hotel. Mark Gungor does an incredible job of teaching the design of males and females, using humor and understanding to deliver hope/life for married couples. Couples can simply call them to register (360) 378-8435.
Here's a short video clip from the conference: "The Tale of Two Brains" - (click here to see it - it's pretty good!)
Quote
If there is anything we wish to change in the child, we should first examine it and see whether it is not something that could better be changed in ourselves.
Carl Jung
---
October 27, 2008
The sports scene shakes out....
If Meridian wins the state championship again this year (they've won it three times in the past nine years), Wolverine fans will be looking back at Saturday's game as "what might have been," as FHHS lost 21-13, after a halftime tie (here's the story, from the Bellingham Herald.) The loss drops us from the playoffs in November, so we finish up the season with a visit to Lynden Christian on Halloween night.
FHHS volleyball wraps up the season at home tomorrow, then heads to the end of the season tourney on Saturday to see what their playoff chances are.
Meanwhile, the league champ soccer team finishes their season tonight at Concrete before heading into a playoff game Wednesday at Coupeville.
For Halloween night.....
Kris Brown tells me it's happening again:
Islands Community Church's Annual Harvest Party: "Treasures of the New World."
A safe and fun adventure for young children! It's Friday, October 31, 5-7p.m.
127-A Gilbert Lane – off San Juan Valley Road
Free Refreshments & Candy including Popcorn, Cupcakes, Slushies. Don't worry about dinner; we have hotdogs & corndogs for $1 to raise money for our holiday food baskets. PLUS we have a FREE pie area for adults! Free Carnival-Style Games including Mini-Golf, Hoop Shoot, Spin & Win, Glow in the Dark Room, Bowling, Darts!
Free Pictures of Your Child! Wear positive-themed costumes so young children will not be frightened.
For more information call 378-4154.
Bike trails meeting today.....
Tracy Roberson has posted an agenda for that meeting today:
Hi All,
Just a reminder about the bike trails meeting today Oct 27, 5 pm at the Community room, Whidbey Island Bank. FYI, here is a tentative agenda for the meeting, this meeting is meant to be very interactional and not a dialogue, so the agenda may evolve, below are simply the topics that I hope to cover.
See you there!
Tracy

Election help.....
One of the dumber things on the ballot this election is passing something that limits or eliminates the HOV lanes on the highways of our congested state. But that's OK - I got if figured out how we oughta do it.
The people wanting to pass the new law say they wanna open up the carpool/more-than-one-person-in-the-car lanes so we don't have to build more highways. Right. But here's the deal - we got it backwards. We need to make ALL the lanes open to folks who have two or more people in the car, and have just one lane for the folks who insist on having only one person in the car. Tis would, of course, make people carpool, or else they'd be in the most backed-up lane of all.
That would work better. I thought about a lot, so that you & I can vote correctly on this one.
You're welcome.
Quote
There are three kinds of men. The one that learns by reading. The few who learn by observation. The rest of them have to pee on the electric fence for themselves.
Will Rogers