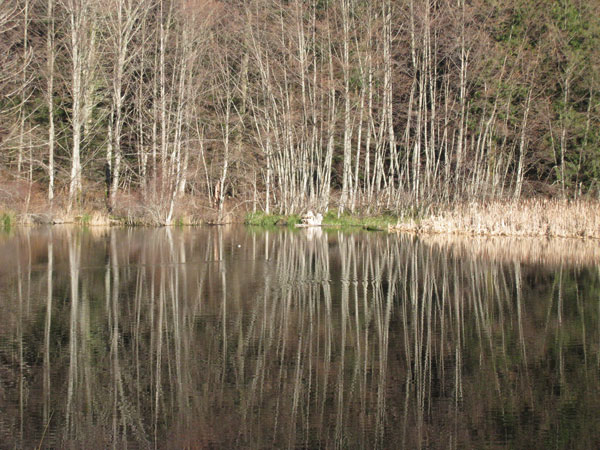 You know that pond off the side of the road when you're traveling south towards Lime Kiln after you've passed San Juan County Park? (Here's an aerial map to show you....).
It was beautiful in the sun a couple of weeks ago, with a few ripples from the ducks
taking off....click for the larger picture.
February 17, 2009
New babies reported....
Susan & Howie from the Orca Network report:

What's happening on the island!

Ken Balcomb of the Center for Whale Research confirmed: "There are two new calves (one in J and one in L), but we are not officially specifying mums yet. We are conferring with Dr. John Ford and our Canadian colleagues before stating possible mothers. We would like to have several encounters with the babies and their mothers before assigning because grandma's may also confuse things."
This is really great news! If the calves survive, it would bring the Southern Resident population up to about 85 - still way too low for this fragile, endangered population, but every new birth counts and moves this population in the right direction. It is especially good news after the loss of seven members of the So. Residents last year (which included 2 of the 3 calves born, and several reproductive age females). Let's hope the whales come back into inland waters again soon, so researchers can have more encounters and confirm who the new moms are.
Susan Berta & Howard Garrett, Orca Network
Lifeguard training begins - this is your chance to get certified.....
Amy Wynn helps with the lifeguard program at the pool, and she wanted to let you know this gets going next week:
Hi Ian. I have just written the world's most boring press release for one of the world's best programs: American Red Cross Lifeguard training. We live surrounded by water on an island dotted with lakes and ponds. In my opinion we need more people with an eye for water safety and the skills to prevent and handle aquatic emergencies. Every year camps, resorts and fitness facilities need lifeguards, so if you are looking for a career in aquatics or a way to be a step ahead of the competition for that job around the water, sign up for American Red Cross Lifeguarding.
You can register now for American Red Cross Lifeguard training at San Juan Island Fitness. Classes are tentatively scheduled for Sundays from 3-6pm and Tuesdays from 6-9pm beginning Tuesday, February 24 and continuing until March 24. There will be one additional session at a deepwater pool to be scheduled later.
To qualify for training, participants must be 15 years old on or before March 24, 2009, able to swim 300 yards continuously, and able to retrieve a 10-pound object.
The cost of the class is $175 and includes books, instructional materials, pocket mask, and CPR and First Aid training. Class size will be limited to 10 participants.
To register, or for more information about this and other lifeguard trainings, contact Amy Wynn at San Juan Island Fitness 378-4449 or e-mail swim@sanjuanislandfitness.com.
The one video you have to see today....
Look, I know how you are....you're at work & you're checking out YouTube with the Flight of the Conchords or The Family Guy or whatever else, but I have a little video here I think you'll be glad you checked out.
It's from the Puget Sound Partnership, and explains the need for (and creation of) their Action Agenda. And yep, those are our folks - you'll see locals Kari Koski (Soundwatch), Jenny Atkinson and Jason Wood of the Whale Museum, as well as Joe Gaydos of the Seadoc Society.
Click here to see this important six-minute video. We have work to do.
---
Boys & Girls State apps are due....
One of the coolest things I got to do when I was in high school was go to Boys State in Alabama (I ran for state judge, lost, then got elected to the legislature, where I got a bill passed that said judges should be appointed because voters aren't good at vetting judges.) But I digress...

Minnie Knych says it's time for kids to get their applications in:
Applications are currently being accepted for the annual sessions of Evergreen Girls State and Evergreen Boys State. Girls State is sponsored by the local American Legion Auxiliary Unit 163. Boys State is sponsored by the American Legion post 163.
Girls and Boys State are leadership training programs designed to give students the knowledge of the duties, privileges, rights, and responsibilities of American citizens. Those who attend will learn how our system of government functions and responsibilities they will bear as adults.
The Girls State session will be the week of June 14-20 at Central Washington University. The Boys State session is the week of June 21 -28 at Central Washington University. High School juniors who are chosen to attend are expected to have no other plans during the week long session. Other requirements of the students attending are that they must be between the ages of 15-18 and be on track to graduate from high school in 2010.
There is no cost to students who are chosen as Boys and Girls State representatives. The American Legion and American Legion Auxiliary offer several scholarships. Applications for these scholarships are available now. Due date for applications is February 27, 2009. Call 378-4662 to find out how you can apply.
You can find out more about Girls and Boys state at http://www.boysandgirlsstate.org/
Students who attend Girls and Boys State may also be eligible for college scholarships of as much as $25,000.
Call Minnie Knych at 378-4662 for more information.

Another video....
I first posted this on the Update a few years back, so you probably remember it....I got two notes from Update readers (that's called "overwhelming response" here at the editorial office) saying I should post it for Valentine's Day, because of all the kissing in it....see what you think:
Helping with Relay for Life....
Over at the Medical Center, they have an on-going fundraiser going on - Katie Oliver has more:
The medical center has a team for Friday Harbor's Relay for Life event named the Care Bears. The theme this year is "Back to the Future" in celebration of the 25 years of Relay events. So there will be lots of 1980's references during this years fund raising and event.
One of our goals at the medical center is to fill our waiting room with Relay stars and moons. They are available for a donation of $1 or $5 and they can be "in honor of" or "in memory of" someone battling cancer. Or they can simply have a word or a wish on them. This fund raising effort will be going on until the event in July. If you could post this information on the San Juan Update website that would be greatly appreciated! Also, if anyone would like to join our team or make an online donation they can visit.
Quote
The failure to read good books both enfeebles the vision and strengthens our most fatal tendency - the belief that the here and now is all there is.
Allan Bloom
---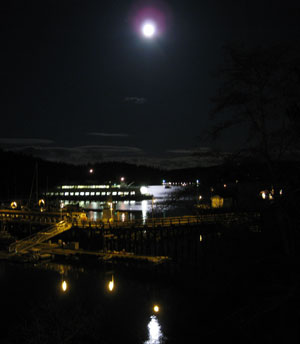 February 13, 2009
That's the moon over Friday Harbor Monday night from the Yacht Club, as we celebrated our 100th birthday...I loved the moonrise over the water as the ferry pulled away.
Basketball tonight....
The last home game of the season is tonight at FHHS at 4:30 (girls) and 6 (boys)....they wrap things up Saturday at Shoreline Christian before taking off for playoff action Tuesday in Coupeville.
Tuesday night was a double win in Concrete, as the boys won 60-54 and the girls won in overtime, 52-51. Way to go, Wolverines!
It's Mid-Winter Break!
The public school kids have next week off! Wahoo!
Get your new book tonight....
Kevin at the Historical Museum has more:
Please join the San Juan Historical Society and authors Mike and Julia Vouri for a presentation of the new book, Images of America - Friday Harbor. The book chronicles the history of Friday Harbor using over 200 historical photographs, most never before published. A presentation of select photographs from the book with a narrative on the historical aspects of each photo will make for an interesting evening. Signed copies of the book will be available for sale for $24 and postcards depicting 15 photographs from the book sell for $9.00. Here's more....
The Spoken Word, tonight at the Library.....
It starts at 7pm on Friday - join me for an evening of poetry. The featured poets are Jen Furber, Pamela Herber, and Victoria Compton, while we'll have songs by Therese and Daniel Finn, and me. An open mike period will follow, so don't be shy – come read your writing aloud at the Library! Everybody's welcome...and we'd love to hear what you've written.Come listen to local poets

Tom's Bailout song goes live on the Internet....
Have you seen it yet?
Tom Doenges pulled the band together to shoot a little video - here ya go! Check it out! Meanwhile, last night (Tom tells me) "I'm Looking for A Bailout" was scheduled to be on 5 & 6 p.m. KIRO News.
Ferry rally....
Bernadette from Orcas wants you to come (and Howie Rosenfeld says both the Town and County Council have endorsed the petition at the end of the note):
Come one and all to the rally in Olympia on Wednesday, February 18th, 11:00 a.m.-2:00 p.m. This community-wide effort is being organized and mobilized now with just one week to go. Efficient, accessible and affordable ferry travel is imperative to the economic prosperity of island life here on Orcas.
Arrangements are being made for bus, van, and SUV travel to Olympia for the rally. Lance Evans at the Chamber has offered to look into bus travel as that will be the most efficient way to transport large numbers of participants should we get the desired local response. We will look to the business and private sectors of our ferry-dependent community to help sponsor this volunteer effort.
Sign yourself, or someone you love, up so that we can have a strong showing at the rally in Olympia. There is power in large numbers and we will join forces with about 900 participants from our islanders to the south: Vashon, Bainbridge, and Bremerton. We are hoping for a turnout of at least 300 participants from the San Juan's, including Orcas, Lopez, Shaw and San Juan Island. So spread the word far and wide.
Please sign up with Bernadette Vinson at: bernadettev@centurytel.net or 376-8232 to reserve your space for travel to Olympia. We anticipate a 7:00 a.m. departure and 5:45 p.m. return ferry trip to and from the rally. Bring a lunch and snacks. Dress weather appropriate. Make a sign to wave at the rally. Bring a smile and lots of energy to the rally!
Remember to sign the online petition at: http://www.petitiononline.com/mod_perl/signed.cgi?plancfcp&501
How Can I Tell You.....
This has always been one of my favorite Cat Stevens' love songs.....
Quote
Human beings, who are almost unique in having the ability to learn from the experience of others, are also remarkable for their apparent disinclination to do so.
Douglas Adams
---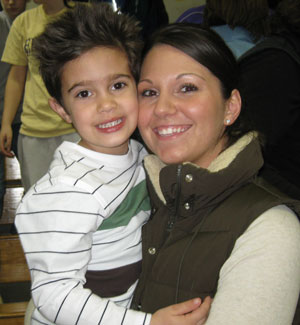 February 11, 2009
That's Summer with her boy Nicholas at last weekend's basketball game...he did a good job of watching his uncle Michael Ausileo play for the Wolverines, who beat Shoreline Christian 43-40 that evening.
Valentine's idea...
I just heard from Susan Matthews about what she & Stan are planning for Valentine's Day:
Hey, Ian.
I got acquainted with Chef Dave of Jimmy's Paradise Café a couple of weeks ago at the chili cook-off and, in the course of conversation, asked him if he was going to serve up anything special at the café on Valentine's Day. Since then, I understand he's ordered up the fixin's for Chicken Cordon Bleu and Beef Wellington and is indeed going to be ready with a romantic dinner for sweethearts on Saturday. We felt this would be a great Friday Harbor experience to share with friends who will be visiting from Seattle this weekend, so that's how we're celebrating this year.

I hope others in the community will be able to appreciate the warmth, charm and great food of Jimmy's on Valentine's Saturday.

Susan
The Festival continues....
The Playwrights Festival run tomorrow night through Sunday for its last weekend....be sure & catch it! Here's more.
Quote
Thank you, God, for this good life and forgive us if we do not love it enough.
Garrison Keillor
---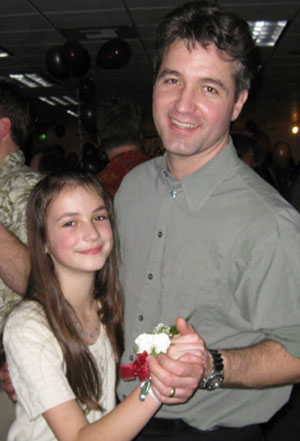 February 10, 2009
The Father/Daughter Dance was a blast....
Nearly two hundred dads & their girls packed the Mullis Center on Friday night for the Fourth installment of the Father/Daughter Dance, put on by our friends at Island Rec. It was cool to see daughters of all ages & smiling papas all over the place.
You can get a pretty good feel for the event by checking out this gallery of nearly fifty pictures from the evening....
And here's a last from the past - the last three year's pictures, as well:
Father-Daughter Dance 2006
Father-Daughter Dance 2007
Father-Daughter Dance 2008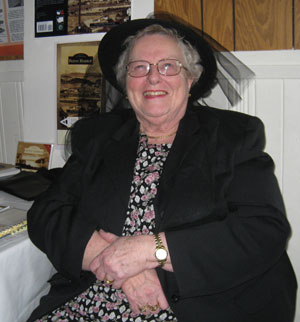 Starting the next 100...
Yesterday was a great occasion, pulling the different parts of the island together to celebrate our Town's Centennial. There was music everywhere, and memories posted all over the place with photos from the old days now marked with fingerprints as people pointed to where this had been built or that had been torn down...
It was cool to see the latest mayors (Cahaill, LaPorte, Boothman, Jones) leading the march to the Grange for the cutting of the Town birthday cake (made by Bakery San Juan), which set off music at the Fire Hall, the Grange, and later in the evening, at the Yacht Club.
Kids were playing in the bands, and people were dressed up like it was 1909 (that's Mary Jean at the right).
Looking forward to the next hundred......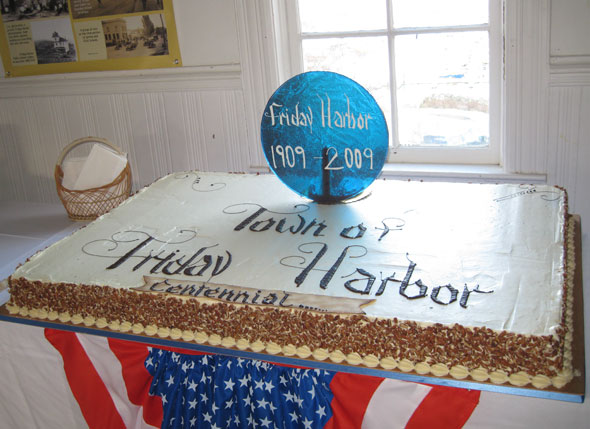 The Town's birthday cake was so huge that people were still asking for a piece five
hours after the first piece was cut.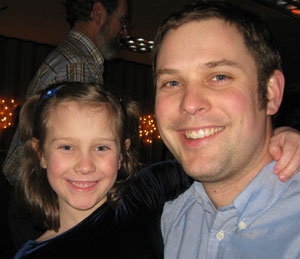 Chris is moving to the Middle East....
I visited with Chris Wolf at the Father/Daughter Dance Friday night, and he confirmed it: He and Emily are taking the kids (that's Gretta in the pic) to Qatar for next school year. That will leave the middle school scrambling for an ace humanities teacher (he set the bar pretty high) and the Town looking to fill his Town Council seat. He tells me it's a two-year stint, so hopefully we'll get the Wolf family back on the island after that.
Another angle to see the island....
It's always fun to see what people say about us when they visit here (especially when it's well-written!) - here's the account of a woman named Kali who came visiting with her husband Ken & stayed at the Longhouse B&B. See what you think.

The 16th Knowledge Bowl was great fun - The Lions pulled out a nicely-crafted 2 point win to win the coveted KB trophy, which is now proudly stored in someone's closet till next year. Super job by host Marc Vermiere, and a super job by the San Juan Public Schools Foundation putting it on. Laughs, wit, clever kids & adults, sold-out place....great evening. (Click to see a bigger picture.)
Basketball postseason now set.....
The FHHS teams have three left this week - at Concrete today, home with Mount Vernon Christian on Friday for their last home game, then at Shoreline Christian on Saturday.
On Saturday, FHHS did things the hard way & won anyway...playing against Shoreline Christian, we were missing big Parker Lawson (out with a season-ending injury), and starters Ryan Aylward & Pablo Lopez, who were in Seattle kicking butt in the Orca Bowl. The two teams were no more than three points apart frrom the middle of the third quarter, but SC did the unimaginable when they had to foul late in the fourth - they fouled Jordan Nash. I lost count - but he buried six or seven straight FTs to close out the Wolverines' 43-40 win - he was a machine.
The girls played it close, too - leading by one at the half and controlling SC for three quarters before letting it get away, losing by eight. Luckily, we play 'em again on Saturday, so we'll get 'em then. Count on it.
I asked Athletic Director (and boys' basketball coach) Rod Turnbull how the playoffs work next week - here's the scoop (TBD means "to be determined," by the way):
Both our Boys' and Girls' basketball teams will advance to the first round of the District 1 playoffs. Both teams will be playing Coupeville @ Coupeville HS on February 17. The girls' game will start at 3:30, and the boys' game will follow at 5:15.
A win for the girls would move them on to play Lynden Christian @ Lynden Christian on Thursday, February 19, game time TBD. Win or lose, the girls play again on Saturday, February 21 at Mount Vernon HS, opponent and game time TBD. A loss on Tuesday will end the girls season.
A win for the boys team would move them on to play Meridian, at Meridian HS on Friday, February 20 game time TBD. With a win or loss on Friday they play again on Saturday @ Mount Vernon HS, opponent and game time TBD. A loss on Tuesday would also end the boys season.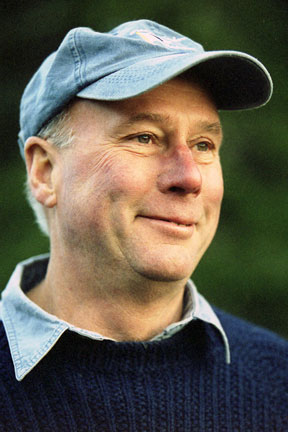 Passing....
I just heard that Jim Crain passed away....here's more:
James "Jim" Peter Crain (November 24, 1942 – February 7, 2009) passed away at home surrounded by family and dear friends on Saturday, February 7, 2009, after a sudden and brief battle with cancer.
Born on November 24, 1942 in Portland, Maine, Jim lived and grew up in Rochester, New Hampshire where he graduated from Spaulding High School. Moving west, he received degrees in Geophysics/Glaciology and Pure Math from the University of Washington. His graduate studies were done on the Blue Ice Glacier in the Olympic Mountain Range.
Jim was stationed in Berchtesgaden in the German Bavarian Alps where he skied for the U. S. Army European Division of the National Ski Patrol (AFRC). Jim also lived in Colorado where he was a professional Ski Patrolman at Loveland Basin.
In New Hampshire, he started Maple Hill Construction, and later moved to Port Townsend, WA to become a shipwright who built Cape George Cutters. Jim established Crain Construction and moved onto San Juan Island over 20 years ago to continue his passion for creating custom homes. Clients from San Juan Island, Pearl Island, and Hawaii soon became personal friends.
Jim is survived by his wife and best friend Kathy and his mother, Ruth Butler Veno of Rochester, NH, his aunt Corinne (Robert) Brinson of Jacksonville, FL, cousins Bonnie (Tommy) Brinson McMillan of Thomasville, GA, Dr. Randy (Pam) Brinson of Montgomery, AL, Jonathon (Jackie) Brinson of Jacksonville, FL, Betty-Ann Brinson (Charles) Suggs of Jacksonville, FL, eight second-cousins and two third-cousins.
He is also survived by his mother-in-law MaryEllen Melton, brother-in-law Fred(Marla) Melton, nephews Scott and Jeff Melton all of Bend, OR, previous wife Ann (Mike) Rau of Eugene, OR, brother Gary (Dianne) McClelland of Hoodsport, WA, niece Gretchen McClelland of Bellevue, WA, nephew Greg McClelland of Lombard, IL, along with many, many special friends.
Jim will be remembered for his passion and love for flying, skiing and sailing. He has left his signature with his construction of beautiful homes where he gathered many lifelong friends along the way.
A Celebration of Jim's life will be held at the Roche Harbor Pavilion, San Juan Island, WA on Sunday, February 15 at 1pm with a potluck lunch. For more information please contact Marie 360-378-7595 or Diana 360-378-5039.
Memorial contributions may be made to the Jim Crain Memorial Fund at Islanders Bank, Post Office Box 909, Friday Harbor, WA 98250.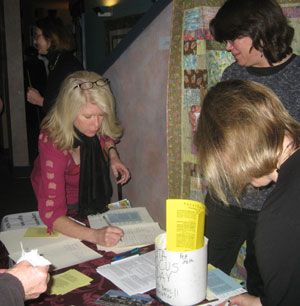 What it looks like in Olympia, as we work to save our schools....
SJISD Superintendent Michael Soltman filed this report as he worked in Olympia this weekend and yesterday to lobby for the changes we need to repair the school funding mess in the state....that's parents and community members at Thursday's Knowledge Bowl, signing petitions to take to the state capital.
This note is addressed to the schools' staff, and he told me I could share it with you:
Yesterday (Sunday) and today I'm in Olympia at the annual WASA/WSSDA legislative conference. It is an annual meeting of school administrators and school board members across the state working together to clarify legislative priorities, and to meet with our legislators to discuss them. We can be so grateful to have Dave Quall and Jeff Morris as our representatives, and Kevin Ranker as our senator. They are truly giving great leadership to the basic education bill we have worked so hard to make a priority over the past several years. All are optimistic that the legislature will take action to lay out a plan to fully fund basic education over the next several years, and all are realistic that new funding probably won't begin to take place until the 2011-12 school year due to the current economic conditions. I must say, that in all the years I have been involved here, I have never seen such a broad commitment to fund the "States Paramount Duty" to provide "Ample Funding" for the "Education of All Children" in our state.
Deborah Nolan, our HS PTA president who is also taking our District's lead for legislative advocacy, says often that our district truly stands out in the State in many ways. She notes our tremendous community support, the generosity of our donors, and quality of our instruction, the commitment of our staff, and the wonderful academic and co-curricular options our small district provides for our students. She often says that folks she talks to in other districts are "amazed" by what we have here. I find the same is true when I attend state meetings and talk with other superintendents and school board directors. We are blessed with amazing resources, commitment, passion, and excellence in our schools, and I'm grateful for you, our faculty and staff, that make it happen each day.
The Governor's representative said yesterday that in times like these (and frankly, I think it's always true), "Schools are the community safety net". This is especially so now given the necessary reductions in State spending. Reductions in health departments, law enforcement, and other social services are much deeper than the 5% reduction in the education budget. And more than ever, we will be taking care of the children in our community as other resources become more restricted. I appreciated the recognition that the Governor and legislators give to us, and the deep understanding that we are the "safety net" for our society.
We do have a budget challenge and we will have to make choices that are difficult. However, I do believe that the qualities we have that are described as "amazing" are the same qualities that will help us weather this temporary recession and continue to provide an excellent education to the children in our community. If we need to make choices that reorganize administration, or reorganize instructional programs, or reorganize operations and services, we will do it in a way that preserves the excellence we proudly deliver. We must – we are the safety net of society – and it is our work that preserves our democracy, our society, and our way of life. Everyone in our country, (and most in the world) are facing personal sacrifices these days due to the economy.
Our charge is to face our challenges, preserve the best of what we have, continue to serve our students and families well, and take good care of each other in the process. Within the choices we make, we will economize wherever possible, preserve as many jobs as we can, work collaboratively and confidently within new organizational structures, and be the "amazing" district we are.
And now I'm off to the "hill" for meetings with legislators. Home tonight and we continue our planning for our future tomorrow. I appreciate your wisdom, commitment and support. And by the way - Happy Anniversary Friday Harbor!!
Michael
Update on FHHS Wrestling....
From Rod Turnbull, about how the wrestlers did last week & what's ahead:
Our wrestlers just completed the District 1 Tournament at Nooksack and Squalicum High Schools where 11 boys and 1 girl (Angela Gossom) qualified for the Regional Tournament Saturday, February 14.
The boys will be wrestling at Bellevue Christian HS and the girl's tournament is being held at Liberty HS in Renton. Both events begin at 10:00 am. The top 4 girls in each weight class and the top 3 boys in each weight class will advance to the State Tournament in Tacoma on February 20 & 21.
The Sixth Annual Roche Harbor Salmon Classic Derby.....it rocked....
The Derby has a 100 boat limit, which sold out back on November 5th with a $10K first prize...and sunny skies to start things off!
Debbie Sandwith from the Market does an awesome job of putting this event on, and she sent the results (drumroll, please):
The following results from the derby are as follows:
100 Derby Boats; total 344 Anglers
66 fish weighed in on Friday February 6, 2009
49 fish weighed in on Saturday February 7, 2009
Total Fish weighed in 115
$10,000 (1st Place) Shannon Terrell, Bellingham, WA 18.6
$5000 (2nd Place) Wayne Logsdon, Mt Vernon, WA 16.1
$1,500 (3rd place) Bret Thurman, Deer Harbor, WA 15.15
$2,000 (Mystery Fish) Craig Hougen, Bellingham, WA 9.03 $1500 (Best Boat Total Weight): 84.0 lbs (Craig Hougen, Tim Melton, Mike Hougen and Bill Melton, all from Bellingham, WA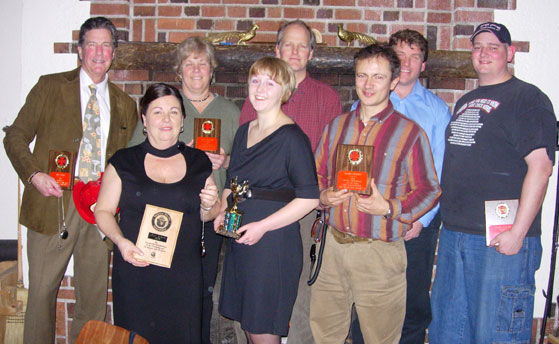 Firefighters get their just desserts - these folks were honored last week. In photo, from left to right, Ted Noll, Joan Byrne, Julia Owens, Kate Hunter, Joe Cooper, David Howitt, Mark Tompkins and Daven Holzer
Photo by Carolyn Hudson

Firefighters honored for service in 2008
Carolyn Hudson reports:
The San Juan Island Fire Department celebrated the 2008 contributions of its members Saturday night to the theme "Rescue Me" with decorations of super heroes, including Superman and Spider-Man.
The firefighters and support members were honored for their dedicated service in 2008 at the annual awards banquet held Saturday at the University of Washington, Friday Harbor Labs dining hall. About 80 people attended included guests.
Assistant Chief Brad Creesy presented a slideshow of the fire district's membership, responses and training over the year. Doug Rhine of smoothdj.com provided the music during the event.
San Juan County officially recognized San Juan County Fire District #3 as a fire district on October 6, 1958. The fire district covers about 55 square miles, which includes San Juan Island outside the town limits, Brown and Pearl islands.
The following firefighters were honored with special awards for their service in 2008:
Officer of the Year – Mark Tompkins
Firefighter of the Year – Joe Cooper
Rescue Technician of the Year – David Howitt
Rookie of the Year – Daven Holzer
Support Volunteer of the Year – Brent Johnson
Smokey Bear Award – Joan Byrne
The following firefighter station awards were given:
Station 31(Mullis St.) – Kyle Davies
Station 33 (Little Mountain) – Ted Noll
Station 34/35 (Sunset Point/ Roche Harbor) – Julia Owens
Station 36 (Eagle Crest) – Chris Wisniewski
Plaques were given to Brad Creesy for 25 years of service; to Jim Guard and Rick Prescott for 20 years of service: and to Ellis Cropper who retired with service from 1990 to 2008.
Kate Hunter was recognized for her role in being a realistic victim when practicing for drills.
The San Juan Island Fire Department would also like to recognize Friday Harbor Fire Department for providing a crew covering an initial response in case of a call during our banquet.
And a special thank you to Mike Carlson and Richard Lawson for their generous donations.

A song for you.....
The local barbershop chorus, Island Chordsmen Plus, will serenade your special Valentine with roses and songs anywhere on San Juan Island. They will vocalize your love Friday, Feb. 13, with a quartet, or the entire chorus will sing to your sweetheart anytime Saturday, Feb 14. Last year 37 people felt the love for this special occasion. The Island Chordsmen Plus can schedule a time for your convenience. Reservations may be made at their Market Place booth Wednesday and Friday afternoons or by contacting Bonnie at 378-5370 or simplybkkp@centurytel.net

$115K from United Way....wow!
United Way of San Juan County is pleased to announce that despite a challenging economic environment, grants totaling $115,000 have been awarded to exclusively local programs. "We are exceedingly grateful for the trust and generous support of the community" said Executive Director Bonnie Gilmore. "Our donors are important partners in our efforts to provide services to hundreds of island residents who participate in United Way supported programs." This year grants have been made to twenty-nine programs that create significant, long-term results for seniors, children, families and at-risk adults. Here is the list of folks who received grants. United Way's goals and priorities are building healthy and resilient children and families', ensuring everyone has a healthy living environment, creating systems that increase physical and mental well-being, promoting safety and preventing violence and abuse. The following programs have received grants for 2009, working as professional partners with United Way to meet these goals.
One last report from France....
The kids from FHHS who went to France are back now, but a couple of reports came right as they were leaving, which I believe do a super job of sharing how great an experience it was.
from Tristan Wood (that's him at last week's Knowledge Bowl):
The last week of the home stay was my favorite part of the trip. With the help of the French Immersion School we attended every morning, everyone was able to communicate better than when we first arrived. This made the home stay much more enjoyable. On Wednesday our group got a tour of an amazing chateau that dated back to the 1st century and after went to a French zoo! Thursday we had another outing to a workshop that created little figurines called Santons which are traditional to southern France. When we were not with our class we were spending time with our host siblings or going on outings with the family. It was truly an enjoyable week. Friday and Saturday were the last days with the family. It was really sad having to leave. When I first arrived, I was panicking because I thought it was going to be really awkward and scary to live with another family, but it turned out to be one of the most enjoyable experiences of my life.
When we arrived in Nice, we all knew we had only a few more days left in France. We spent the last few days relaxing. The first day we went to a flower market in the morning, then proceeded to scale a large hill to get a view of Nice from above. We then had lunch, then went to Monaco for a couple hours. The second day we woke up early and took a bus to two little villages. In the first there was a famous perfumery called Fragonard. Our group got a tour of this factory, then we all proceeded to buy colognes and eau de toilette. In the second village there were lots of really nice art galleries, but we spent most of our time trying to avoid the rain unfortunately. Despite the rain we had a really nice final dinner the last night and the trip ended on a high note.
I have to say thank you to Mme Jones for being a really awesome chaperone throughout this whole trip. She let us have a great time and based the trip off of what we wanted to see. She allowed us to really "Experience France" to the fullest. I would take this trip again in a heartbeat.
Conclusion: The Experience France Trip '09 rocked.
and from Emily Schultz....
France 2009 summarized by Emily Schultz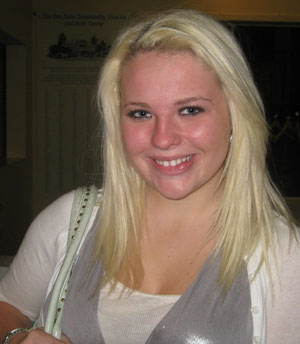 When one "experiences" something, a lot of things come to mind: possibly new tastes or smells, or trying a new sport, or even meeting new people. "Experiencing" things happens every day you wake up. Each moment of your life could be considered an experience in itself.

Over the past 3 weeks, I've experienced, shared, grown, discovered, and of course,, learned, more than I could have ever imagined. Last year, when I attended the meeting in the library for those interested in Experience France 2009, I had no idea how truly remarkable this trip would be. I was simply a typical American teenage kid in my first year of French, hopped up on the idea of baguettes, berets, and seeing the Eiffel Tower. Little did I know I would spend these 3 weeks cultivating friendships to last a lifetime, running face-first into some of the biggest cultural differences I've ever come upon, and all the while discovering my place as a student of the French language, a friend to those I meet, an instrument of my own culture, and a citizen of the greatest society of all – planet earth.

The first chapter of our French experience began in a jet-lagged, euphoric, Parisian stupor. We trod along the Champs Elysées, inhaling the scents of exhaust and Chanel N˚5. We scaled the stairs of the Eiffel tower, only to reach the top and have our breath taken away by the awe-inspiring view of the "City of Light" that surrounded us. I could continue to list all the spectacular memories and occurrences brought to us, but the important thing is that once we arrived in Paris, we finally found ourselves immersed in the French culture after months of waiting and imagining. I fell in love with Paris. I fell hard for the small shops, the towering monuments, the incredible museums, and with the pulsing, concentrated energy constantly radiating through the city.

When we left Paris for Aix-en-Provence, I was sure that the best of my trip was over. I felt as if I'd already felt the strongest feelings for a city I've ever felt, and experienced the heart of France, therefore, leaving no more room in my heart for this town that I knew absolutely nothing about. My stay in Aix, with the Travère family, ended up being, stated simply, one of the most incredible, indescribable, and challenging things I've ever done. I arrived at their house on Rue Argonauts in Venelles, outside of Aix-en-Provence, expecting the most awkward and lonely two weeks of my life. I ended up, to my surprise, as close to this family as any teenager would be to their actual family. I made a home away from home, in the most random place I could have ever imagined. I opened up my heart and mind to a family that turned out to be some of the most loving, hospitable, caring people I've ever met. I discovered that you don't have to be sleeping in your own bed each night to be "at home". A family is not necessarily just the people you are related to, spend the holidays with, or live in the same house as. "Family" is the people you love and cherish and surround yourself with. They are the people who influence you and help you to grow and change. Whether you know them for two weeks or two decades, your family is the people who leave the deepest footprints on your heart.

The final chapter of our trip was our stay in Nice. The candy-colored buildings, the turquoise waves, the cobblestone crosswalks. The palm trees were a bit deceiving, considering the weather was absolutely freezing and it rained. We visited the Fragonard Perfumery, and several villages outside of Nice as well as some sights within Nice such as the Ferris wheel, boardwalk, and numerous shops. We also had the opportunity to hop on a bus over to Monaco. We wandered around the colorful streets of Monte Carlo, visited the church where Grace Kelly is buried, and saw the turquoise bay fade to a deep azul as the sun set on Southern France. Leaving Nice wasn't quite the emotional experience that leaving Aix-en-Provence was, but leaving that beautiful seaside city still left us sad as we drove to the airport.

Leaving France has left us with a mish-mash of feelings and thoughts. There is excitement to return to our families, to see our friends, and sleep in our own beds. But there is also that looming sadness that seeps into us as the plane carries us further and further from this country that has shaped our hearts and minds these past 3 weeks. "Experiencing" France is what we did this trip for, and we have most certainly succeeded. France has become a part of all of us. The language, the culture, the people; all of it has woven itself into our lives. We return to our homeland new, with a better knowledge of who we are, what we do, what we could do, and what is really out there. The world is a far bigger place than all of us could have imagined, and this was only a little taste.