Just Imagine…
Posted November 30, 2012 at 4:00 am by Tim Dustrude
Here's a big event we're excit­ed to tell you about: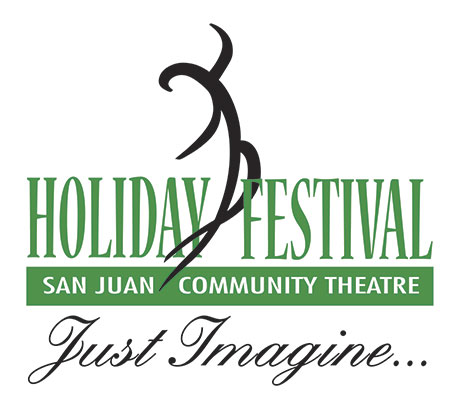 "Just Imag­ine" Tick­ets are now on sale for the San Juan Com­mu­ni­ty The­ater 2012 Hol­i­day Fes­ti­val.
With a line­up that includes the Northwest's most charis­mat­ic auc­tion­eer, mouth-water­ing culi­nary cre­ations, danc­ing to one of the island's best, and live musi­cal treats through­out, San Juan Com­mu­ni­ty Theatre's biggest fundrais­er of the year will warm up win­ter more than ever.
The 2012 Hol­i­day Fes­ti­val: Just Imag­ine starts off the hol­i­days with a mul­ti­tude of enter­tain­ment on Sat­ur­day, Decem­ber 1 at 5 p.m.
"While the Festival's mis­sion is a very impor­tant one—being the biggest fundrais­er of the year for the Theatre—it is also all about the FUN in fundrais­ing and a great way for the com­mu­ni­ty to cel­e­brate the hol­i­days togeth­er," said Board of Trustees pres­i­dent Pat Nieman.
The evening fea­tures the return of vet­er­an show­man and auc­tion­eer John Cur­ley, who has befriend­ed island audi­ences since his Fes­ti­val debut two years ago. Cur­ley, who cur­rent­ly hosts Seattle's Morn­ing News on KIRO-FM and has been an auc­tion­eer for sev­er­al years, help­ing to raise mil­lions of dol­lars for North­west non­prof­its and schools. Cur­ley will host the live auc­tion por­tion of the evening, which fea­tures a vari­ety of fine art, exot­ic din­ners and great escapes (includ­ing stays in Maui, Sun Val­ley and Italy).
The evening's silent auc­tion takes place in both the Gubel­man and Whit­ti­er The­atres while guests enjoy fine wine and gourmet appe­tiz­ers. Roche Har­bor Resort's Bill Shaw and staff will also present live cook­ing sup­per sta­tions after the auc­tions. (A com­plete cat­a­log of the auc­tion items is avail­able on-line at www.sjctheatre.org).
Live enter­tain­ment dur­ing the evening includes a new stage per­for­mance from island tal­ents Jill and Andy Urbach and The Lisa Duke Dancers; as well as danc­ing with The Chameleons and music from Susan Williams and Kei­th Busha and vibes play­er Hawk Arps of Lopez.
Hol­i­day Fes­ti­val Tick­ets ($85 per per­son) are avail­able by call­ing Chance Ear­le at 378‑3211, ext. 32.
You can support the San Juan Update by doing business with our loyal advertisers, and by making a one-time contribution or a recurring donation.