What's Going On…
Posted November 29, 2012 at 4:50 am by Tim Dustrude
Here are some things hap­pen­ing this week you might want to be aware of. First off, the Ski Bus has been run­ning for years, but is in dan­ger of being can­celled this year due to lack of enroll­ment. If you want to do the Ski Bus, bet­ter get signed up before Decem­ber 3rd. Here are the details:
Mt. Bak­er Ski Bus: 6 rides for $180 plus dis­count­ed rentals and lessons.
Avail­able to youth in grades 6th-12th.
Dead­line to sign up is Mon­day, Decem­ber 3rd.
More infor­ma­tion and sign-up paper­work is avail­able at the Fri­day Har­bor High School office at 378‑5215.
San Juan Islands Audubon's Christmas Bird Count
113th Annu­al Count
Sat­ur­day, Decem­ber 15th is the date for this year's Christ­mas Bird Count (CBC) in the San Juan Islands. Over 60,000 vol­un­teers across the coun­try will be count­ing birds from Decem­ber 14, 2012 to Jan­u­ary 5, 2013 to par­tic­i­pate in the world's longest run­ning wildlife cen­sus begun in 1900. Here are some hap­py bird­ers from last year's count on Lopez. If you are inter­est­ed in par­tic­i­pat­ing, check out this Press Release (pdf for­mat).
++++++++++++++
Elementary School Principal Resigns
Fri­day Har­bor Ele­men­tary Prin­ci­pal Con­nie Mar­tin has announced her res­ig­na­tion effec­tive at the end of the 2012–13 school year. Brent Snow, Board Chair­per­son, not­ed that Ms. Mar­tin was hired as an inter­im prin­ci­pal for a sin­gle year which was extend­ed for an addi­tion­al year. "We have ben­e­fit­ed from her years of hard work and ded­i­ca­tion to stu­dents. She will leave a school that has made sub­stan­tial progress on the ini­tia­tives for improve­ment laid out by the Super­in­ten­dent and Board."
The Dis­trict would like to thank Ms. Mar­tin for her time with us and her will­ing­ness to do so with the long com­mute to her home and fam­i­ly in Ana­cortes. We also appre­ci­ate the time­li­ness of her announce­ment as this will allow a through replace­ment process.
+++++++++++++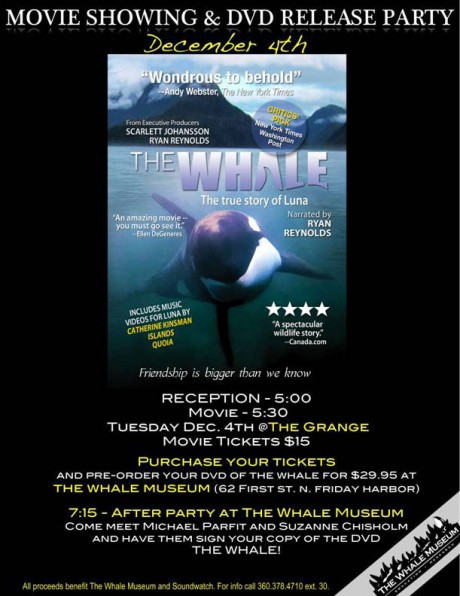 Join us on Decem­ber 4th for the DVD Release Par­ty of "The Whale"
We'll kick off this fun night with a show­ing of "The Whale" at the Grange – recep­tion at 5 p.m., movie starts at 5:30 p.m.
Movie tick­ets are $15 each and include movie snacks & beverages.
After the film, we're host­ing a DVD Release Par­ty at The Whale Muse­um – start­ing at 7:15 p.m.
Pro­duc­ers Suzanne Chisholm and Michael Parfit will join us for this big event and be avail­able to sign your copies of the DVD at the party!
While the DVD will not be released in the US until Dec. 4, we will take orders for pre-sales. DVDs are $29.95 each.
Suzanne and Michael have gen­er­ous­ly offered this evening with tick­et sales & pro­ceeds of DVD sales as a fund rais­er for Sound­watch and all of The Whale Museum's programs!
To pur­chase your movie tick­ets and/or pre-order "The Whale" DVD, just stop by The Whale Muse­um (open 10 a.m. until 5 p.m. daily).
For more infor­ma­tion, send an email to jen­ny [at] whale­mu­se­um . org – or call (360) 378‑4710 ext. 30.
You can support the San Juan Update by doing business with our loyal advertisers, and by making a one-time contribution or a recurring donation.