Community Solar for Our Schools
Here's a note from the San Juan Conservation District about the Community Solar program…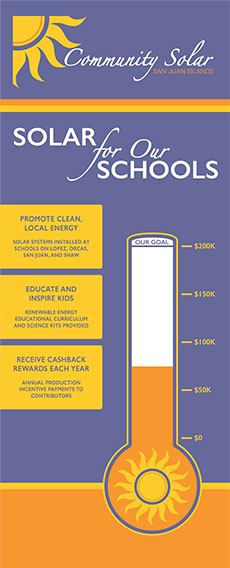 "By investing in solar energy, we are lowering utility costs for our schools," said Janet Brownell, President of the Orcas Island Education Foundation. "That means more money for our classrooms and students. But it is not only about saving money, it is also about education for our students. What a win-win proposition. Lance and I have bought our "share" and we hope you will too."
"It was a no-brainer for us," said Kirm Taylor when talking about contributing to Community Solar for Our Schools. Kirm and Lexi Taylor wanted to install solar panels when they built their home on Lopez Island in 2008, but couldn't without removing a lot of trees. Community Solar provides people like the Taylors with an opportunity to promote solar even when they can't install it on their own home. Lexi Taylor is a retired teacher and the Taylor's like that the program will support the Lopez Island School District.
"Plus, we'll get paid back," said Kirm Taylor.
"Utilities are a major school budget expense; the more we can reduce that cost, the more we can pay for teachers and other resources that benefit students," said Boyd Pratt, former San Juan Island School Board Member who is contributing to the program. "It's a step towards energy sustainability for our community and also an investment in our schools."
Community Solar for Our Schools will install four solar systems at Lopez, Orcas, San Juan, and Shaw Island schools. The schools will receive all the energy generated, lowering their electricity costs. Bonneville Environmental Foundation will provide renewable energy educational curriculum, teacher training, and science kits for each school to support the schools' science programs.
San Juan County residents (even part-time residents) and businesses can purchase solar units at $100 each. Participants will receive annual energy production incentive payments that are anticipated to fully pay back participants for the cost of the solar units purchased. Participants can also choose to donate their incentive payments to the San Juan County school district of their choice. Participation by our community is fundamental.
Solar for our schools is a concept coming to life. The energy is there, the students are eager to learn, and installation is slated for early 2015. Please consider contributing. There are three ways to sign up:
Community Solar for Our Schools was developed by Islands Energy, which is a collaborative group of local and regional nonprofits and community volunteers led by the San Juan Islands Conservation District and sponsored by OPALCO. They are working together to increase energy efficiency and conservation, increase local energy generation, and keep energy costs lower.