Community Solar for Our Schools
Posted September 19, 2014 at 10:27 pm by Tim Dustrude
Here's a note from the San Juan Con­ser­va­tion Dis­trict about the Com­mu­ni­ty Solar program…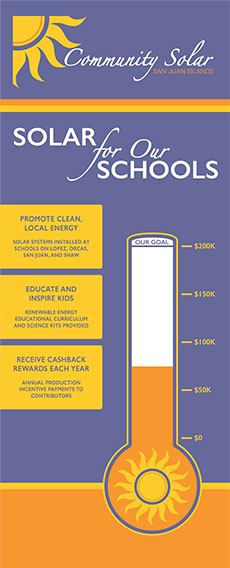 "By invest­ing in solar ener­gy, we are low­er­ing util­i­ty costs for our schools," said Janet Brownell, Pres­i­dent of the Orcas Island Edu­ca­tion Foun­da­tion. "That means more mon­ey for our class­rooms and stu­dents. But it is not only about sav­ing mon­ey, it is also about edu­ca­tion for our stu­dents. What a win-win propo­si­tion. Lance and I have bought our "share" and we hope you will too."
"It was a no-brain­er for us," said Kirm Tay­lor when talk­ing about con­tribut­ing to Com­mu­ni­ty Solar for Our Schools. Kirm and Lexi Tay­lor want­ed to install solar pan­els when they built their home on Lopez Island in 2008, but couldn't with­out remov­ing a lot of trees. Com­mu­ni­ty Solar pro­vides peo­ple like the Tay­lors with an oppor­tu­ni­ty to pro­mote solar even when they can't install it on their own home. Lexi Tay­lor is a retired teacher and the Taylor's like that the pro­gram will sup­port the Lopez Island School District.
"Plus, we'll get paid back," said Kirm Taylor.
"Util­i­ties are a major school bud­get expense; the more we can reduce that cost, the more we can pay for teach­ers and oth­er resources that ben­e­fit stu­dents," said Boyd Pratt, for­mer San Juan Island School Board Mem­ber who is con­tribut­ing to the pro­gram. "It's a step towards ener­gy sus­tain­abil­i­ty for our com­mu­ni­ty and also an invest­ment in our schools."
Com­mu­ni­ty Solar for Our Schools will install four solar sys­tems at Lopez, Orcas, San Juan, and Shaw Island schools. The schools will receive all the ener­gy gen­er­at­ed, low­er­ing their elec­tric­i­ty costs. Bon­neville Envi­ron­men­tal Foun­da­tion will pro­vide renew­able ener­gy edu­ca­tion­al cur­ricu­lum, teacher train­ing, and sci­ence kits for each school to sup­port the schools' sci­ence programs.
San Juan Coun­ty res­i­dents (even part-time res­i­dents) and busi­ness­es can pur­chase solar units at $100 each. Par­tic­i­pants will receive annu­al ener­gy pro­duc­tion incen­tive pay­ments that are antic­i­pat­ed to ful­ly pay back par­tic­i­pants for the cost of the solar units pur­chased. Par­tic­i­pants can also choose to donate their incen­tive pay­ments to the San Juan Coun­ty school dis­trict of their choice. Par­tic­i­pa­tion by our com­mu­ni­ty is fundamental.
Solar for our schools is a con­cept com­ing to life. The ener­gy is there, the stu­dents are eager to learn, and instal­la­tion is slat­ed for ear­ly 2015. Please con­sid­er con­tribut­ing. There are three ways to sign up:
Com­mu­ni­ty Solar for Our Schools was devel­oped by Islands Ener­gy, which is a col­lab­o­ra­tive group of local and region­al non­prof­its and com­mu­ni­ty vol­un­teers led by the San Juan Islands Con­ser­va­tion Dis­trict and spon­sored by OPALCO. They are work­ing togeth­er to increase ener­gy effi­cien­cy and con­ser­va­tion, increase local ener­gy gen­er­a­tion, and keep ener­gy costs lower.
You can support the San Juan Update by doing business with our loyal advertisers, and by making a one-time contribution or a recurring donation.