APSFH Says Thanks!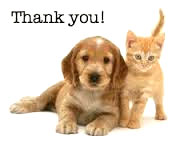 What a night…. I'm still trying to catch my breath! So many people to thank, if I leave anyone out, please add to the list!
Thank you to everyone who attended the Wags to Riches Event this year. It definitely was a night to remember! This community is so giving… thank you for helping us achieve our goal in making this the best WAGS yet!
The numbers aren't all in yet, but when they are, we'll let you know. Thank you to our sponsors, Robert & Rebecca Pohlad, Heritage Bank, Roche Harbor, Friday Harbor Pet Supply, Islanders Bank, Petro San Juan, and all of the friends of the shelter who helped underwrite the event.
Thank you to Jennifer Rigg and Seth Dunlap for helping me prepare so many things for the event.
Thank you to all who donated to both our live and silent auctions, wine pull and raffles.
Thank you to Dr. Tess Leonard and John Wilson for acquiring the villa accommodations for the Costa Rica Dream Vacation Raffle.
Thank you to our great volunteers, shelter staff and board members who helped setup, run and clean up after.
Thank you to Bill Shaw and his crew for providing a fantastic dinner for everyone.
Thank you to David and Linda Bornowski for the fabulous decorations.
Thanks to our great MC and Auctioneer Jay Fiske from NW Benefit Auctions and his daughters for making it a fun experience for everyone.
Thank you to Brickhouse Band for a fantastic show and great dance music.
Thank you Bob McDowell for your enthusiasm and passion in getting people to open their hearts and wallets for the new shelter campaign.
And a big thank you to Ken and Linda Howard, Jane Lynch and Laura Coyle for coming all the way from Los Angeles to support our cause and share a great evening with us.
All of you people rock!
Sincerely… Leslie Byron
Photos of the event shot by Tamara Weaver